"Nine out of ten love chocolate, the tenth lies".
John G. Tullius.
Hello, young Padawan
Today, we will end the year on a high note with a treat for young and old.
Indeed, after a year full of pitfalls of all kinds, ups, and downs, we all deserve a reward: a lovely recipe of delicacies to celebrate Christmas, school holidays, or any other occasion that you would like to celebrate with your family.
Let's go.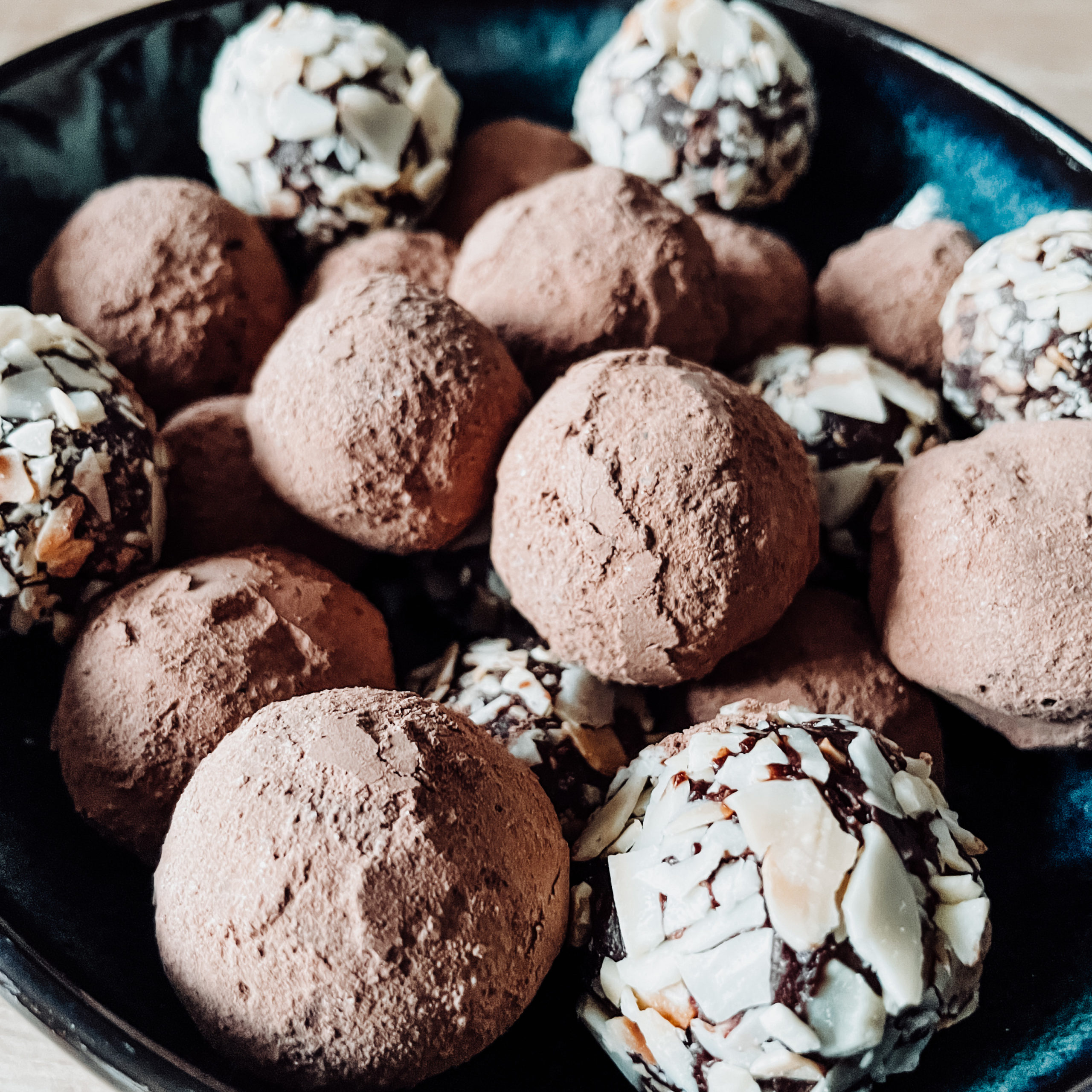 Christmas chocolate truffle
For around thirty truffles.
1 1/4 cup of dark chocolate chips 75% minimum
1/4 cup of raw cocoa powder
1/2 cup of sweetened hazelnut puree (I use the hazelnut puree with integral cane juice – Jean Hervé, otherwise, a classic hazelnut puree + 2 teaspoons of icing sugar will do very well).
1/2 cup of cooking soya cream (or liquid oat cream or whatever cream you want)
A pinch of vanilla powder from Madagascar
2 pinches of Guérande sea salt
A nice handful of hazelnuts (or if you don't have some, do like me and use a handful of slivered almonds, ed)
A tsp of the neutral oil of your choice (for your hands, to roll the truffles)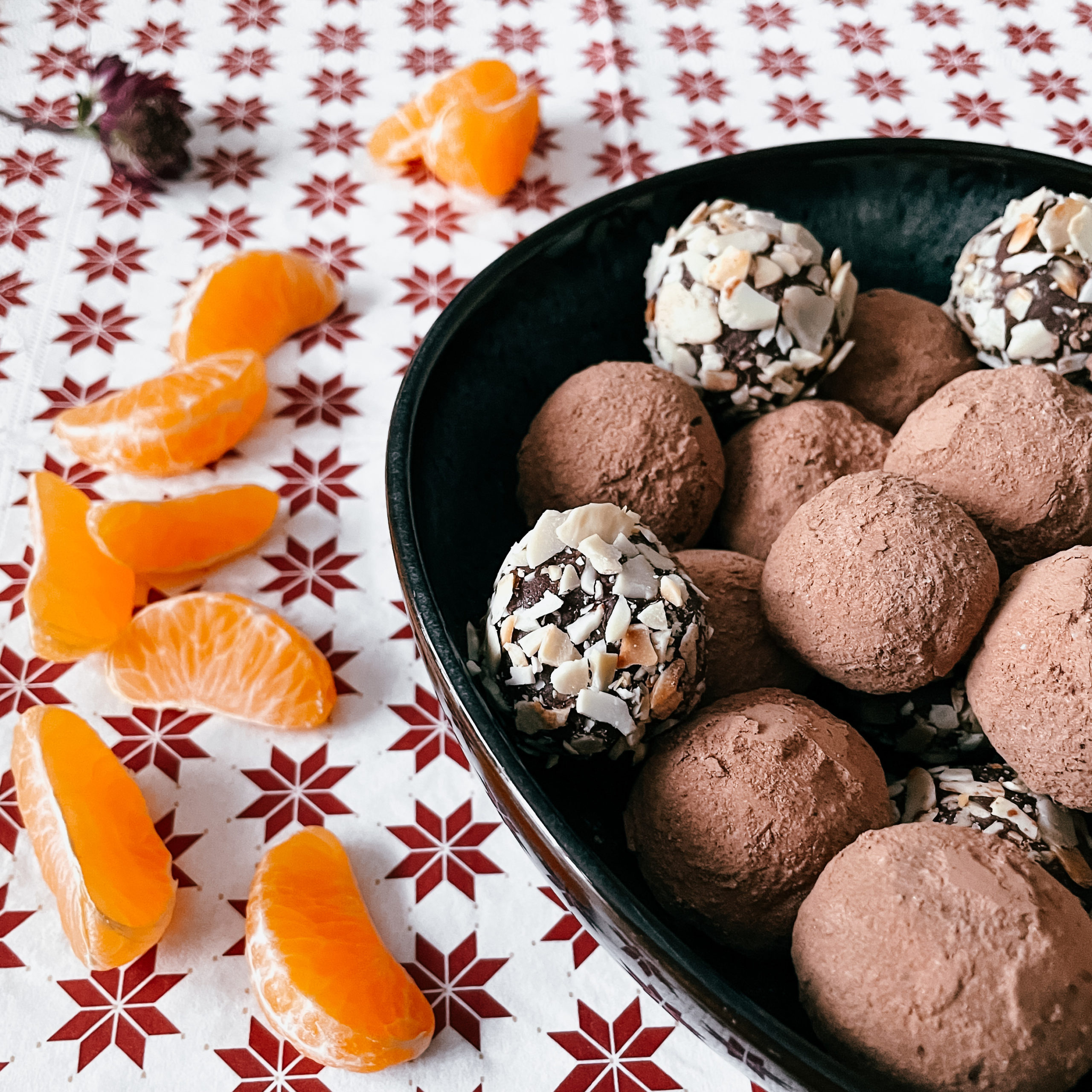 RECIPE
Bring the cream to a boil for 2 or 3 minutes. At the same time, prepare a double boiler with another saucepan over medium-low heat – meaning some water in a saucepan and a container above it large enough to hold the chocolate and the hot cream, such as a small cul-de-poule or large bowl. The water in the water bath should remain hot but not boiling.
When the cream is ready, pour the chocolate into the double boiler and pour over the hot cream, still over medium-low heat. Leave everything to stand for two minutes without stirring, then remove the bowl from the water bath using a first cloth, and put it on a second cloth folded in four so as not to burn your worktop. Wait until the chocolate has melted 3/4 to stir slowly with a spatula and melt everything together. Be careful not to burn yourself, dear Padawan.
When your ganache is smooth, add the hazelnut puree (and icing sugar if necessary), vanilla powder, and salt. Stir gently with the spatula.
Pour the ganache on a baking pan covered with baking paper (Be careful that it can fit in your fridge. If you don't have a baking sheet, you can use a round pastry tin or a pie tin). Spread the ganache not to exceed 1 inch in thickness and leave it in the refrigerator for at least 2 hours.
Chop the hazelnuts in a disorderly way to have both "almost" powder and small pieces; it will be prettier for the decoration. Pour them into a pan and roast over medium-high heat for one or two minutes. Turn off the heat as soon as the coloring begins, and do not stop stirring—set aside in a bowl when the crushed hazelnuts are golden.
Note: If you ran out of hazelnuts like me, you can use slivered almonds to which you will reserve the same treatment: Chopping then roasting.
Pour the raw cocoa in a bowl, like the hazelnuts, so that you can roll your truffles either in one or in the other. Prepare a fork next to the two bowls containing the cocoa and hazelnuts and a cute dish to put the truffles.
Take the ganache out of the fridge and cut out squares of about 1 x 1 inch using the back of a knife (i.e., the non-cutting part, so as not to ruin your baking pan. You can also use a plastic spatula, like an egg spatula, or a piece of A380 grille, but that will be less precise. Humor, do not end the year in prison for terrorist attacks because of truffles (ed).
With clean and lightly oiled hands, take a square of ganache, roll it gently between your palms to form a ball then place it either in the cocoa or in the crushed hazelnuts. Roll the small truffle obtained in the chosen preparation using the fork. Once harmoniously covered, take it delicately with two fingers and place it on the dish. Repeat the process by rolling them in turn either in the cocoa or in the hazelnuts.
Children will enjoy tasting them with a cup of hot hazelnut milk (a nutty vegetable drink that you can find in an organic store) and a pinch of vanilla powder.
For adults, I recommend a good glass of Syrah to accompany these little chocolate treats. It's a grape that you can find in the Côtes du Rhône, the Rhône Valley, and Switzerland! A good Syrah will remind you of a beautiful vintage of St Joseph, a very dark color, and a predominance of red fruits. With the truffles, trust me, it's fantastic!
I wish you a Merry Christmas with your loved ones, dear Padawan, and see you on Friday! 🎅🏼