"Less bitter more glitter".
Anonymous.
Hello, young Padawan
You want to know how to shine bright like a diamond in society, don't move; aunt Caro will give you some tips, lol. It's been about three years since I have been asked for quick and easy to use for newbies ideas of makeup products, for all budgets, but nice, elegant and glittery. Now is the time to present you with some great ideas that I promise will be very simple and give the impression of a worked makeup.
If there's one product that I love to use every day, it's glitter on the eyes. Discreet and subtle, or a little more eccentric, I find that they bring both light and dimension to the gaze, all in a minimum of time. Let's go on our way to a joyful, sparkling world, all in subtlety: the glittering world.
Long-lasting glitter eye shadows
Only a cleansing oil will get rid of your glitters in this category. Neither sweat, nor laughter, nor tears of joy will betray your work of art, lol.
You apply them with your finger, possibly shading with a brush, and this is it. Purists can add, if they wish, a slightly darker matte shadow in the crease of the eyelid and the outer corner of the mobile eyelid, in browns or grays depending on the shade of glitter (hot or cold tone) used, to give more dimension to the gaze. A great holiday makeup in five minutes that will last until the end of the night!
-KVD beauty – Dazzle sticks. Super easy sticks. I have them in Flash Storm and Hail Surge shade, because as you now know, I don't wait for the holidays to put glitter in my life, lol. This Stick brings both a light veil of color, beautiful, elegant shine, and different intensities and colors to bring maximum dimension to the look for a minimum of effort. Super easy to apply and blend even for novices; it's a pleasure to use.
-Etude House – Mirror Holic. I have the shade BE 103 – Teary Eyes. If I don't have the time to full glam makeup, I take this liquid glitter shadow, a swipe of mascara, and my look is done. It is a beautiful light champagne to tap with the finger, which brings magnificent glitter and gives a great intensity to the eyes. When I wear it, it often feels like I spent hours in the bathroom for this rendering, when in fact, it took me thirty seconds. Impossible to miss with this little wonder!
-Want a glitter eyeliner? Urban Decay – Heavy Metal. I use this cute eyeliner in midnight cowboy shade for the bottom of my eyes in the inner corner, or above a classic liner, to make a "double liner" for slightly more advanced level people who want more worked makeup.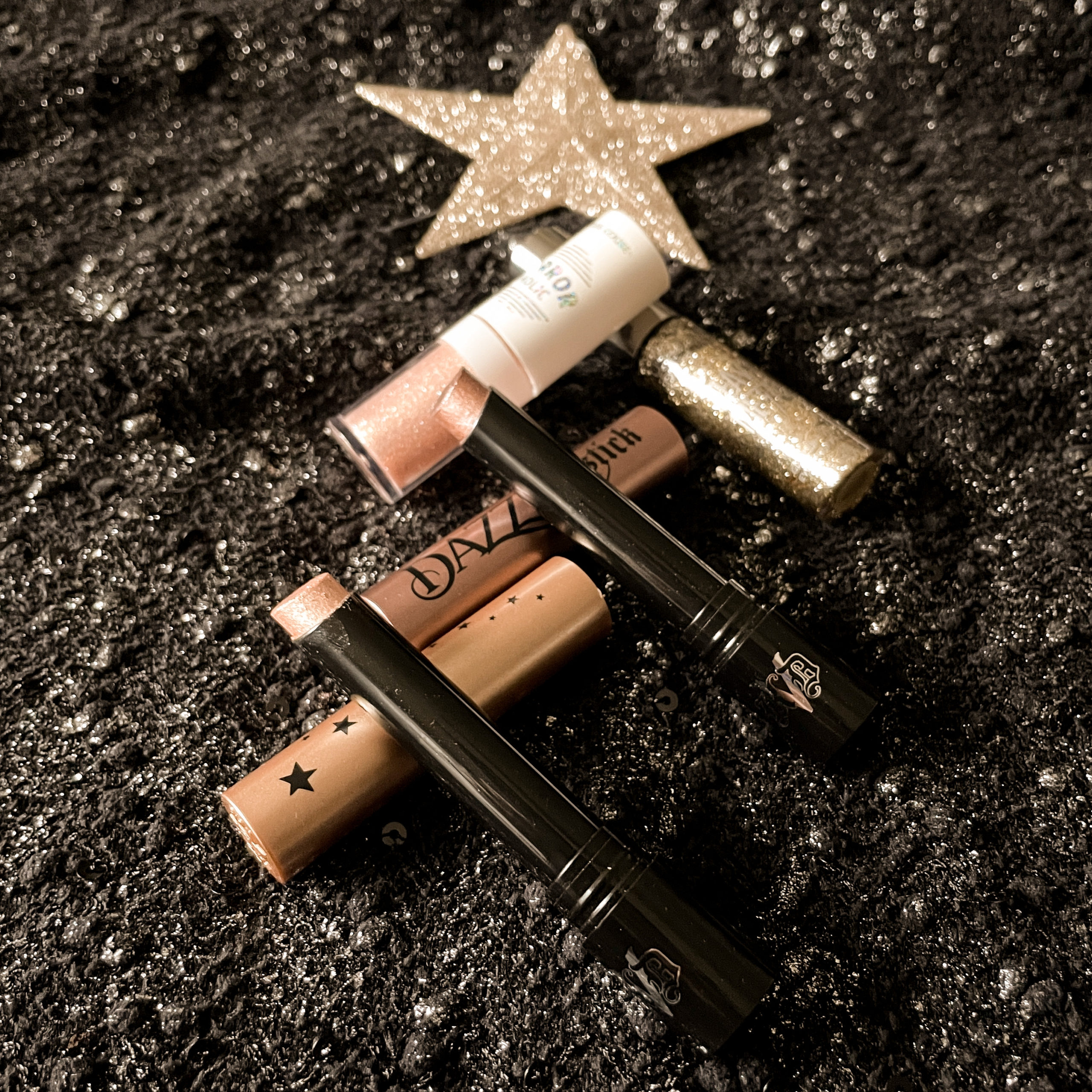 Long-lasting pencils
Charlotte Tilbury – Colour chameleon. I have the color Champagne Diamond. A little product on the eyelid, it blurs, and voila, you have beautiful champagne-colored glitter on the eyelid. A stroke of mascara, and the deal is set.
By Terrry – Ombre Black Star. I have the color Misty Rock. This beautiful iridescent brown will give you a smoky look in thirty seconds. You apply the same principle as the other products, you blend with your finger or brush for more precision, and voila, it does not move when it is set.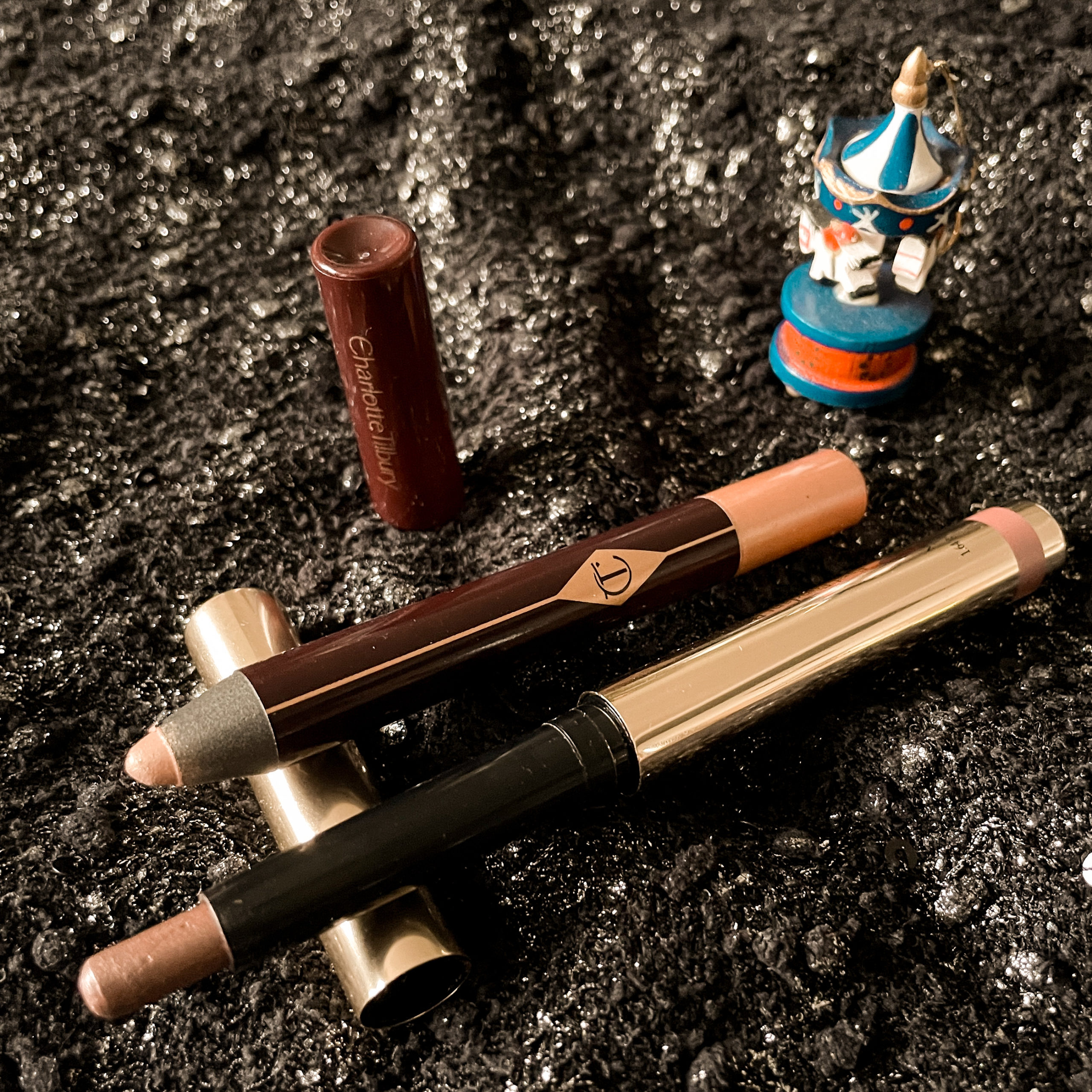 Shadows in a pot
Victoria Beckham – Lid Lustre in the shade Tea Rose. A superb glittery pinkish chestnut with the most beautiful effect and the simplest to use.
Nars – Power chrome loose eye pigment in the shade Stricken. This one is slightly different since it is a beautiful metallic brown, meaning not glittery, but of the most beautiful effect. It's a loosed pigment color, so you just have to be careful not to get it all over your place, but honestly, it's as easy as pie to use. For those who love color, they also have a very beautiful antique green which calls my name, but also a blue, a red …
Etude house – Look at my eyes Jewel in the shade BE 118 – Falling Autumn Leaves. This individual eye shadow is just magical. Beautiful glitters for a very small budget!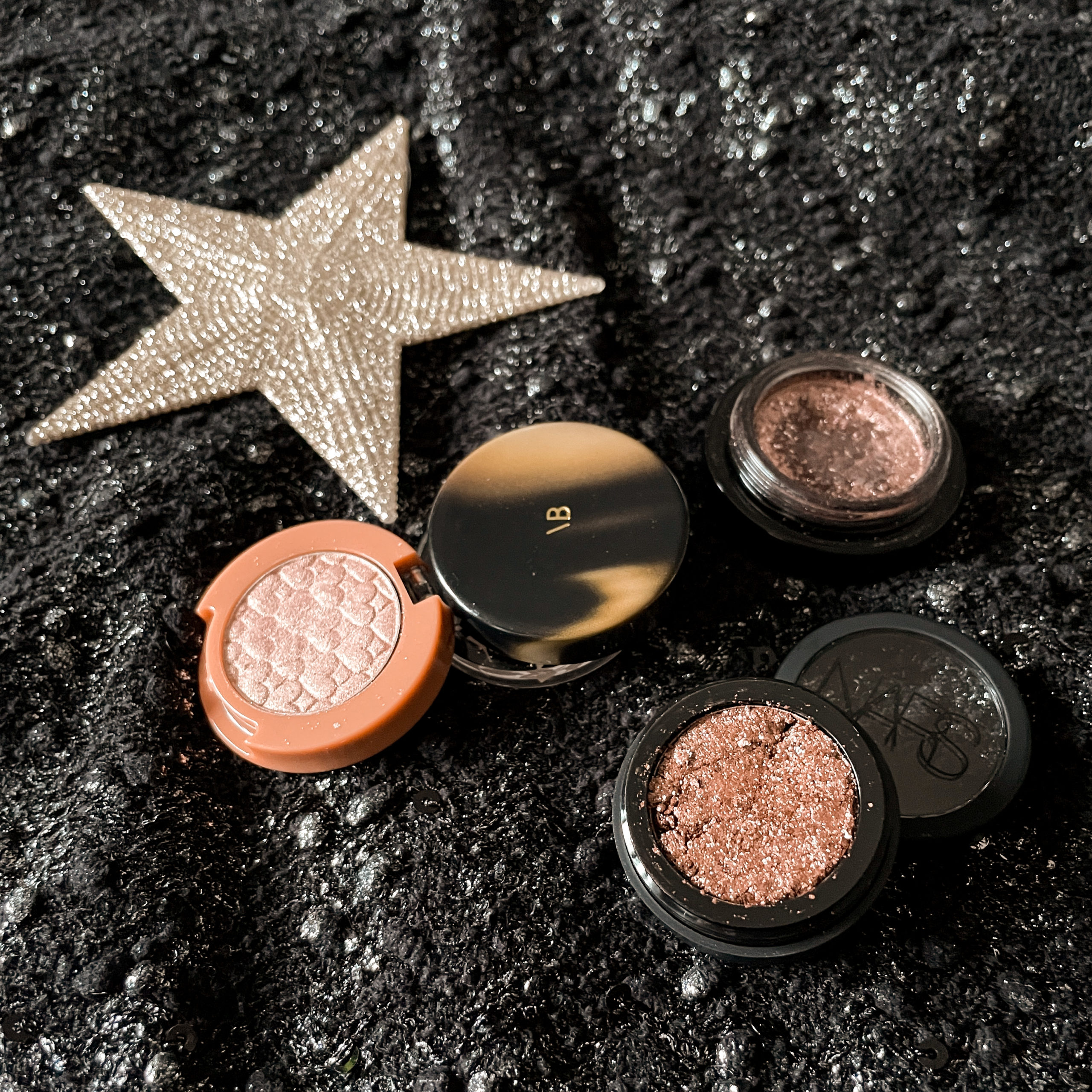 Glitter highlighter
If you are wondering what a highlighter is for you can see this article here. A powder highlighter can last you for years, so you can easily use it on the body to illuminate your bust, décolleté, and even your legs for New Year's Eve without digging it, and you will save money by having just one product for all your holiday makeup.
Fenty Beauty – Diamond Bomb. I have two shades: a "snow queen white" – How Many Carats?, and a pinky shade – Rosé Rave. These products are a wonder for anyone who loves glitter. I use them either on my eyelids on the days when I'm too lazy to do something more worked out, a superb white "snow queen" or "golden rose" halo on the eyes, where for the holidays, everywhere on the body like the collarbones, neckline, shoulders, shins … everywhere! All you need to do is bring a fan brush or a large powder brush, and voila, you are sparkling from head to toe!
For the same "snow queen" effect but more natural, I regularly use the Diamond Dust by Physician formula on my eyelids and/or the neckline for a more discreet effect. Those who are shy with glitter will appreciate it, as well as those who are shy of the wallet since it is reasonably priced, lol.
Wet n'Wild – Megaglo in the shade E684 Earth. This low-cost highlighter was a limited edition, but the good news is that Wet n'Wild often has products that really glow, like these, or this one.
Too Faced – Fresh Squeezed. It is a dry oil that was (also) in a limited edition. In the same style, there is that of Nuxe that I also like, the one from Avril, an organic one, and the one from Pure Essentiel which smells divinely good too (immortal-rosehip).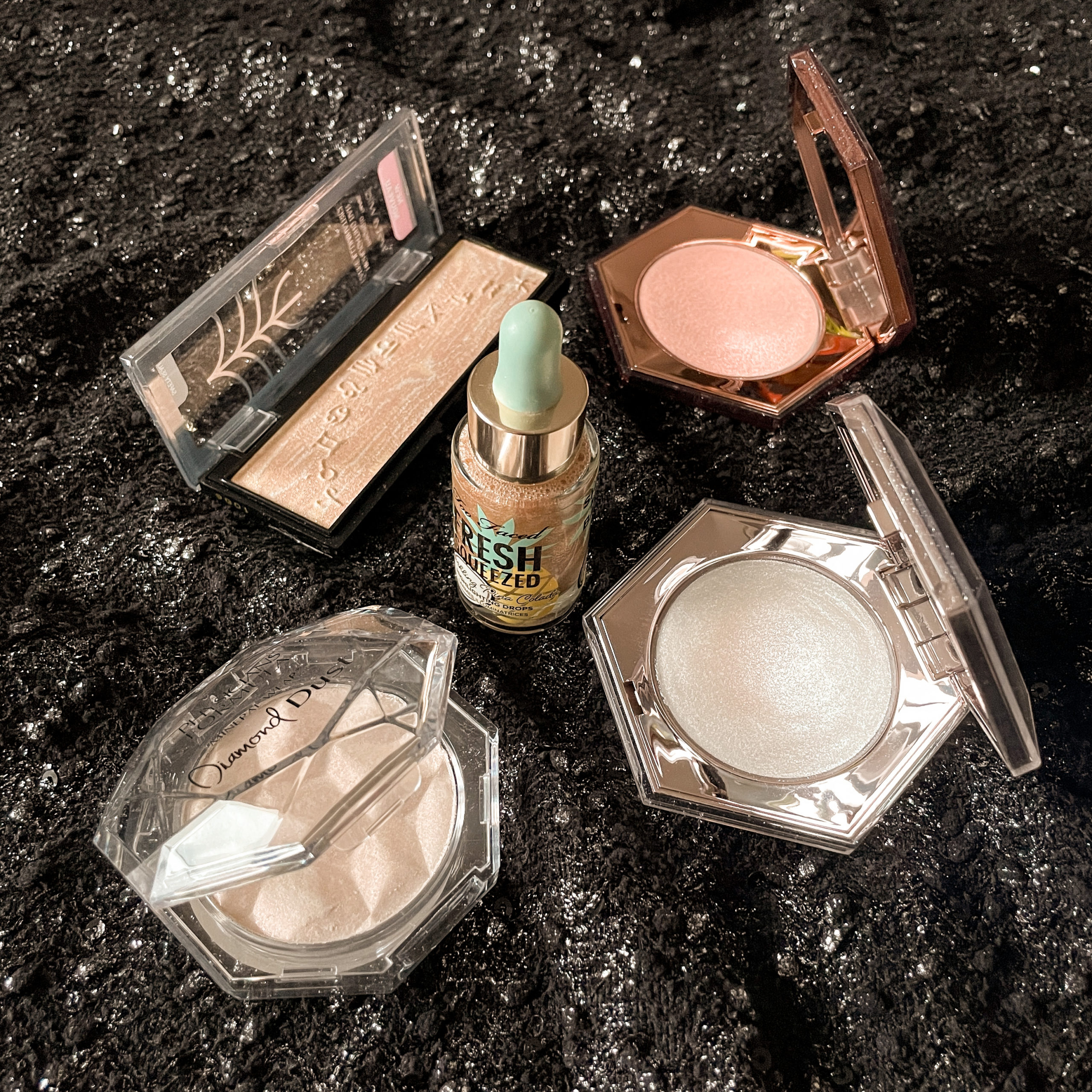 Mascaras
For holiday makeup with glitter, you have to choose a crazy mascara that makes you Bambi's eyelashes. Here are my three favorites for this occasion:
Urban Decay – Lash Freak.It can look a little (a lot) scary with its pie server shape, lol, but it is really effective for a beautiful false lash effect. I recommend it to people who are a little advanced in make-up because you have to master the art of not making bundles, then possibly combing them a little to separate them nicely.
Revitalash – Double Ended Volume mascara. Doe eyelashes, for everyone. It's a double-ended mascara with a primer and a classic mascara side. This stuff gives you lashes from space, for novices and experienced.
Kiko – Twist Mascara. Small budget. For extendable and waterproof eyelashes. It is a length mascara with a wheel to transform into a volume mascara. It is phenomenal and a dupe of the By Terry's.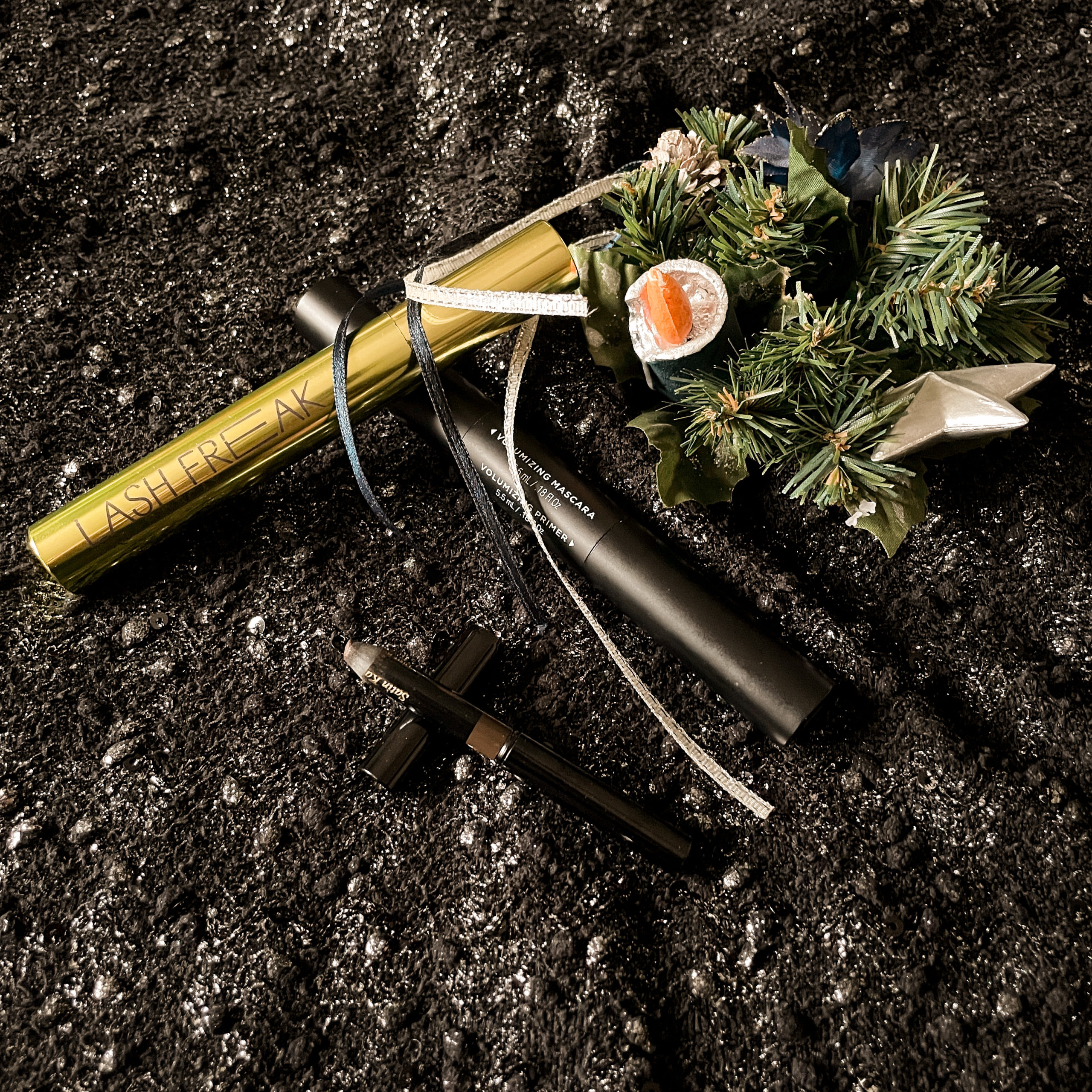 Professional tips … or almost.
Do you just want to brighten your cheekbones for New Year's Eve but don't want to invest in a highlighter? You just need to tap a transparent gloss or glitter-transparent gloss (like the gloss bond of Fenty Beauty in confetti shade, for example, ed) with your ring finger for the most beautiful effect. Just be careful not to powder this area, neither before nor after application, and you will be fine. Otherwise, a champagne eye shadow will also work very well.
To enlarge your gaze without going through the eyeliner: all you have to do is apply a brown, black, or charcoal pencil to the upper mucosa of your eyelid. It will give you the impression of a more intense gaze, and at the same time, like having more eyelashes. Magic!
It is also possible to draw a liner with one of these and then blend it for more naturalness, and a light smoky effect. Perfect for enhancing a glittery look.
For this, I am currently using the Satin Kajal Liner by Victoria Beckham in the shade cocoa. In the past, I have also used the Cake Pencil by KVD Beauty in shade Mad Max Brown, or the one from Make Up Forever, the Aqua Resist Color Pencil in black (01) and I was very happy with them too.
Glitter gloss
How to end this article in style? With Three glitter glosses, of course! Here are my three natural favorites.
Fenty – Gloss bomb in shade Fussy. Pink glitter gloss, what more can we say? We love.
Lorac – Lux Diamond Lip Gloss in shade Out Of Office. Beautiful glitter for an elegant champagne shade (pinkish beige). This is the one I'm going to wear on New Year's Eve.
Kiko – Wonder Woman Flash of lights in shade 01 Fine Brown or Mood boost enchanting in shade 04 Sparkle red. One is a superb maroon rosé, the other is a beautiful transparent coral. Both are of course glittery, easy to wear and apply, and budget friendly.
Now you are glittering from head to toe, radiating like the sun, on your way to ending the year in style!
XO ✨