« The biggest secret to happiness is being good with yourself».
Anonymous.
Hello, young Padawan
Winter being well advanced, it is high time to talk about creams. Neither whipped nor ice cream here, today we make ourselves beautiful, in five sections, with cream products for the complexion. Yes, makeup. Oh it's okay eh, you know it's my little cute sin, I like the colors, the textures, and what is good in makeup is that even if you messed up, a shot of makeup-remover and presto, it's forgotten, lol.
With makeup, you can be like anyone else, stand out, transform yourself, or even shock and reverse the codes in just three brushstrokes. You can make people smile, laugh, start a conversation, make new friends, give or receive advice, in short, this is one of our last real spaces of freedom, so let's take advantage of it, because seeing how it's gone, this is not going to last.
A bit of futility in this abrupt world where we all have to think alike; a world where we can laugh, indeed, but not of everything and especially not of the one-track thinking. It's a bit like when we were kids and there was one who became the scapegoat, except that we are adults today, and most of us have unfortunately not grown up much.
We castigate without knowing, without asking about, we criticize a book by reading only the title, we judge the body of an intellectual and the intellect of a body. Everything is good to distance us from our own mediocrity, our cowardice, our reality, indeed, it would take too much work to erase the indelible trace of the modeling left by society. Shall I continue, or shall we go to makeup? Yeah you see, it's crazy how interesting it gets, the brushes, the eyeshadows, all that.
For Philo enthusiasts, don't worry. We will have fun next week; I mean, we will rather take a nice slap in the face. Believe me, this one will not be virtual, and we will grow up to hopefully come out better.
Cream products, I said, for the complexion, with all the gear you need. Those are real happiness to use, especially in winter when you have sensitive, dehydrated, dry, or combination skin. Here we go!
The canvas
With masks, at least you wear products on your complexion, the better it will hold, logical, and at least you will have imperfections from it (see my article here).
But what do you do when you still want to make up your complexion a bit, to standardize "the canvas" before applying the colors? Nothing could be simpler: the correction, dear Padawan. Clearly, a bare skin to which you will erase the little defects that you want to camouflage here and there, and Basta. A kind of no-makeup makeup.
1/ Pores. I correct any visible pores and shine with Too Faced Primed & Poreless primer. It is an almost transparent cream that is very easy to use on the areas to be blurred. When I need a little extra I add the Clarins Mattifying Pore Gum.
2/ Problems with redness? A green corrector. Problems with dark circles or dark areas on your face? An orange corrector. The product is to be dabbed in a thin layer, to which you will add a corrector or concealer of the color of your skin (or slightly lighter for dark circles); finally, a veil of powder to set and … neither seen nor known.
To take my own example and correct my skin defaults, meaning dark circles and small pigmentation defects, I, therefore, need an orange corrector and a product the color of my skin (concealer or light beige tinted corrector) and a fine powder. I'm currently using Makeup By Mario's cute correction palette, which is a super quality one. Especially the powder, which is absolutely imperceptible on the undereye area. I apply it with the same brand's applicator brush, which is very practical, but you can also apply cream products with your fingers.
3/A little bit of contour. I like to lightly accentuate my dimples, my jawline, and shade the top of my forehead. For this, I use Fenty's match stix in Amber shade, which is a beautiful cool, almost gray taupe, perfect for fair skin tones.
4/ Moisturize – color – no sticky effect in the mask. Indeed, the lips need hydration, even when locked in. But I don't want it to stick or move all over, so lipstick, unfortunately, is complicated right now. So I use a very lightly colored lip balm, which barely enhances the color of the lips, the "Hurraw!" lip balm in cherry. A little slightly colored lip balm, which has the advantage of not having the drawbacks, lol.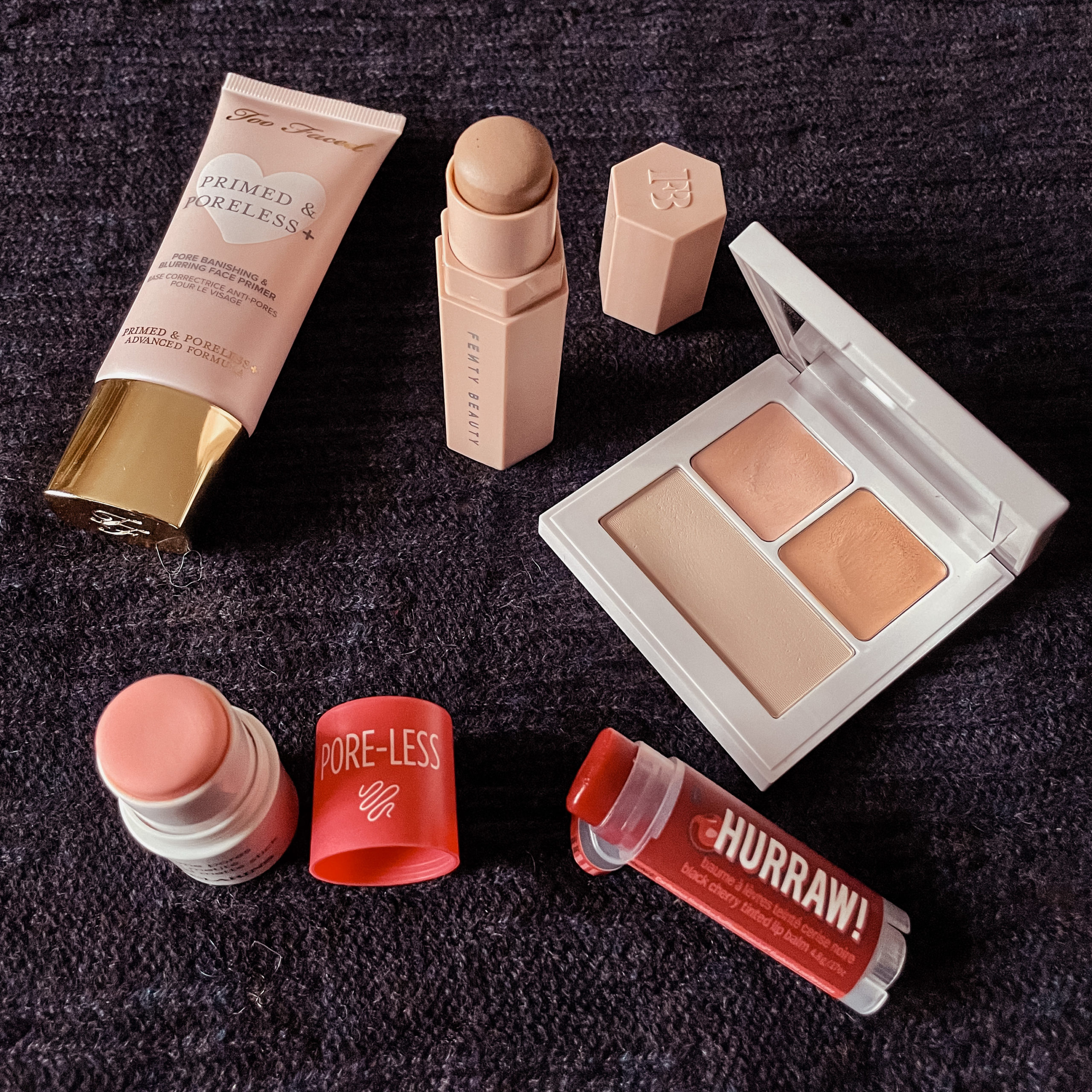 Bronzer
In winter, it can be interesting to help yourself with a few small touches of sun. Whether for the complexion or for the eyes. My three favorites are:
1/ Fenty's match stix in Mocha shade for skin and/or eyes.
2/ Also, at Fenty, a slightly cooler shade in a more classic format, creamier (so not for my eyes because the product moves), in the shade Butta Biscuit.
3/ If I want a luminous effect, slightly iridescent, especially for the eyes (or the face in summer), that of Tower28 in the shade West Coast.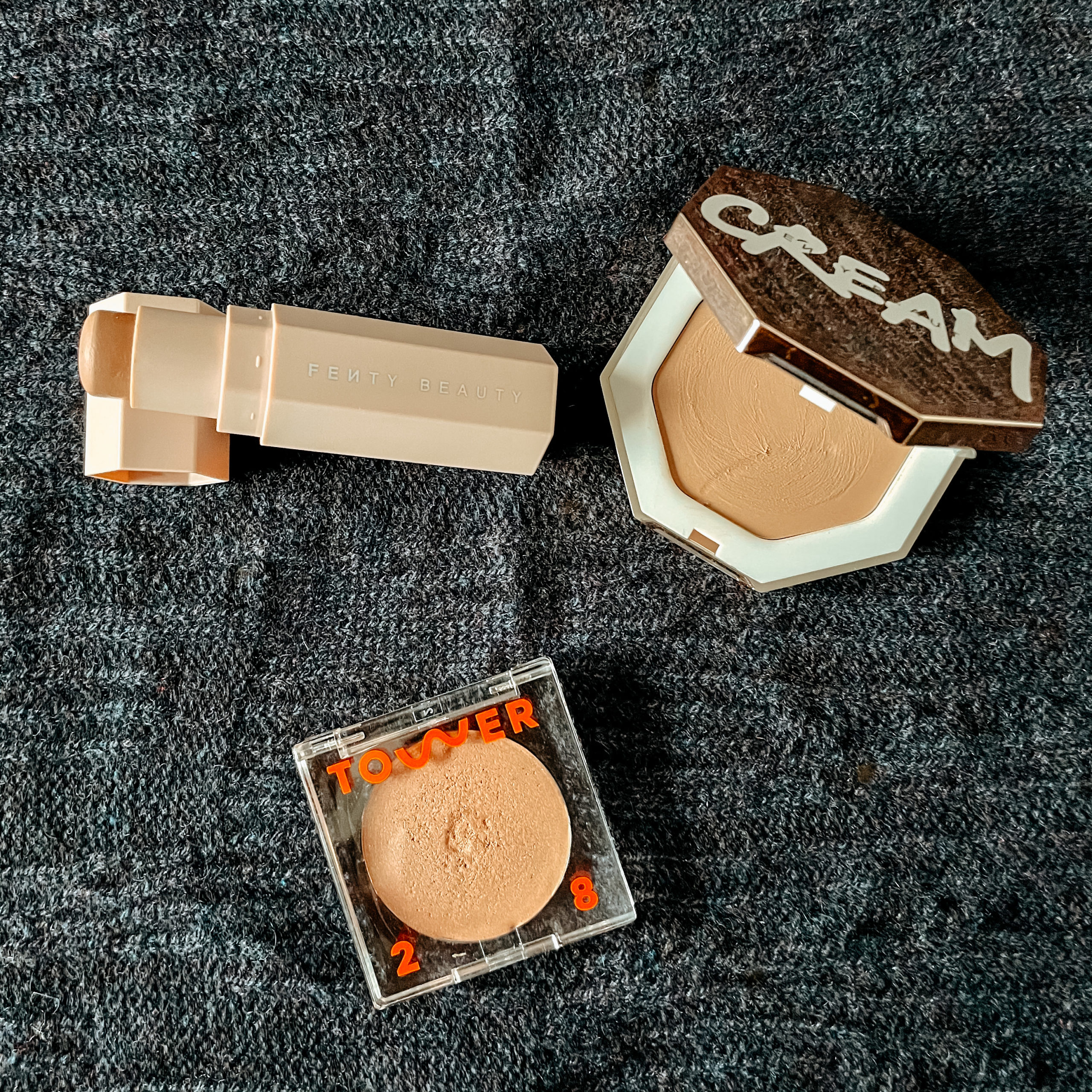 Highlighter
The highlighter is our most beautiful asset to illuminate the face, to give a beautiful glow. A veil of light on the top of the cheekbones, the brow bone, the cupid's bow, the nose bone, the center of the forehead … You choose the points you want to highlight, and let's go for the magical moment.
My favorite cream products are:
1/ Becca's Glow Glaze stick, a cold champagne shade with a beautiful natural effect.
2/ Heaven's Hue by Stila in Kitten shade, a natural pink with however some barely noticeable mini-glitter.
3/ One from Kora organics, here in Clear quartz shade, which gives a beautiful all-natural "snow queen" effect, and contains noni oil which is good for skin health, and for karma, lol.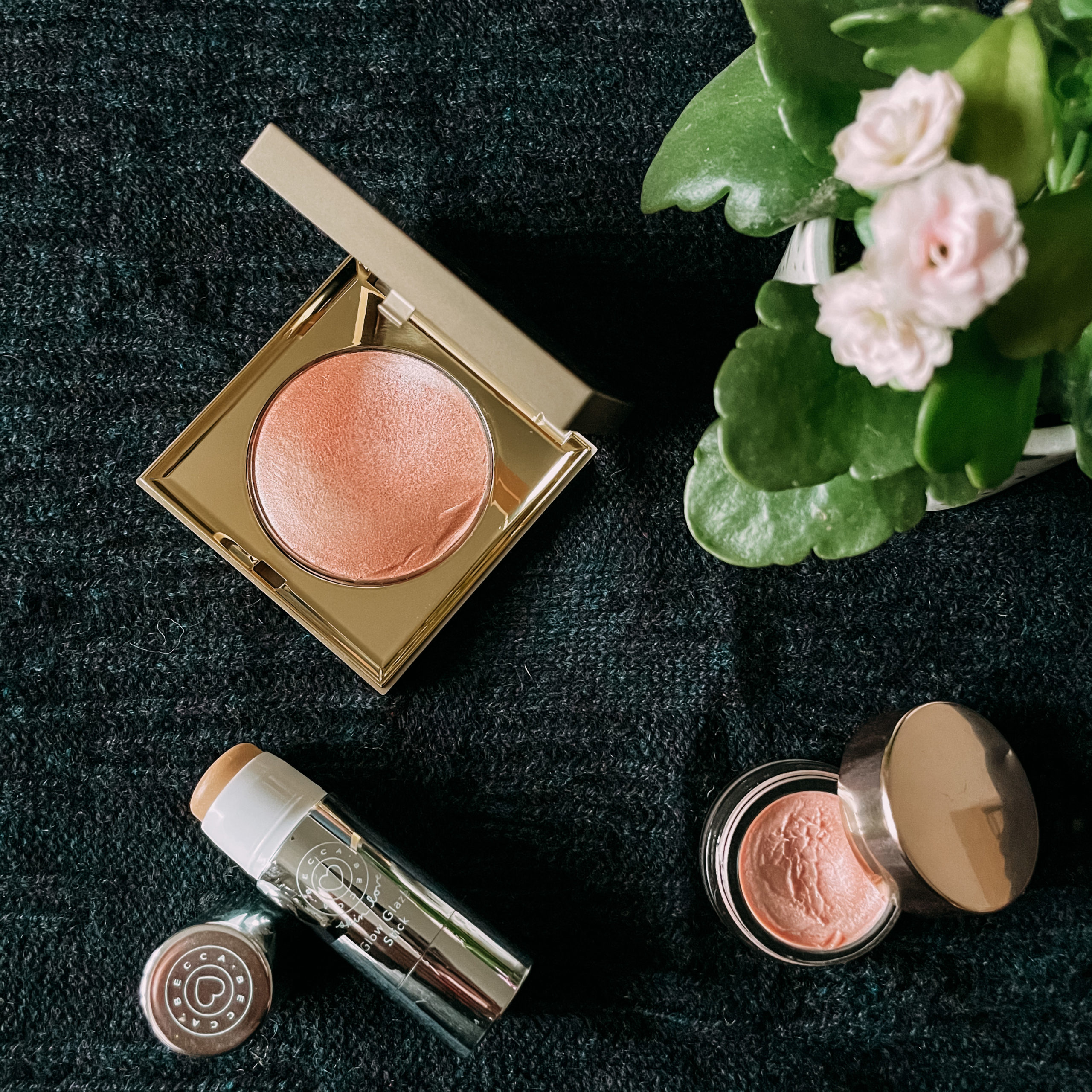 Blush
Even though it's not a requirement, I like my blushes to have some nice care ingredients in them, to protect my skin. As I have sensitive skin, particularly on the cheeks, a few extracts of this or that or a little hyaluronic acid are great.
Note: most lipsticks can also be used on the cheeks …
1/ My favorite blush, Tata harper's in "Very Popular" shade, which can be used on the lips and cheeks, is a beautiful rosewood that enhances the complexion and smells like plants. It contains several oils to smooth the skin texture, nourish, provide a protective barrier, and some anti-aging ingredients.
2/ I also use Physicians' formula cream blush in pink berry shade, which contains a hydrating and protective complex based on superfruits. It is a beautiful fresh pink, "healthy glow" effect.
3/ Guava butter from Seraphine cosmetics, which contains, as its name suggests, some guava butter. It can be used on the lips as well as on the cheeks. It is very comfortable and very natural. With this light brown peach shade, no need to use bronzer, it is sufficient on its own to enhance the complexion, provide a beautiful result, and bonus: it smells of fruit juice.
4/ Tower 28's blush in Magic Hour shade, a beautiful soft pink, for a snow queen mode, lol, and very pleasant to apply.
5/ Last but not least is a super cream blush that has a fresh finish and a nice hold. This is a cream blush from Fenty, here in Petal Poppin, a pink with a hint of peach, very flattering this time of year. I also like to apply it to the eyelids for a quick make-up, like the Tata Harper one.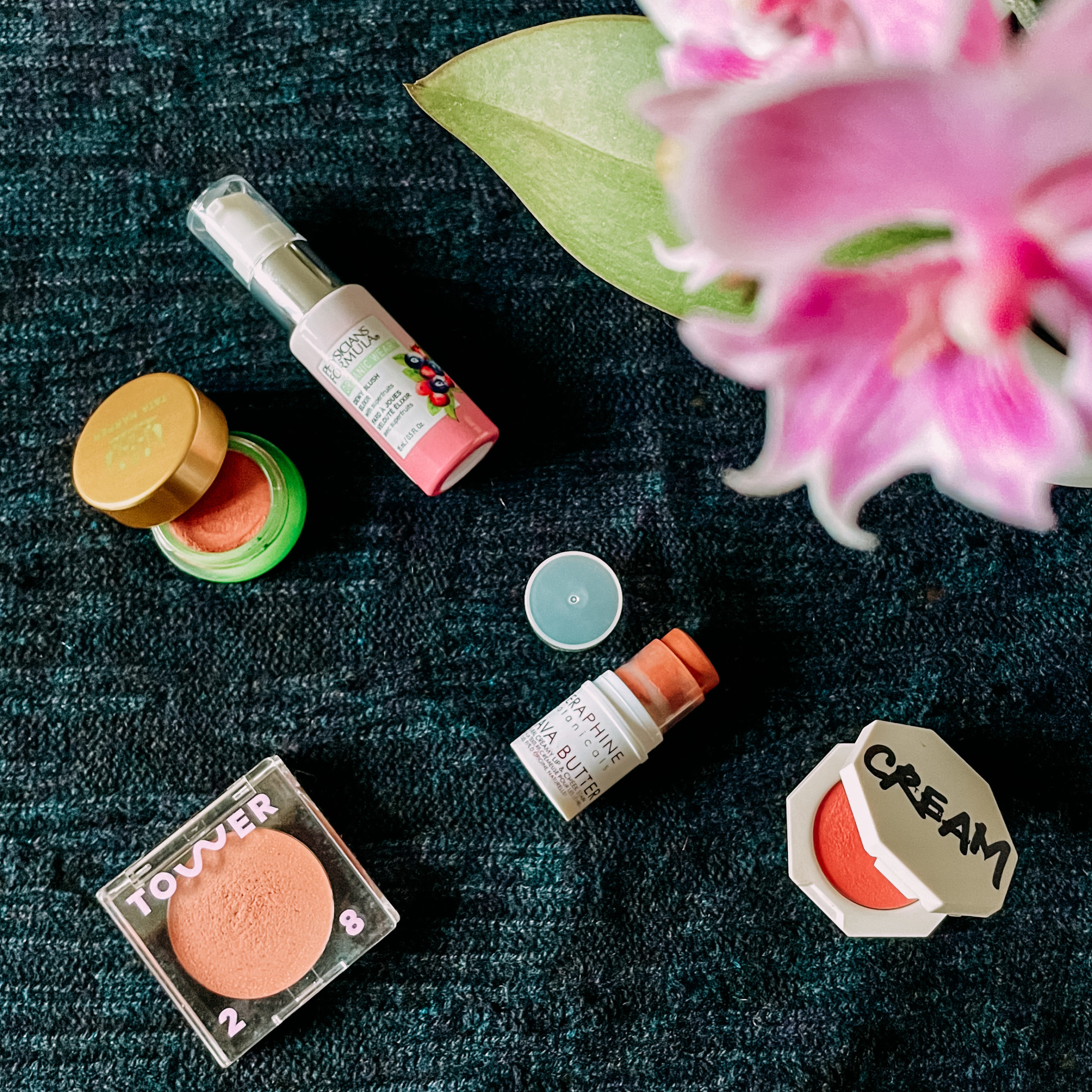 The gear, the tips
1/ To apply cream products, there are two choices: fingers or brushes.
As for the brushes, my two favorites are the Stippling Brush from Real Techniques, for blushes in particular but also thick bronzers, and the one from Sephora, the number 06, for the highlighters, the creamy bronzers, the foundation, contour … It's a real all-rounder.
2/ How do I make cream products hold? You have to powder, but not just any old way. A fine veil, applied by pressing with a powder puff or by sweeping with a very light fluffy brush, so as not to move the products underneath.
If you have not put on too much product and you have lightly powdered, the cream product will have the same hold as the others, or even better on certain skin types like mine, which are happy to have more hydration and less tightness, so, no cakey effect nor dry pieces of skin that appeared after a few hours.
Here are my favorite little cream products, I hope I inspired you to use yours or that it gave you some ideas because we must not forget that we can use a product in different ways, even if this is not noted on the label and thus leaves room for creativity – just be careful if it specified that you cannot use it on eyes, for example, it is always written.
Where the little colors give us a fresh, an awakened and luminous complexion in no time at all, taking care of ourselves is more than a hobby, it's like therapy. Indeed, giving ourselves a little self-time helps us reconnect with ourselves. It gives us confidence, and arm us to face the world.
Take care.
XO 🎨