"The best sunscreen is the one you can't wait to apply."
Paula Begoun, founder of Paula's Choice.
Hello, young Padawan.
You are counting the days, the hours and the minutes that separate you from your holidays … and only think about being naked and tanned? Why not, but only if you do it smartly. I mean getting a tan, not naked.
The sun is nice, indeed, but being protected from its dangers, it is better, don't you think? You do what you want, but take 5 minutes to read me, maybe you'll learn something and who knows, I may be able to convince you to take care of yourself.
Why protecting yourself from the sun?
At moderate doses, the sun is good for health, well being, mood, skin, it provides an anti-inflammatory and anti-depressant effect. Conversely, in excess, it can become dangerous (early aging, cell damage, and skin cancer).
UVA / UVB, what is it?
They both belong to the category of ultraviolet rays (Yes, UV, try to follow me a little, anyway, ed). What are they responsible for? There is an effortless mnemonic way to remember:
-UVB with a B for "Burn." They remain on the surface and are responsible for sunstrokes, and skin lesions.
-UVA with an A for "Age." UVA, as for them, penetrates deeply into the skin and ages the skin prematurely, causing damage to skin cells, dehydration, and age spots.
– What is strongly discouraged: It is dangerous to expose a child under the age of three. Moreover, 70% of skin cancers in adulthood are due to exposures/sunstrokes before the age of 15 — a word to the wise.
But considering that the sun is still good in small doses, it's like everything; it is to consume with moderation.
Solar Protection
– Chemical filters: They need to be applied 20 min before exposure to be active. Once the skin is exposed to the sun, chemical filters (like octocrylene, oxybenzone, avobenzone) absorb ultraviolet rays (they are prohibited in organic cosmetics, ed). Throughout the exhibition, by neutralizing the rays, they become less and less effective and require re-application. At the beach, without bathing, they need to be re-applied every two hours, in case of swimming, it is necessary to re-apply them after each bath/wipe.
In the city or low-exposure urban life (workplace) it will be necessary to apply it, not every two hours, but in case of an outside lunch (and therefore 20 minutes before it, ed).
– Mineral Sunscreens: Titanium dioxide and zinc oxide. These filters reflect the rays, preventing them from penetrating the skin. As long as they are not removed, as long as they remain on the skin, they will protect you from the sun (and therefore reapplied when bathing, wiping, etc., ed.). Sensitive skin tolerates them better because they are less irritating. On the other hand, they tend to leave a whitish or slightly thick layer on the skin. Fortunately, the formulations are more and more qualitative (thanks to the Koreans), and today we have super easy products to apply, as long as we pay attention to everything that we use before. Indeed, some serums or silicone creams can make fluffs with it.
– How is the sun protection factor determined? In a nutshell, the Sun Protection Factor (SPF) is the product's level indicator of protection against sunburn. To determine it, we look at how long it takes to a volunteer to get sunburned with and without protection. Comparing the two durations, we obtain a ratio which is the number on your SPF.
Example: a volunteer exposed to UV rays takes 10 minutes to blush without protection and 3h20 to blush with the sunscreen under test (200 minutes). We obtain the following ratio: 200/10 = 20, which is an SPF 20. This means that with an SPF20 cream, you have 20 times more time before taking a sunburn VS without protection.
Each solar index corresponds to a percentage of blocked UVB, without forgetting that no protection never completely stops the sun's rays. This is why even coated with cream, we get a tan. "10% of the UVB passes through an SPF 30 cream, and 5% of an SPF 50" (according to Professor Brigitte Dreno, head of the cancer-dermatology department at the University Hospital of Nantes, France, ed). It is, therefore, preferable to favor a high SPF, especially if you have fair or sensitive skin.
– When to apply sunscreen? It is best to put it on when you are outdoors for a long time, even under clouds or in the shade. Indeed, UV rays reflect on certain surfaces such as snow or sand. The UV reaches us even if we are in the shade.
– What to control on the packaging? The surrounded UVA logo (or PA +++ mention for Korean formulations). Indeed, it is easy to protect against UVB but more challenging to formulate an effectively protecting cream from UVA.
– Quantity: you have to be very generous. Indeed, it is recommended by dermatologists to apply the length of an index by zone (a zone = face, forearm, biceps, half-leg, thigh, etc …) or 2mg/cm2, which represents 6 teaspoons for an entire adult body, so the amount of sunscreen to apply must be consistent to be effective.
– Change your solar products every year. Sunscreens are fragile ingredients. Temperature variations and air contact can alter the formula.
– What is not effective: the SPF in foundations, moisturizing creams, BB creams … Indeed, unless you spread your face with a ton of product (cakey or shine effect guaranteed), it is impossible to have the necessary dose of product to get the sun protection mentioned on the packaging while maintaining a natural result (I refer you to the dosages mentioned above, ed).
– What can be better: the double application of sunscreen. Meaning : to apply one time, wait for it to penetrate the skin, and apply a second layer of product. Thus, fewer areas will be forgotten. Mists or powders with SPF, to reapply on sensitive areas, just to be sure to have covered them well.
– What you should not forget: ears, nose, hands, feet, to wear a hat or apply sunscreen on the skull if the hair is sparse, décolleté, shoulders and back are often forgotten …
-Nothing is better than clothes, or what I call the 100% SPF: 100% at home in the dark, lol.
Nah, more seriously, there are anti-UV shirts, hats, caps, parasols, umbrellas … and of course: Even protected, we do not expose ourselves between 12 am and 4 pm.
Food is part of the sunscreen
… and general protection of the body.
Here, again, why eating seasonally makes all sense.
Indeed, a "rich in seasonal fresh fruits and vegetables" diet bring for example beta carotene, or lycopene thanks to tomatoes, but also anti-oxidants. And all this will help the skin to live its summer season better, and have a natural healthy glow, even without a tan.
Once again, the best gift to your body is to feed it with fresh and seasonal products.
Hydration. Drinking a lot of water in the summer is also a good idea to help cell renewal, to maintain glowy healthy skin (no, alcohol does not count in liquids, worse: it dehydrates you.) I know you hate me, I love you too, ed.)
Of course, all this does not exempt yourself from sun protection …
The products I use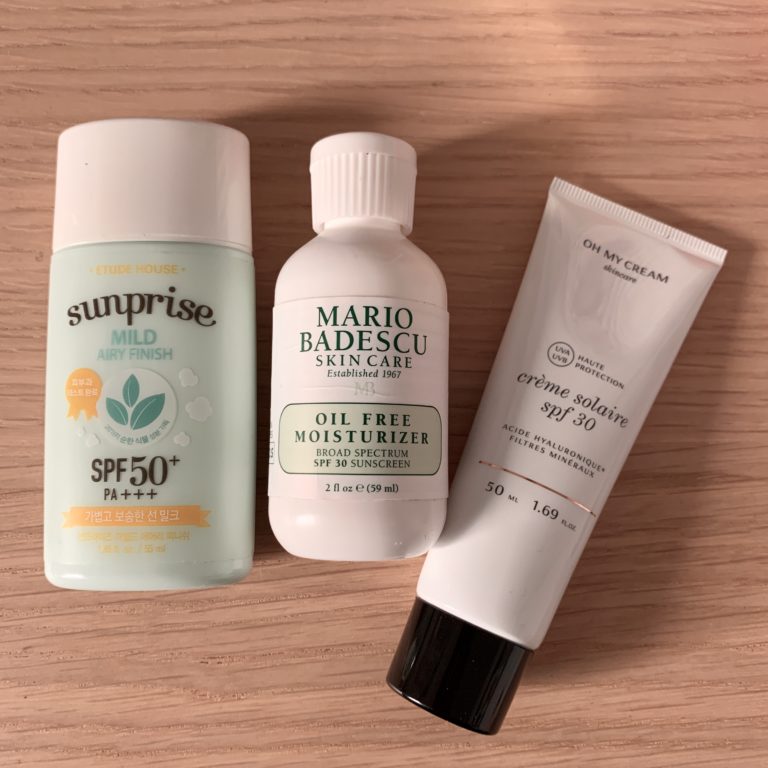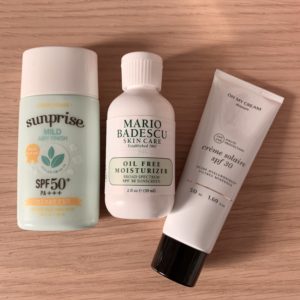 – SPF 30 sun cream, Oh My Cream. It is a mineral filter cream, tolerance to the top for sensitive skin. For combination skin, it can be used alone, for dehydrated skin it can be applied after a drop of oil and serums, or applied after full penetration of the day cream for dry skins.
– Sunprise SPF 50, Etude House. Mineral filter too, my favorite. Very fluid texture, excellent makeup base, ok for oily, combination, sensitive skin (pay attention to intolerance to perfumes, this product is slightly perfumed) dehydrated and dry skins will use it after the daily routine.
– Sun + skincare, SPF 50, Pacifica. It is a mineral filter in stick, perfect for the skiers (swimmers, cyclists, deck chair readers …) You can apply a significant layer on the cheeks and other sensitive zones (ears, nose, forehead ….) without white effect. Finally, it is a protection that does not destroy the marine ecosystem.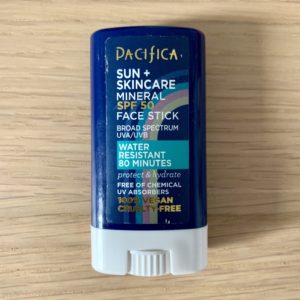 -Oil-free moisturizer SPF 30, Mario Badescu. Lightweight, non-greasy texture, easy to apply in quantity, non-sticky, perfect for days of intense heat. It is a chemical filter that is necessary to re-apply every two hours and wait 20 minutes before the first exposure.
– Sun shield liquid tint SPF 50, My Chelle Dermaceuticals. This formula is tinted and very fluid, easy to apply. It can replace your BB cream because it unifies the complexion a little. On the other hand, it is necessary to spread it rather quickly (it is better to proceed by zones) and not to rub too much on the skin to not have fluffs. The coverage is light, do not expect a foundation.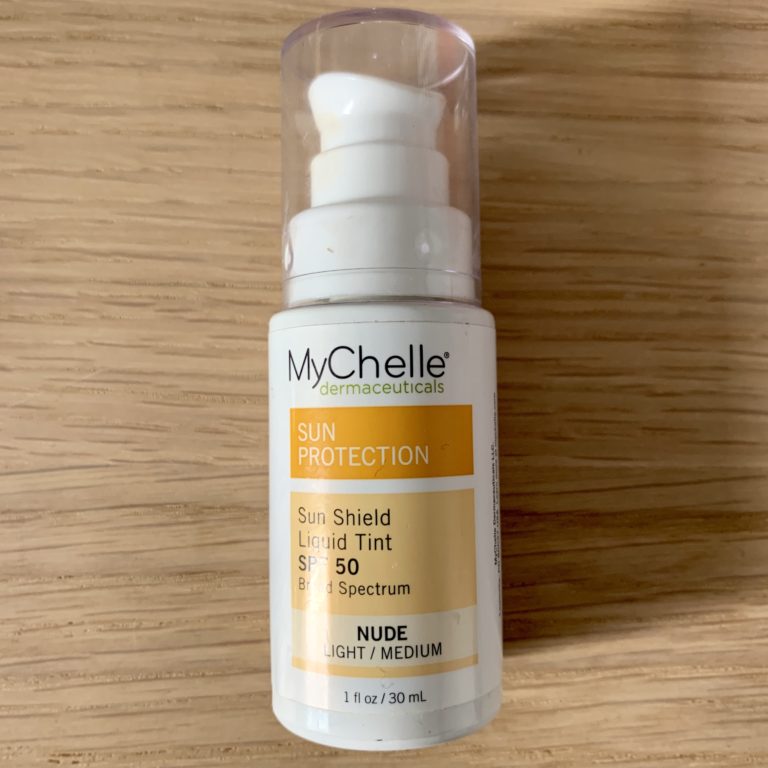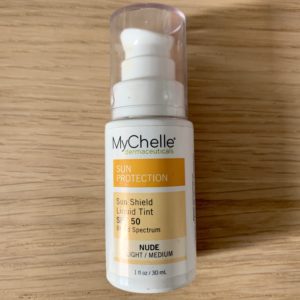 – Eco sun spray SPF 50, Seventy One Percent. Mineral screen. For the body, my choice stops on a sunscreen that does not destroy the marine ecosystem. I apply it every day on my tattoos, and to swim, so I have a single product for the body. It exists in a tube for the face.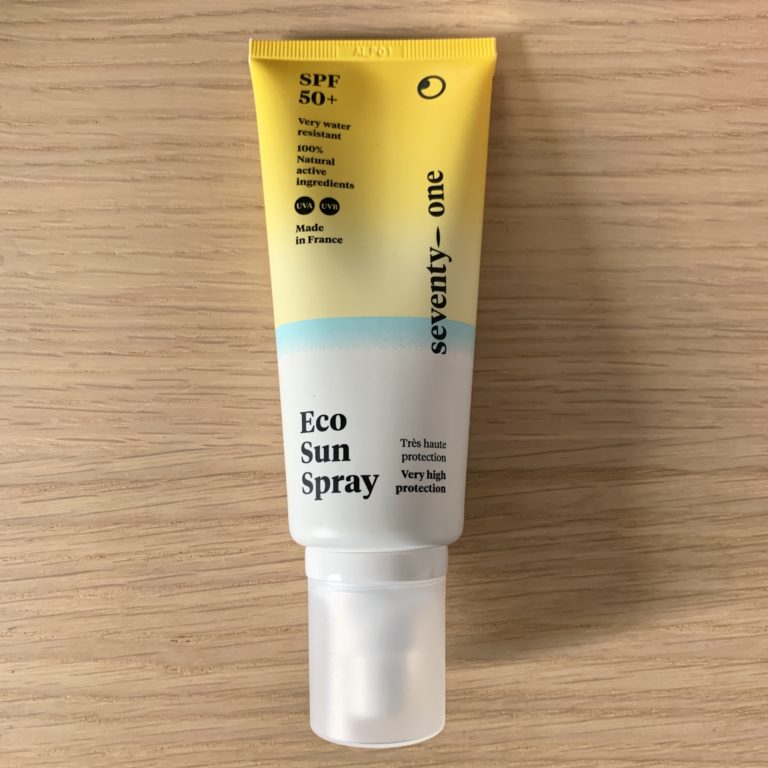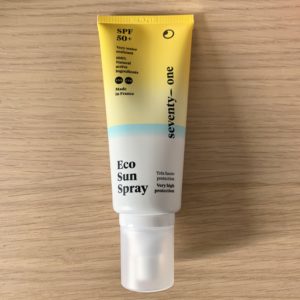 Retouching…
– Invincible powder refillable setting SPF 45, Supergoop. Face powder with mineral filter, to apply to retouch on the areas that have sweated, or where we could accidentally scratch and remove the mineral filter (typically, the T zone, ed).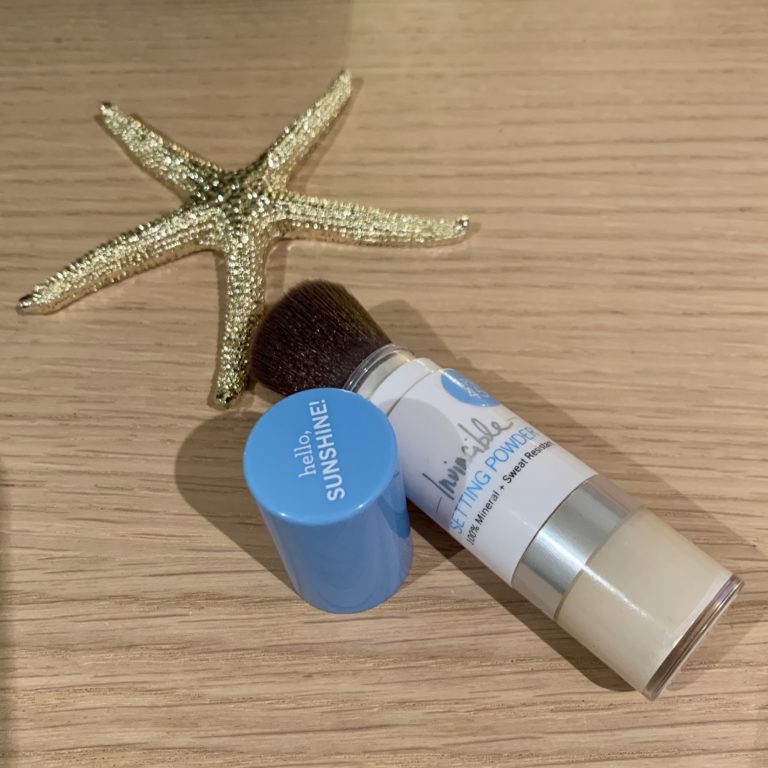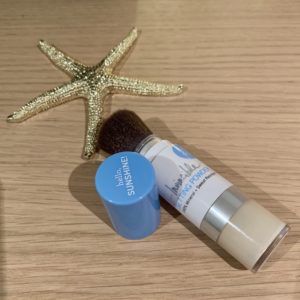 -Brush-on sun defense SPF 30, Mineral Fusion. Same principle, free powder with SPF for retouching in town.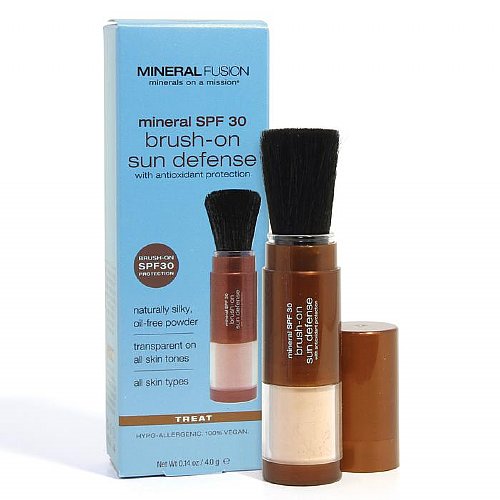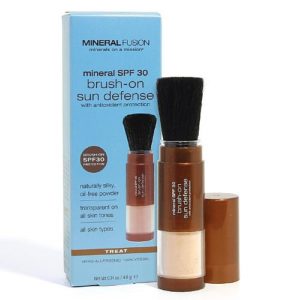 – Otherwise, there are sprays that you can even apply over makeup, but I find them a little greasy …
After exposure
Feel good moisturize, Seventy One Percent. It is a very light face and body milk intended to calm and moisturize after exposure, or outdoor sport (or intensive visit of the city center of your vacation spot). Ideal after swimming, for example. A single product that you can use on face and body.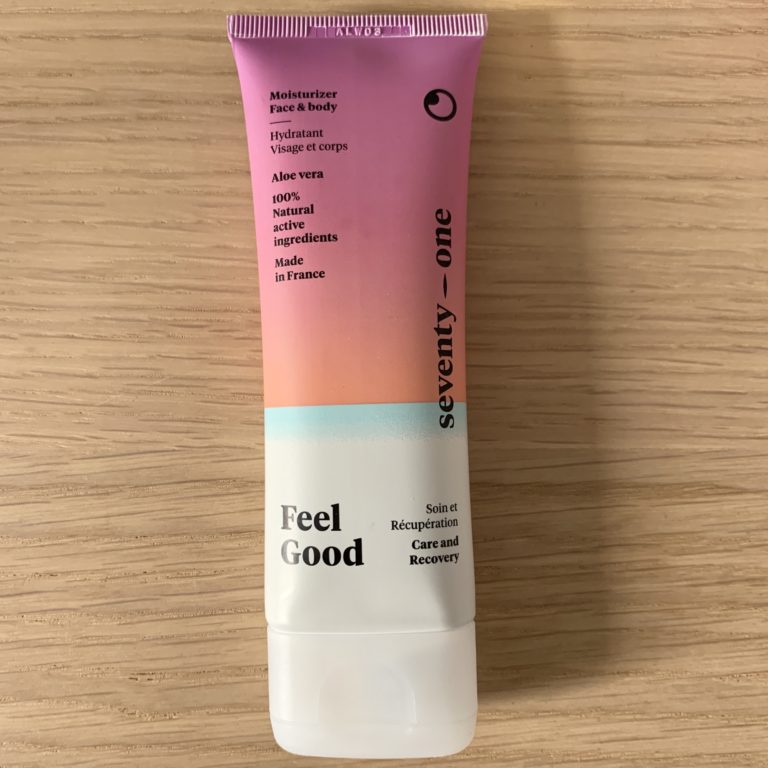 You can find these products at all good record stores. Nah, I'm joking.
-Oh My Cream and Seventy One Percent can be found on Oh My Cream website or Oh My Cream stores in France, or Amazon…
– My Chelle dermaceuticals and Pacifica in the USA at Target, Ulta, whole foods UK / USA or on Amazon or Iherb…
– Mario Badescu in the USA at Ulta or at Sephora,
– Supergoop at sephora USA,
– Mineral Fusion at Whole Foods USA/UK, or on Amazon.
Knowing that many other brands are doing the same thing …
That's it; now it's up to you to enjoy the benefits of summer without the inconvenience.
And if you have cravings at the sight of this divine pina colada smoothie, without alcohol and remarkably refreshing, you can find the recipe here.
take care,
XO ☀️