🥥🍍
Hello, young Padawan
Here we are, summer is here, it's great, we went directly from Seattle's weather to Miami's in 24 hours #irony. Our body has not had the time to be at this (oven's) heat. Thus, to help our bodies, we need some (drinks!) hydration.
And today we are going to discuss coconuts (no joke!, ed), whose water full of benefits is so precious (no joke either!, ed). But be careful, I am not talking about these drinks in tasteless bricks at supermarkets, they are just like bottled fruit juice: bullshit.
Fresh coconut, a real treat for your health. At a level that you cannot even imagine.
Do you know that during WWII (during the Pacific War, between 1941 and 1945), some wounded soldiers who lost a lot of blood, have had their lives saved thanks to coconut? Indeed the war doctors had transfused them with coconut water, the time to find human blood. And yes you read well, coconut water is the liquid on earth closest to human blood. Unbelievable, isn't it? But without rum, we said, little rascal.
Fresh coconut water contains plenty of precious nutrients: calcium, magnesium, potassium, iron, sodium, carbohydrates, manganese, copper, and it is also alkalizing and an excellent isotonic drink for athletes.
what more can you ask for?
SMOOTHIE LIKE A PINA COLADA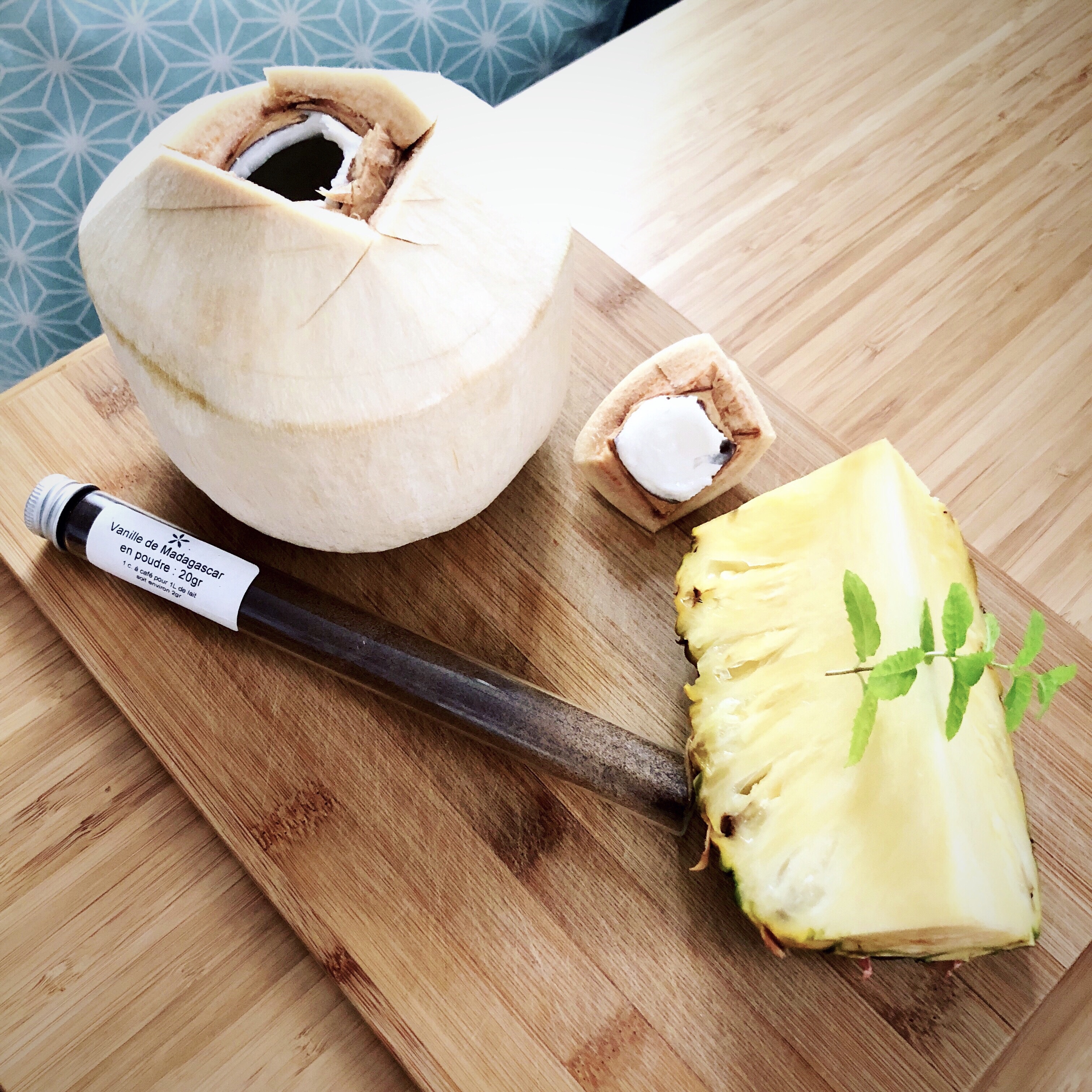 For one serving.
¼ pineapple
1 fresh coconut (all the water, half of the flesh)
4 mint leaves
A pinch of vanilla powder
Optional: some ice, if you want it fresh, so fresh… exciting.
Recipe
Remove the skin from the piece of pineapple, cut the flesh into small pieces, and keep a nice triangle for the decoration of the glass, because we eat first with the eyes.
Cut the head off the coconut without cutting a finger, this is a blog held by a vegan, no meat in the smoothie, please. Set the coconut water aside (in the bowl of a blender if you have a classic blender, in a separate cup if you have a nutribullet).
Collect the flesh with the back of a tablespoon.
To take off the flesh of the coconut, you just have to tilt the spoon, hollow part of the spoon against the coconut wood, it is easier and you'll lose less of it; then when the ¾ are unstuck, turn the spoon in the convex direction against the wood to finish (Please tell me that you followed me, because I took five minutes to ask myself how I was going to explain this (f*) tip to you, ed).
keep half the flesh for the recipe, the other half in the fridge (you can keep it 48 hours).
Rinse the pretty mint leaves.
Put all the ingredients in the blender, if it's a classic blender start with coconut water, if it's a nutribullet: finish with coconut water. Don't forget the mint leaves, the pinch of vanilla, and some ice, if you want.
Blend until the texture is smooth …
Presentation
Choose a nice wine glass, without fingerprints. Nah, I do not judge the contents of your kitchen buffet, I just know from experience that you will be sad if you take a pic of your "artwork" and they disfigure it (… yes it happened to me before, ed).
Pour this delicate beverage deserving of the gods of Olympus in this elegant glass (no superlative is enough for this, ed), decorate with the pineapple triangle by slightly cutting the base of it, guide yourself by your imagination. You can even add a nice mint or pineapple leaf if you feel it!
No need to growl behind the screen, I heard you: "rum in the smoothie" … you do what you want, your faithful servant offers you a healthy version without alcohol nor added sugar, then you dispose of it…
Add a cute straw, preferably a reusable one, as that the environment thanks you.
Now, it is time to grab your drink and lounge alone on a deck chair or, to be with friends for a wonderful after work that smells holidays. With it, you will see the coconut trees, the fine sand, the sound of the sea (Do you hear me, imitating the sound of the seagulls? … and then the sound of their poop falling on your head? oops ! ed).
Do you work tomorrow? Me too. But with this drink, we are already on vacation a little, and that is priceless!
Tropical kisses 🍹