"Life is not a long calm river, but it offers some islands of tenderness".
Sandra Dulier.
Hello, young Padawan
Today less blah blah (or almost) and more photos. I'm taking you to Belle Isle and trust me, she's aptly named.
Hum, at least its current name, because when she was French in the eighteenth century, they called it first "Hog Island" (L'Île aux Cochons, in French). Little rascals, I do not even want to imagine what they were doing over there to call it like that (of course, I do, in 4k and Dolby surround, ed).
It was not until 1845, in honor of Governor Lewis Cass's daughter, that its current name was awarded to it. Honor is safe!
If you do not know Michigan, you may not know where it is. It is owned and connected to Detroit by the MacArthur Bridge on the Detroit River, between the city of Detroit and Windsor, Canada.
Yes, when you live in Detroit, and you look across the river (where you see "Village des Ottawas" on the map above), it's Canadians you say hello to, lol.
Did you know that it is thanks to Belle Isle that the electric car starter is born? Well, I'm maybe a little too much enthusiasm, let the friend Wiki tell you this little anecdote:
« One night in 1908, Byron Carter of Cartercar stopped to help a stranded motorist on Belle Isle. When he cranked her Cadillac, it kicked back and broke his jaw. Complications from the injury resulted in pneumonia and he died. The incident motivated Henry Leland, founder of Cadillac Motors, to state that "The Cadillac car will kill no more men if we can help it". He hired Charles Kettering, who established Delco and developed the electric self-starter. This soon became standard on all automobiles.» (source : Wikipédia).
Belle Isle in Winter
This island attracts many more people in summer, of course, thanks to its greenery, bike paths, and beach, but I must tell you that I fell in love for it one month in January. The frozen shore, the big chunks of ice that cross the river like cars on a highway (I know, my poet soul, transcend you, ed.), the icy wind that whips your cheeks, perfect dream. Of course, it is, wait, do not roll your eyes and know that beauty lies everywhere, and especially where we do not expect it.
When you visit in January a tiny island whose main attractiveness resides on sunny days, you tell yourself that you'll have a quick look at it so you can check it in your to-do list, and leave, you see?
I stayed there for four hours. I walked for miles and could not go around because of the cold wind I was not equipped for that day, but I guarantee you that if I could cover my face of the wind, I would have finished the loop. And believe me, I made this loop since then — many times.
Walking in the freezing wind, I also had the opportunity to see a huge boat. There are passionate Americans who use apps to come to Belle Isle when they pass. In real, this cargo is gigantic.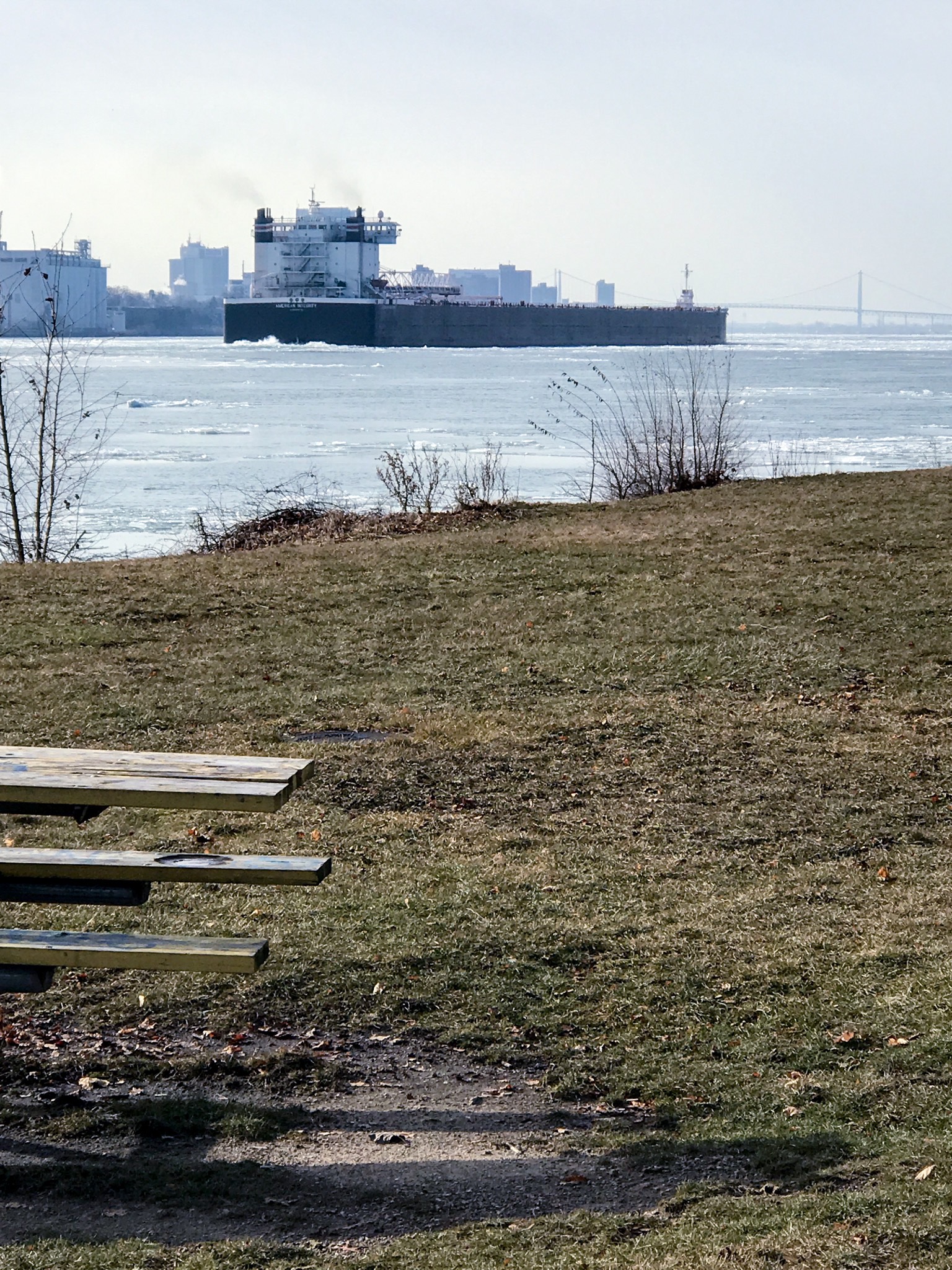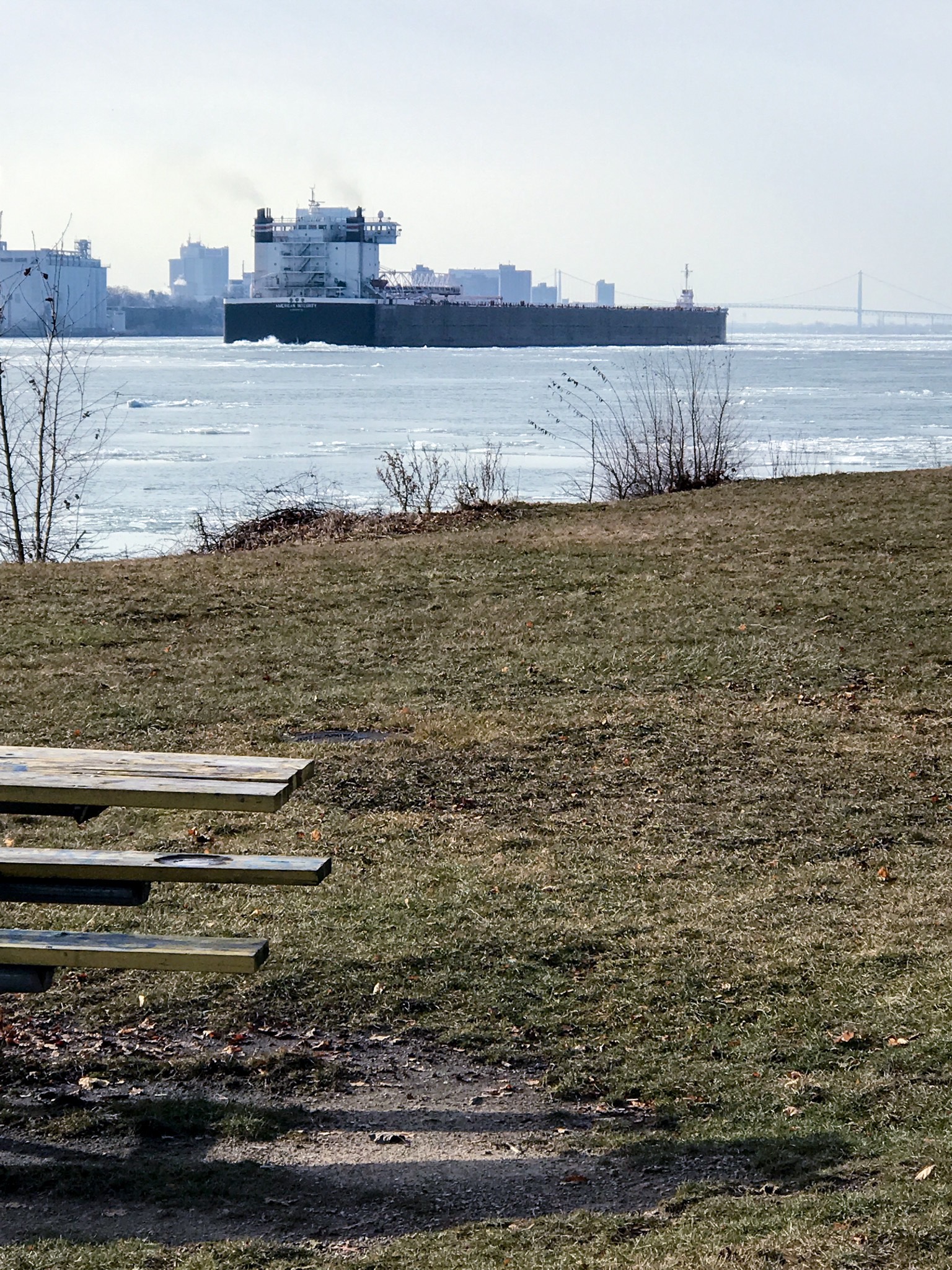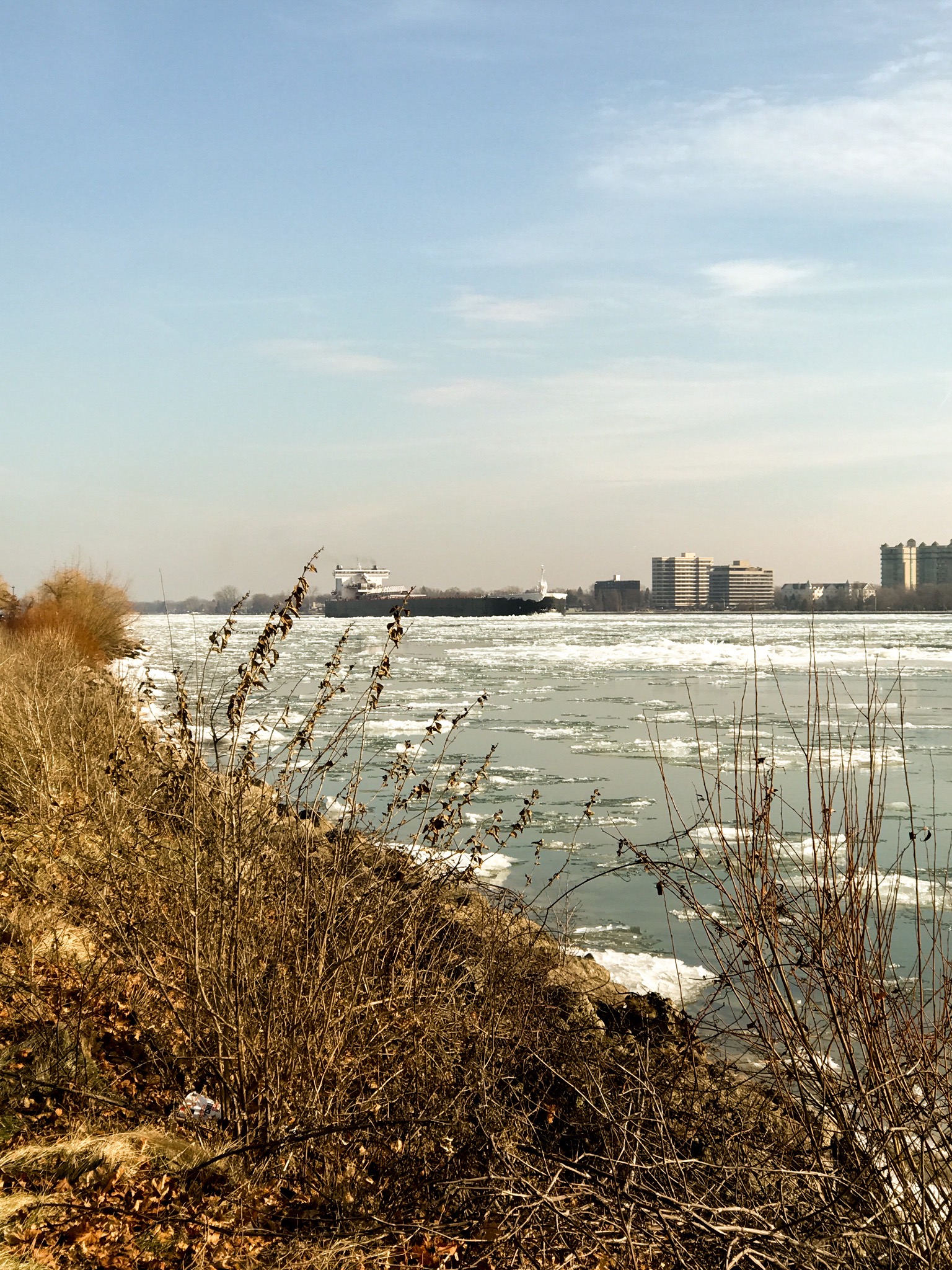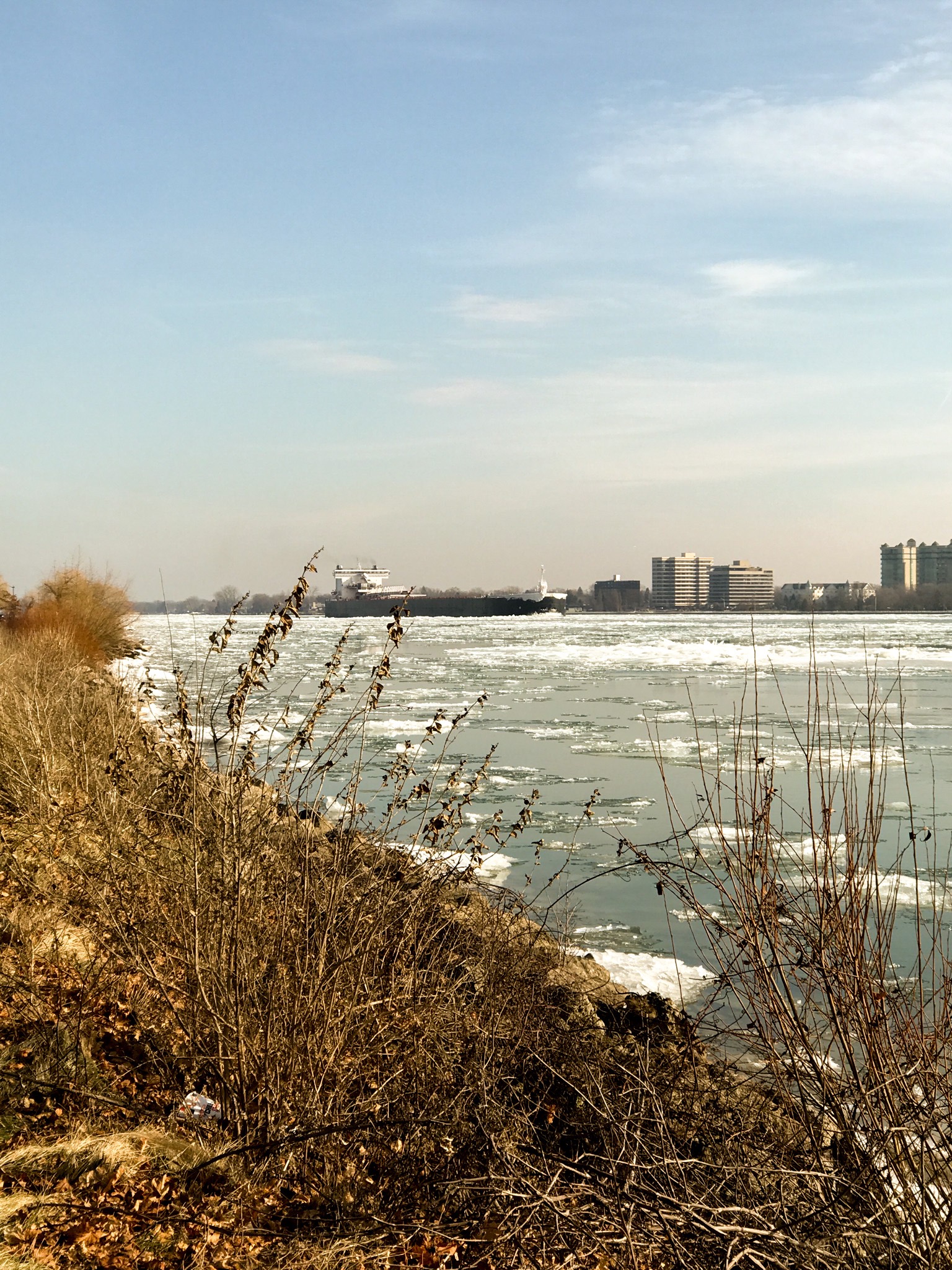 Downtown view
Do I have to write two pages to convince you? I don't think so. I can sit here and watch this view for a long time without never getting tired of it. A green setting, overlooking a gorgeous city skyline, that's also Belle Isle.
When in the heart of our great cities we are all anonymous, here alone on your shore watching the world busy, you become the only one who looks right at them. #sociologicalassessment
The James Scott Memorial Fountain
It's time for a little history, I let Wikipedia tell you: "The James Scott Memorial Fountain, designed by architect Cass Gilbert and sculptor Herbert Adams, the fountain was completed in 1925 at a cost of $500,000. The lower bowl has a diameter of 510 ft (160 m) and the central spray reaches 125 ft (38 m). The fountain honors the controversial James Scott, who left $200,000 to the City of Detroit for a fountain in tribute to himself." (source Wikipédia).
Let me tell you a little something about Europeans in general and French in particular. We often think when we are European that the United States' architecture and history is not a blast, compared to us. Well, now that I'm getting to know it a little bit, I can assure you that it's a false idea. The United States is a younger country than our old European lands, certainly, but it is nonetheless an exciting territory to visit with a lot of treasures to discover.
The Dossin Great Lakes Museum
I have not had the opportunity to visit it yet, but one day I'll go for sure. It was advised to me by the two Americans I had a chit chat with about the big freighter, which was the biggest of all Michigan, they said.
In the meantime, here's what the old pal Wiki tells us : "The Dossin Great Lakes Museum is a maritime museum. Located on The Strand on Belle Isle Park, this museum places special interest on Detroit's role on national and regional maritime history. The 16,000-square-foot (1,500 m2) museum features exhibits such as one of the largest collection of model ships in the world, and the bow anchor of the legendary SS Edmund Fitzgerald." (source : Wikipédia).
The Anna Scripps Whitcomb Conservatory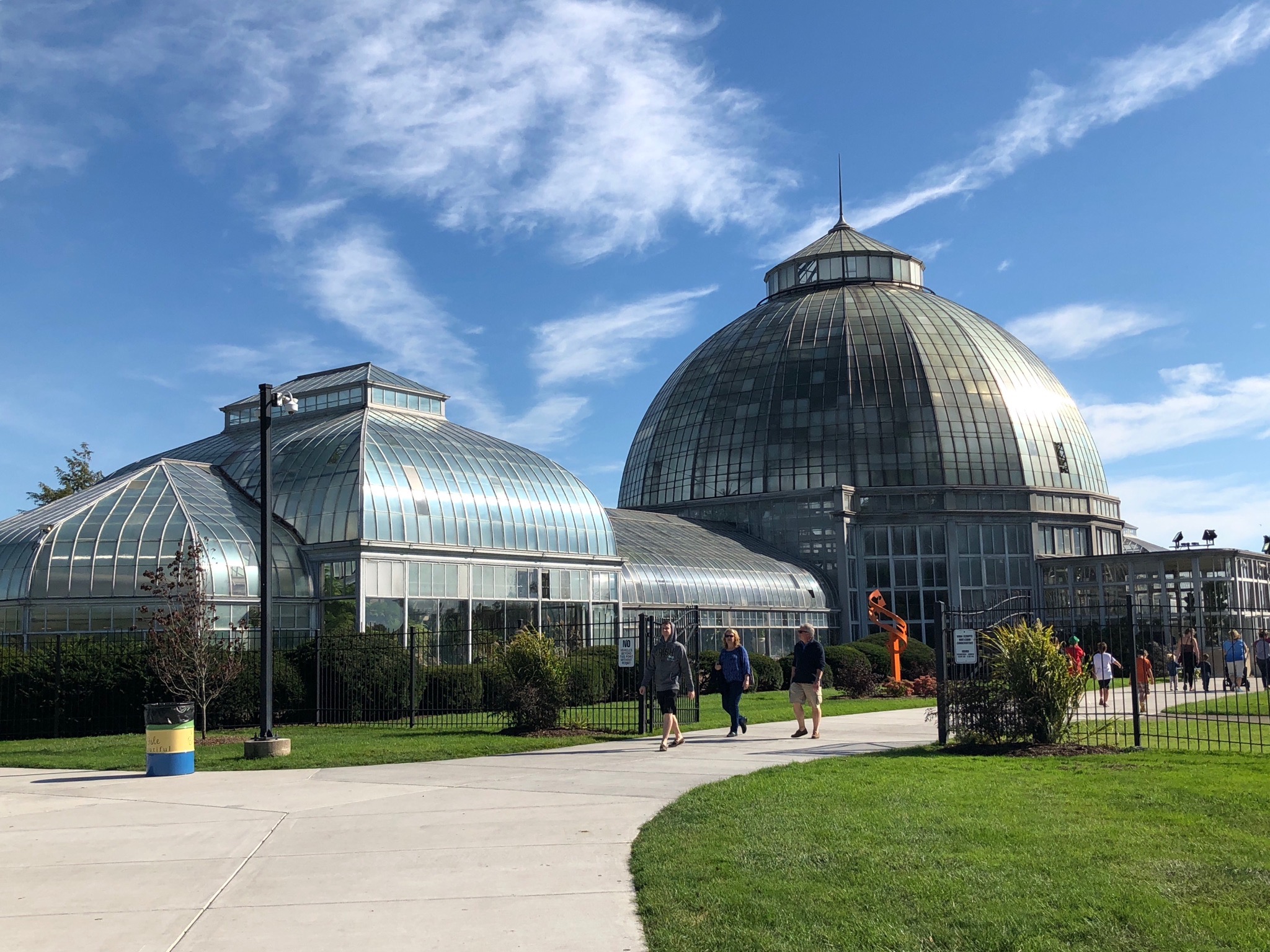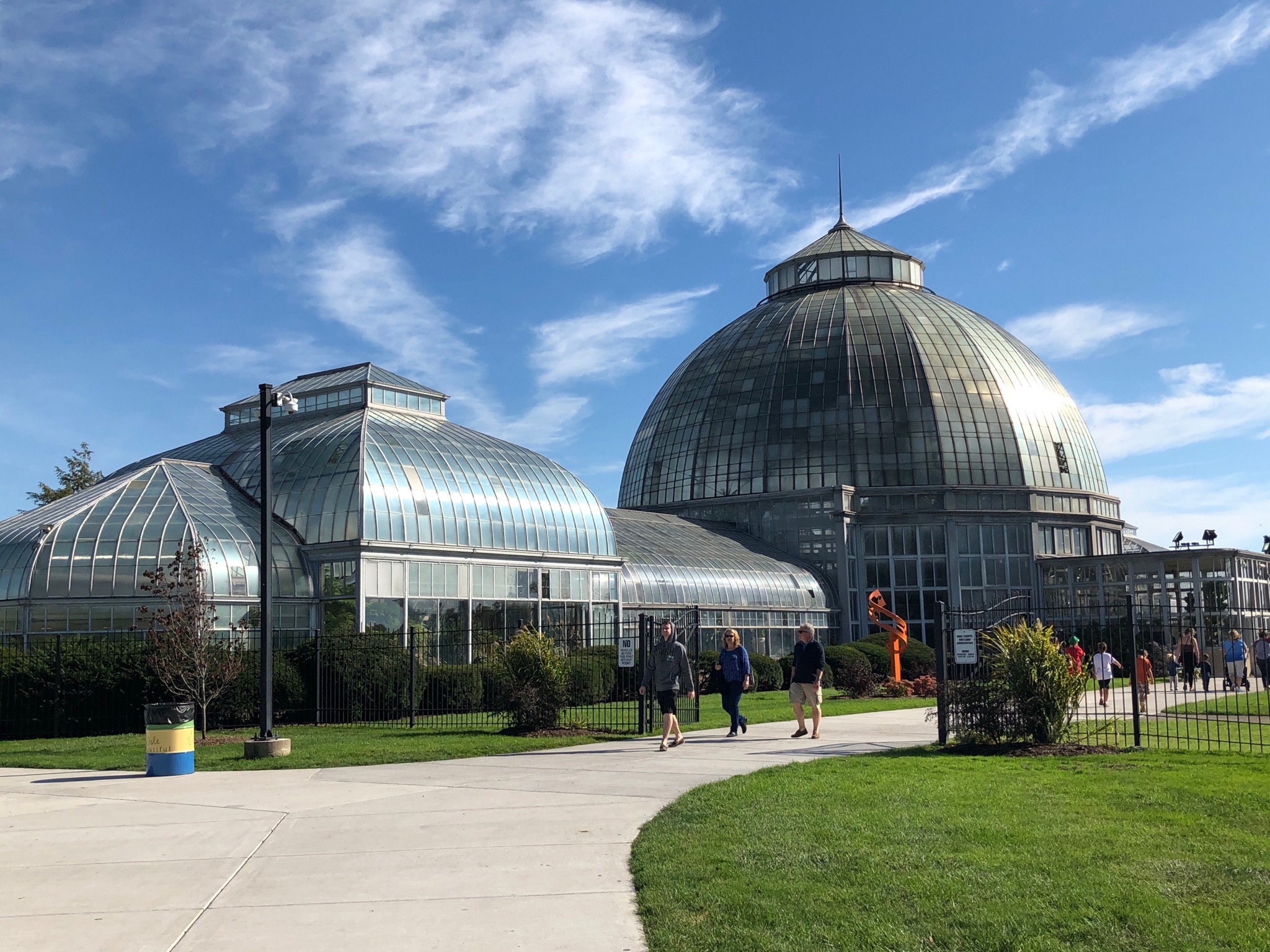 I loved it, and I even want to go back.
The conservatory is a greenhouse and botanical garden which opened in 1904 and rebuilt between 1952 and 1954. Located three miles (4.8 km) east of the city's downtown, on Belle Isle, it covers 13 acres (5.3 ha).
There are plants and flowers of all types; it is delightful and relaxing. Here are some pictures I took when I visited it:
And if you have a little craving, there is everything you need, lol: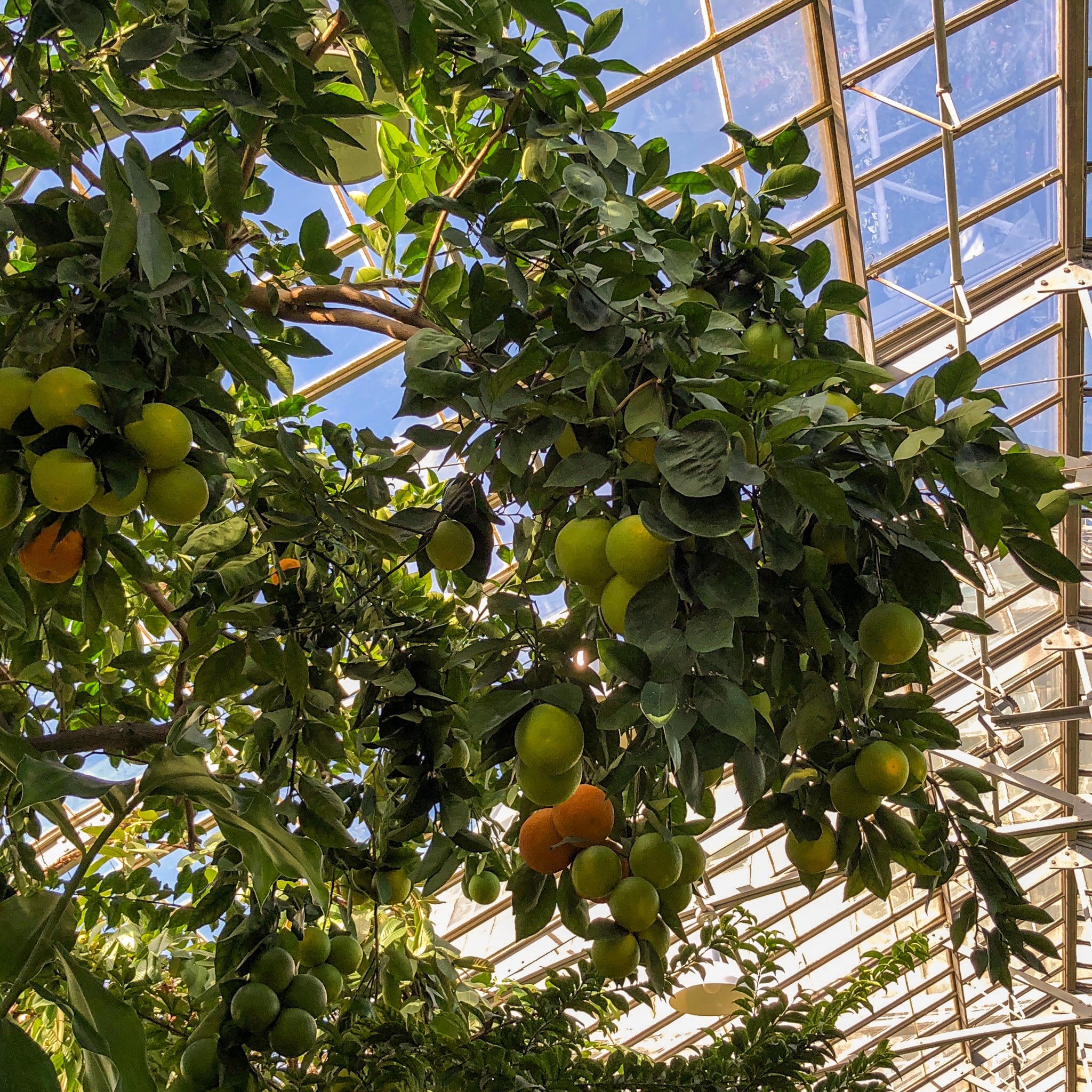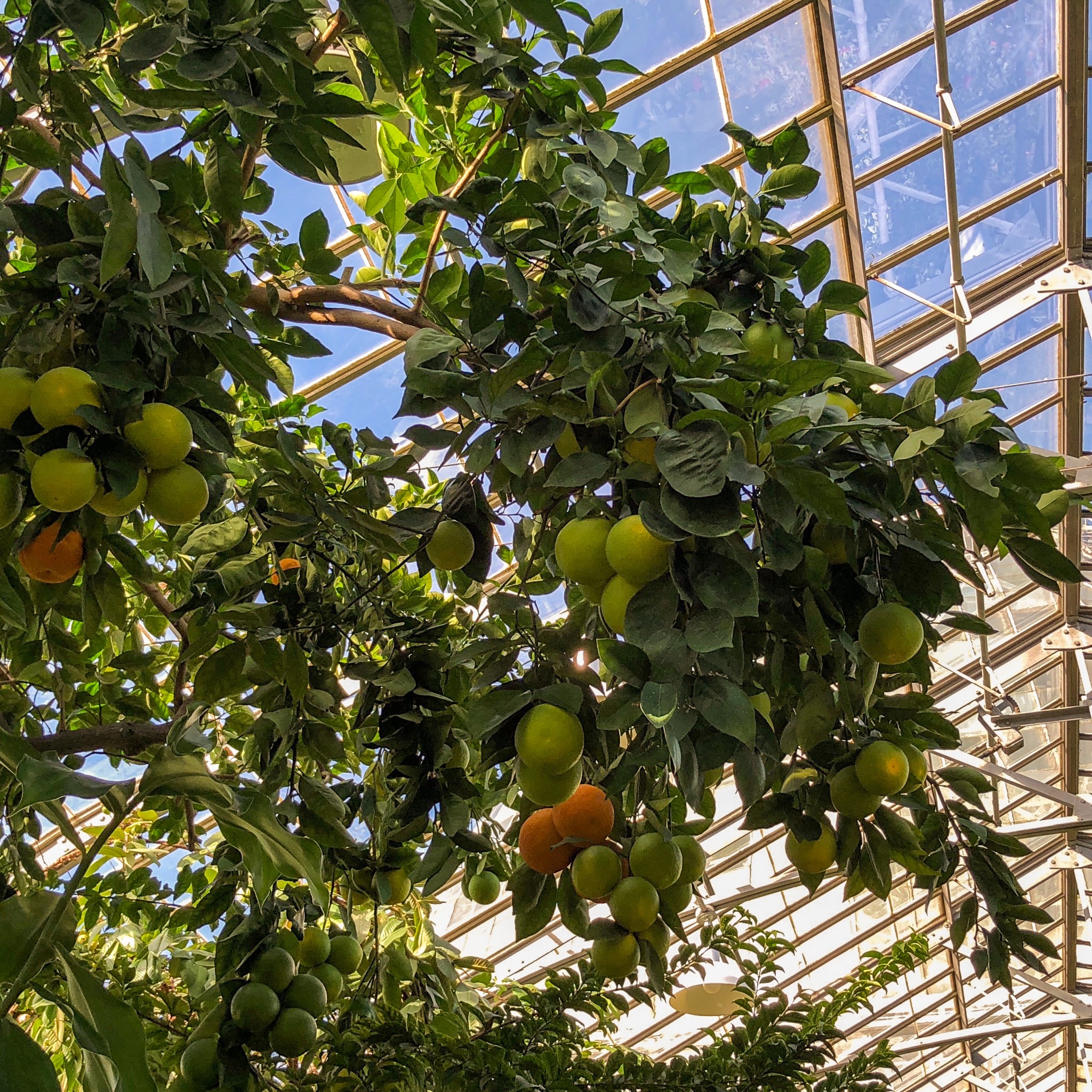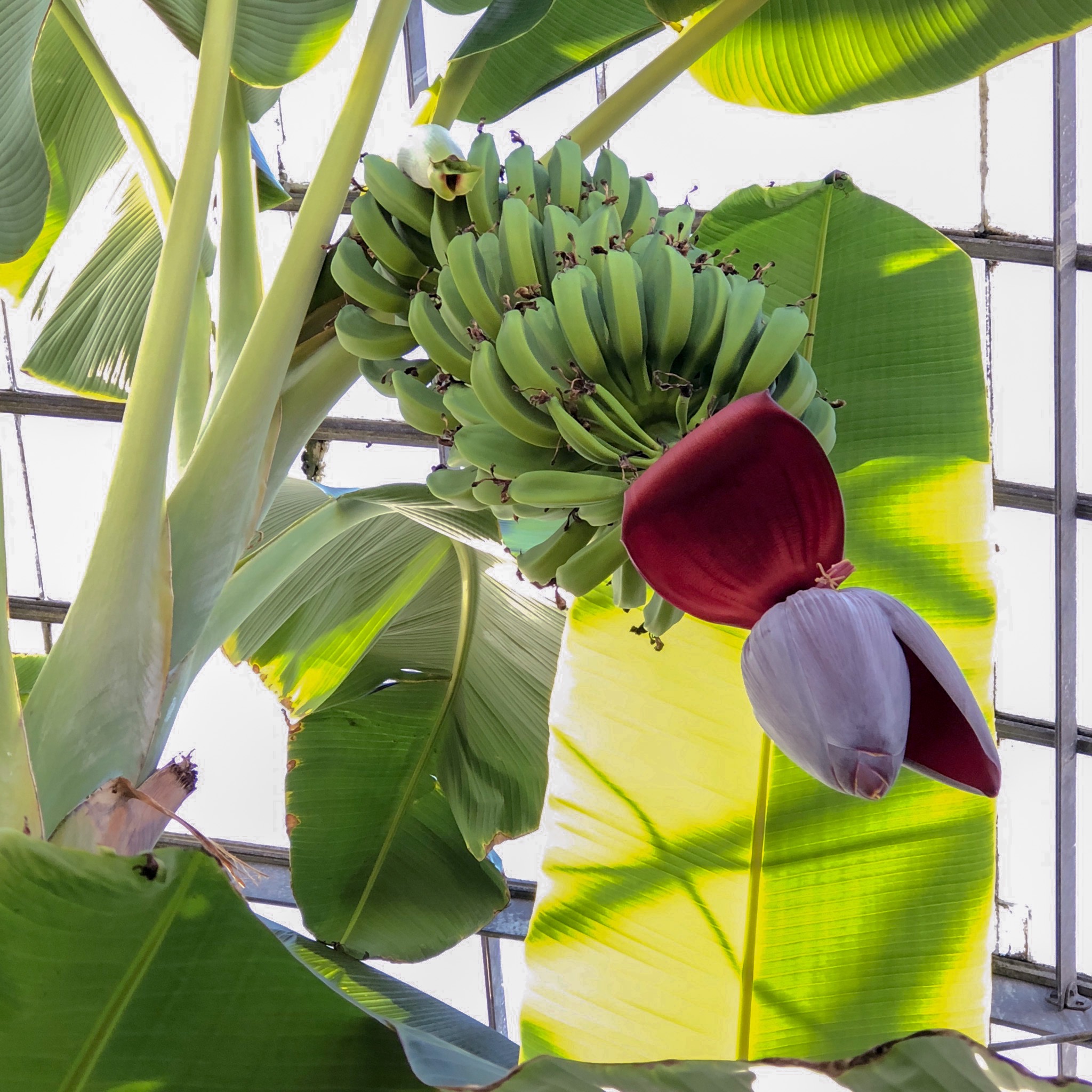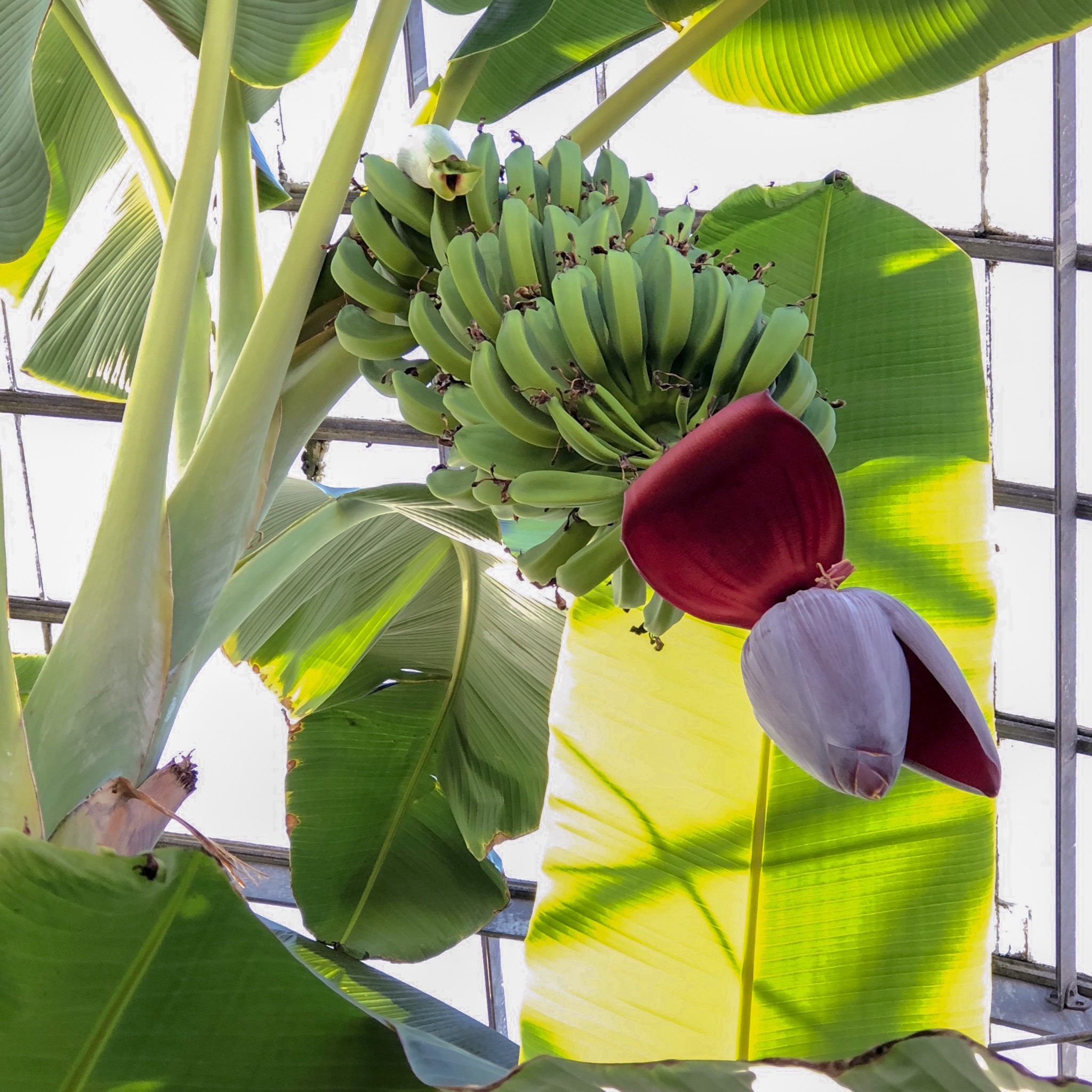 I admit that when I saw these lovely bananas, the great ape in me wanted to bring out his wild instincts. And no, I did not run naked in the greenhouse! Lol. But let's go back to our business (or our leopard thongs), here is the inside of the other side of the conservatory which has a small outside courtyard: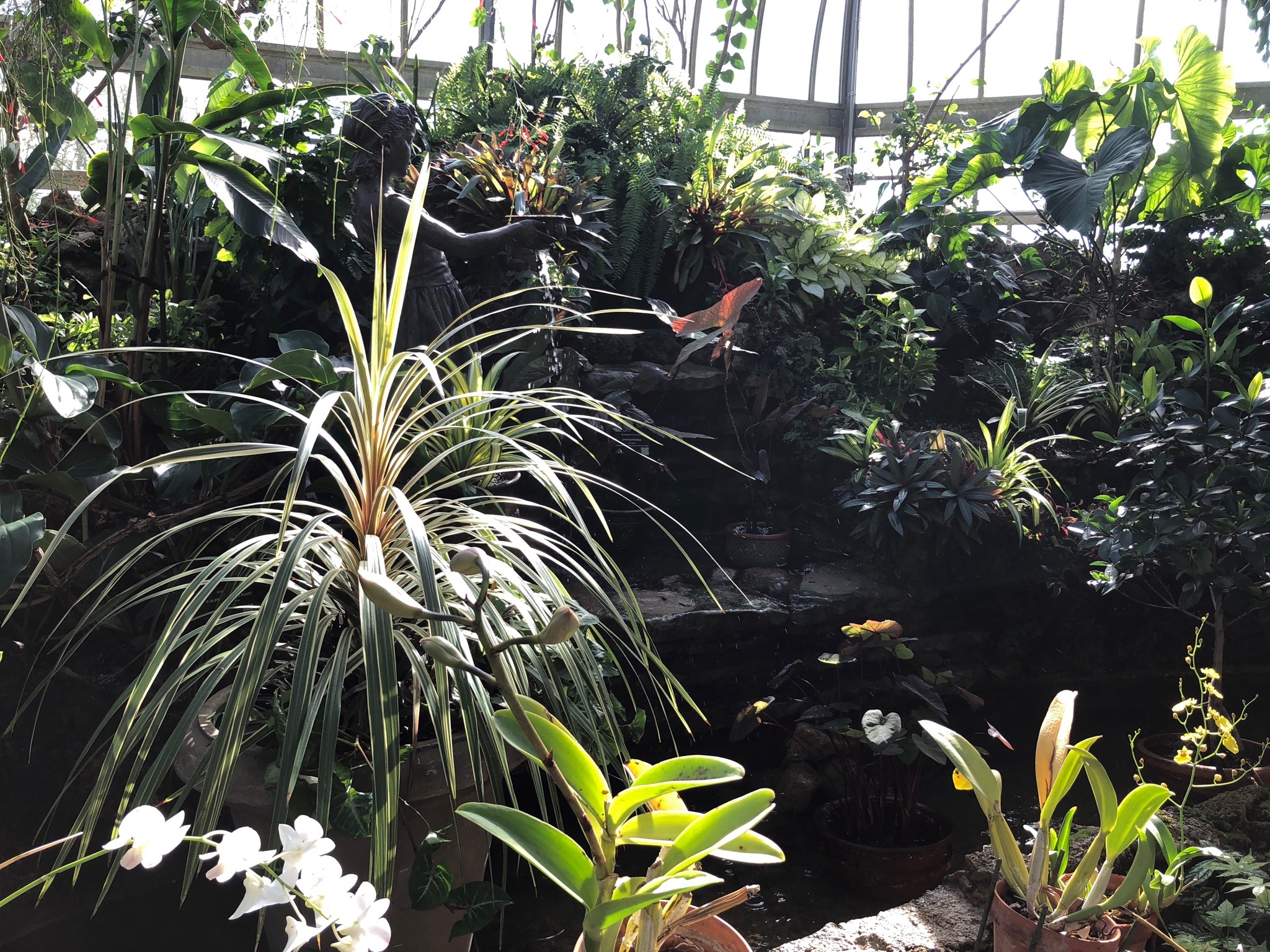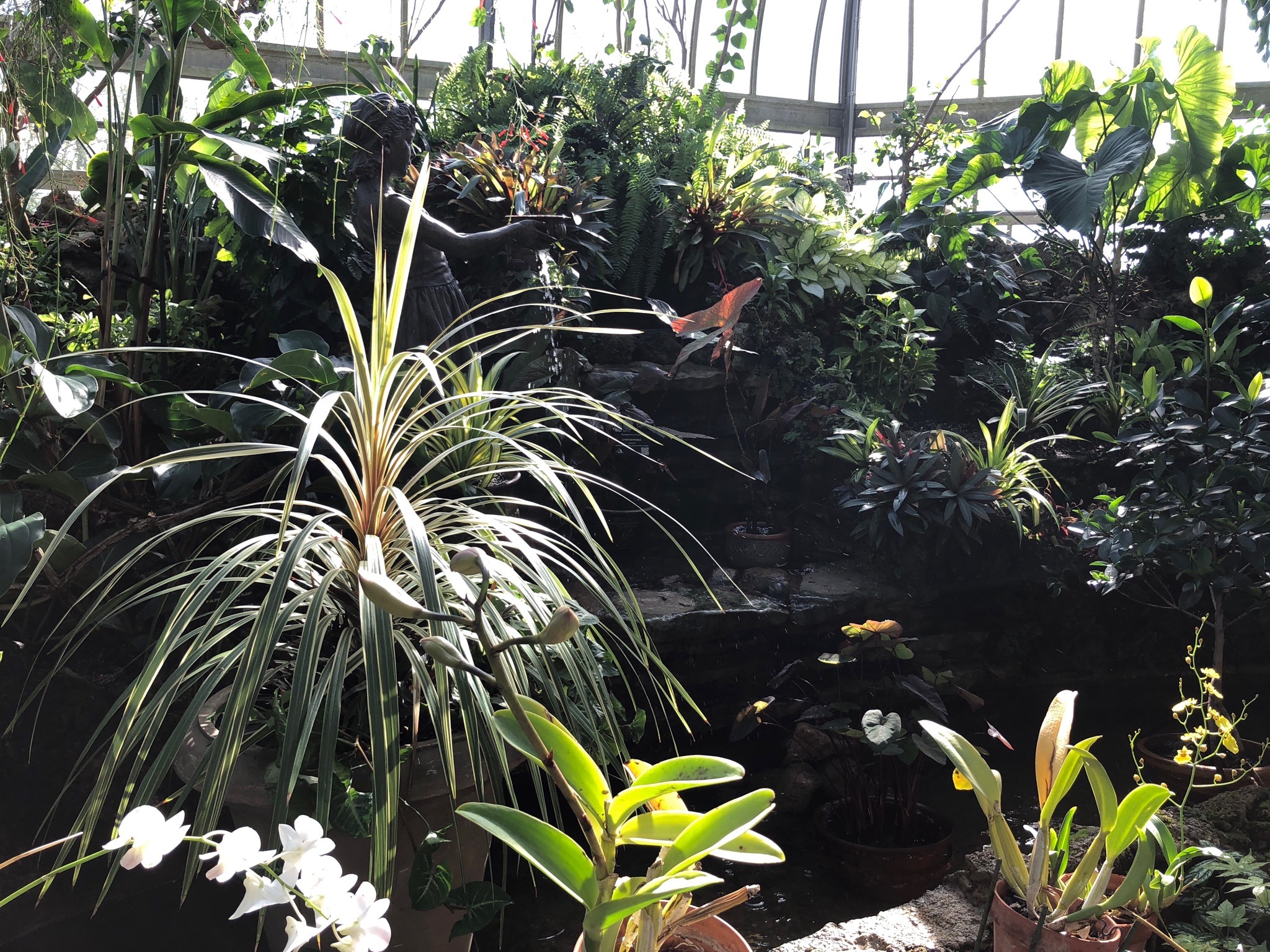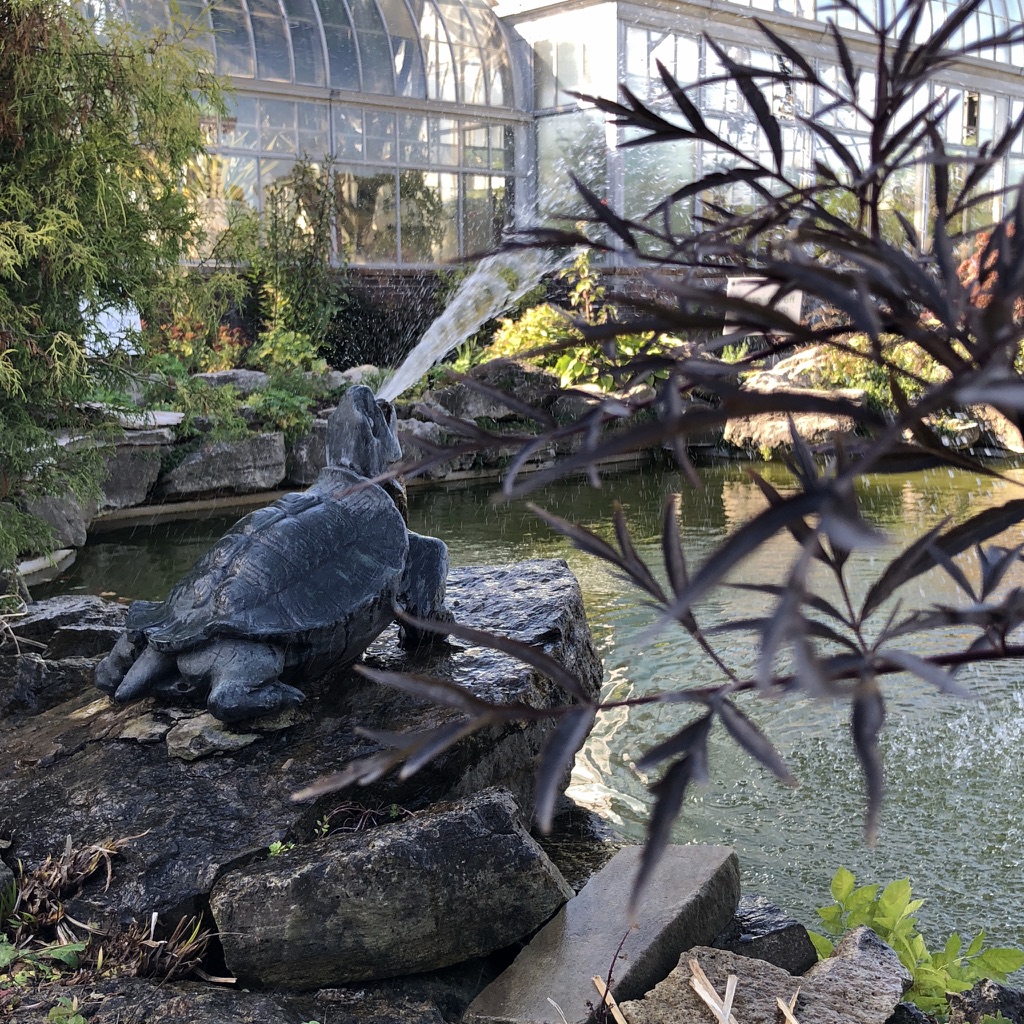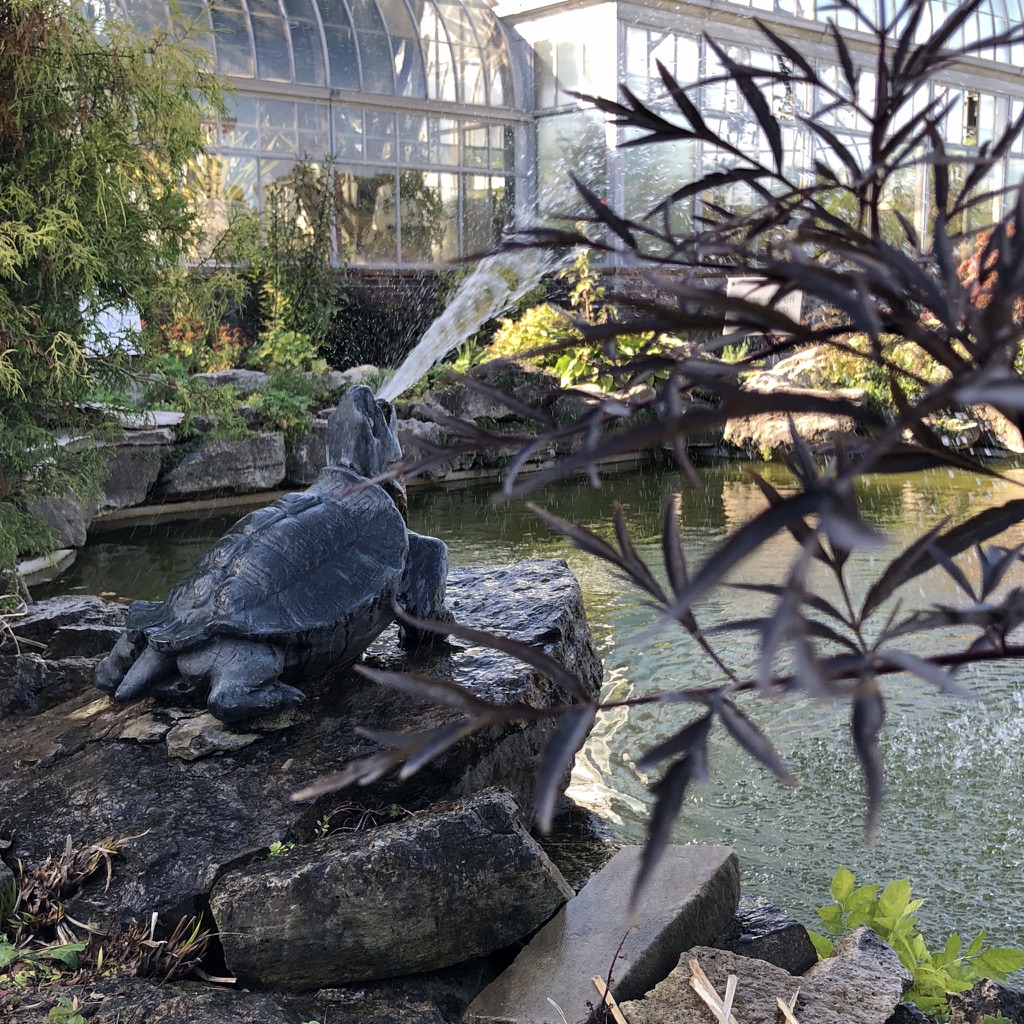 And here is the entrance to the botanical garden: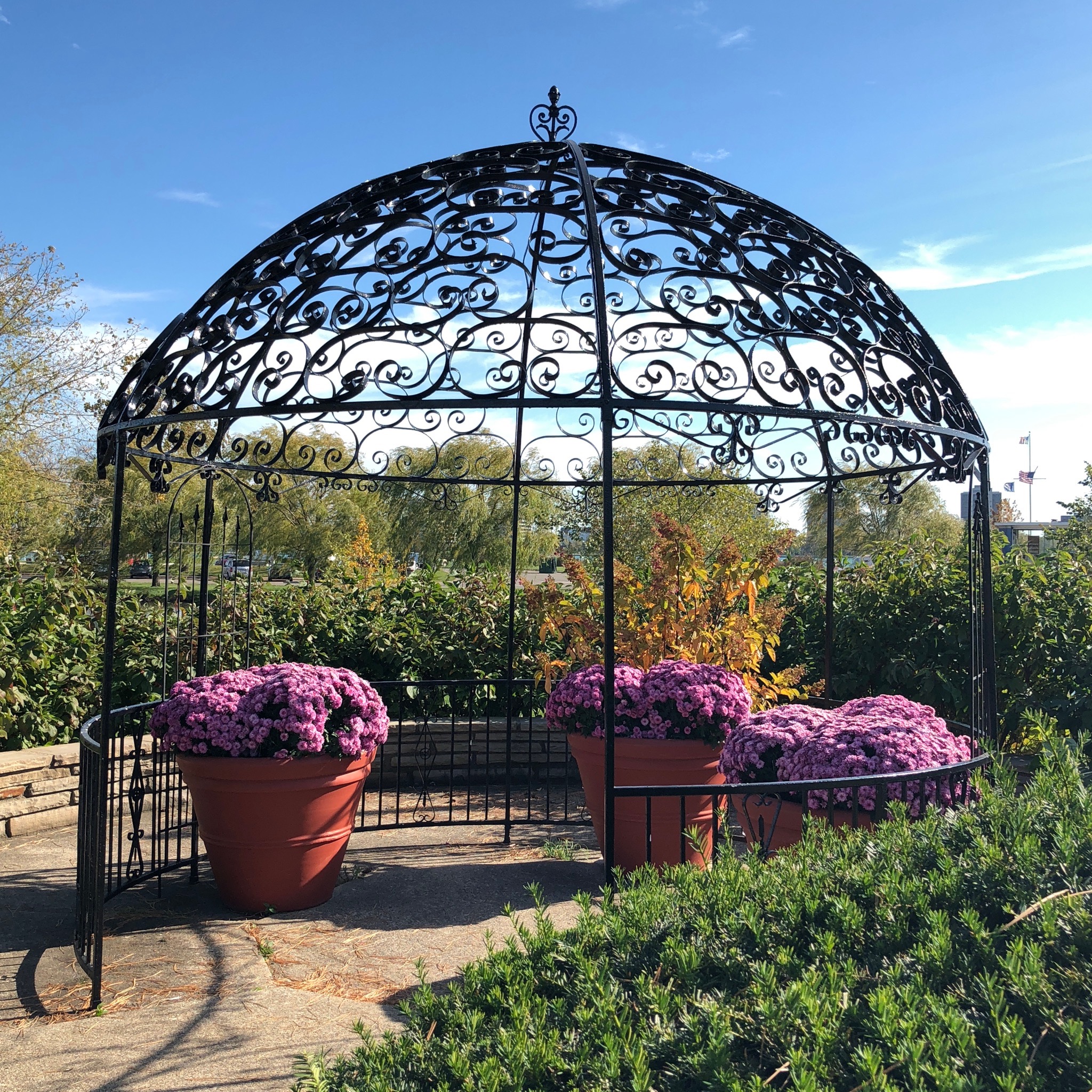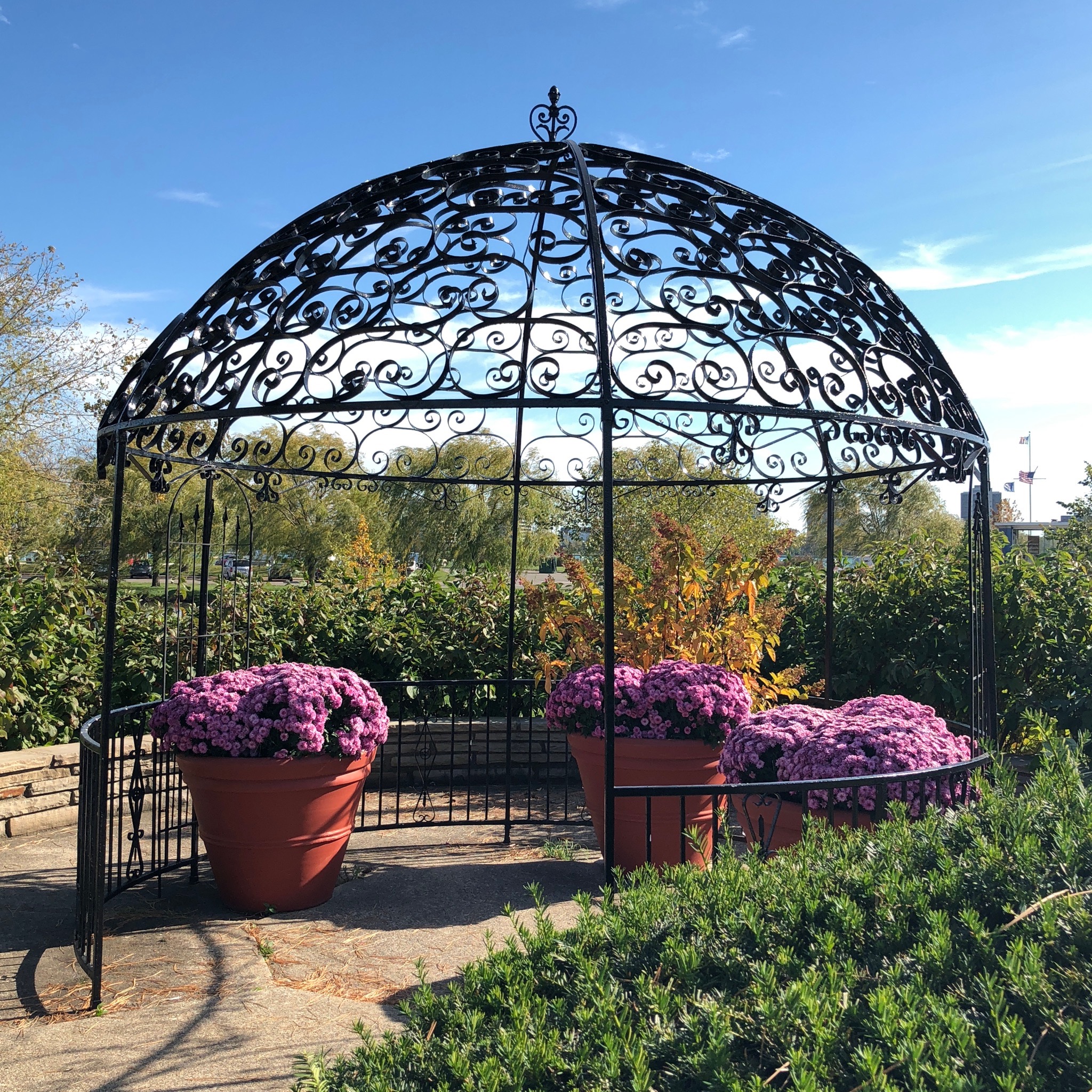 What you will not hear about in this article, nor on this blog: The aquarium and the zoological park of Belle Isle (and of anywhere else). Do not be surprised if you are new on this blog, but here we only see wild animals by chance by diving or hiking somewhere because we like too much freedom, to remove it to others.
However, I am no one to have a judgment on the opinions and the choices of the others, you do well what you want, from now on, each to his own business.😉
That's it, my dear Padawan, I hope that this short visit to Belle Isle will have pleased you, but know that the best way to appreciate it at its true value is to visit it yourself!
Greenery greetings 🏝