Hello, young Padawan
A simple recipe for early fall, but which is super yummy, does that tempt you? I hope so because that is the program for today.
Do you know what the fashion of "one-pot" cooking is? It's about doing everything in the same pot to make it easier to do and avoid having to wash too many dishes …
While having lunch with someone who works with me, I learned that the recipe I was going to offer you today was in vogue, lol. Indeed, the "one-pot" cooking seems to be trending, and it's crazy when you think that it's the oldest way of cooking in the world, but if it can seduce a few young people because it is fashionable, then let's do it!
Turmeric
It's been a while, so I thought it would be a good day to talk about turmeric again, just a little…
Turmeric mainly contains iron, zinc, manganese, selenium, and vitamins C, B6, and B3, and is rich in anti-inflammatory active ingredients such as bisacurone, caryophyllene, and campesterol. Known to be anti-aging, it also acts as a natural anti-depressant thanks to turmerone. It is a good hepatoprotection because of its content in borneol (that is to say, hat it takes care of your liver, dear Padawan, ed).
Used for millennia in Southeast Asia to treat various concerns such as inflammatory diseases such as osteoarthritis, arthritis, rheumatoid arthritis, or to improve heart health, turmeric is indeed a powerful anti-inflammatory.
Considered an anti-cancer virtue by more than half of the planet's inhabitants (India, China, …), it also protects against the main bacteria responsible for gastric and duodenal ulcers (Helicobacter pylori, ed) thanks to its anti-bacterial properties and the gingiberene it contains. It takes care of fragile intestines such as those prone to irritable bowel syndrome or other such digestive concerns. And finally, it makes beautiful skin and also protects it from aging.
The piperine in pepper helps the body absorb the curcuminoids in turmeric, just like ginger and vegetable oil. Therefore, it is wise to add a little pepper in juices containing fresh turmeric or a pinch in curries, and add ginger and/or a little vegetable oil in our various preparations …
Turmeric is good for everything and everything, but above all, as with everything in life, do not start eating three pounds of turmeric per meal. Check with your healthcare professional, especially if you have a gallbladder prone to stones.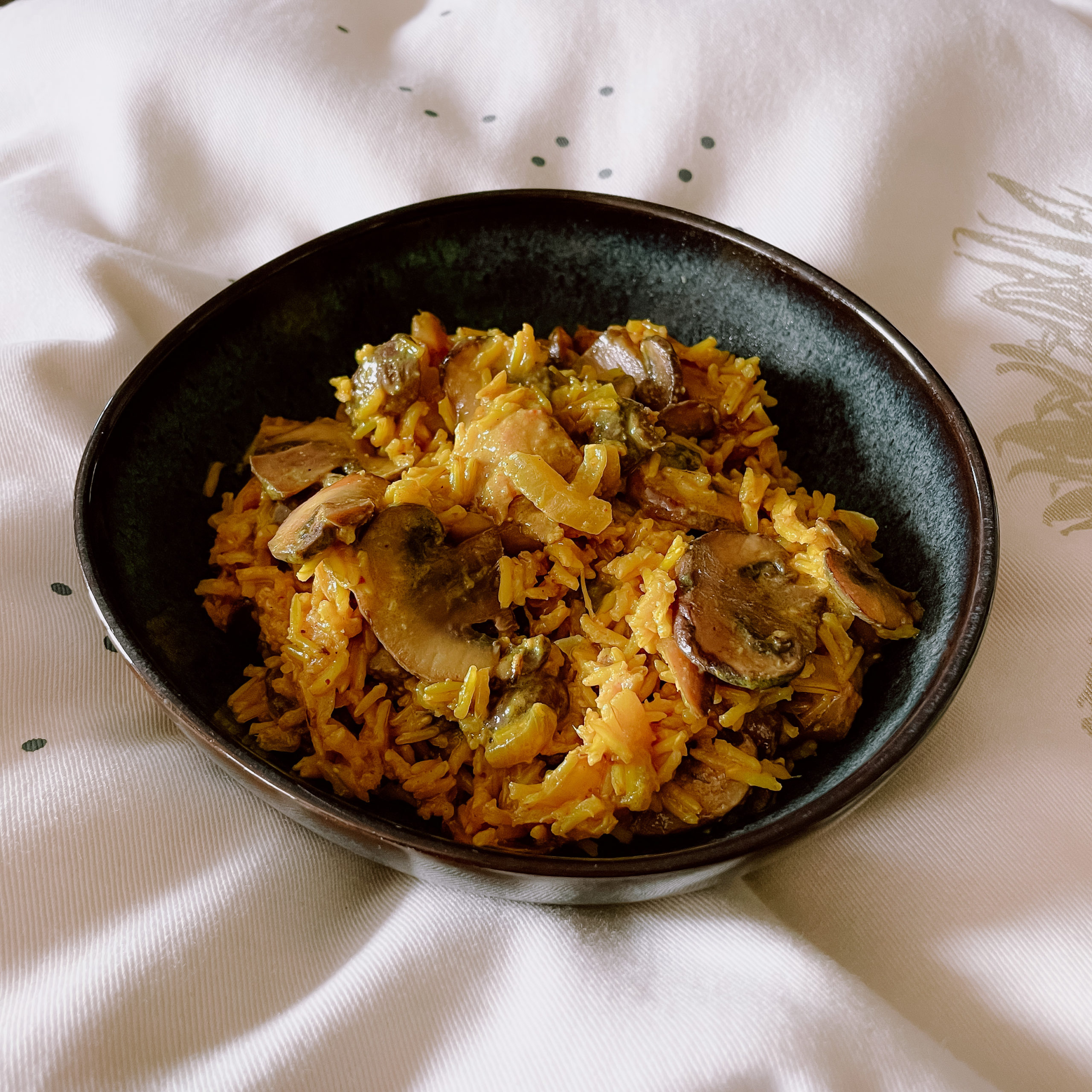 Stewed vegan aiguillettes curry in "one-pot" mode
For three servings
A punnet of brown Paris mushrooms (about 9 oz)
2 large yellow onions
2 cloves garlic
1 small piece of ginger
1 cup Thai brown rice
1 cup of coconut milk for cooking
1 cup of water
2 tbsp of white wine
3 tsp of ground turmeric
1/2 a pot of curry paste (about 1.5 oz)
A tray (about 6 oz) of vegan "chicken" aiguillettes (pieces). You can found them at WholeFoods market, for example.
2 tbsp of olive oil
3 sprigs of fresh coriander
Salt, Madagascar pepper (preferably Voatsiperifery, the best!)
RECIPE
So, one-pot, indeed, but we still cheat a little to make it better, by sautéing the vegan aiguillettes, as well as the onions (And if you're lazy, you put them with onions, and we don't talk about it more, lol, ed).
Rinse the rice in a large volume of cool water.
Using a cutting board, thinly slice the onions and cut the mushrooms into neither too thin nor too thick slices (about 4-5 slices per mushroom, ed). Finely chop the coriander. Peel the garlic cloves, and place them in a garlic press. Cut the ginger without peeling it into small cubes the size of half a clove of garlic.
For Garlic Newbies: Just place the garlic clove on your cutting board and press it down with a flat knife until you feel a "click." At that point, the skin of your garlic clove will come off on its own in a second and a half. You're welcome.
In a casserole dish, a large saucepan or something that cooks (cook processor type from Kitchen Aid or Thermomix, for example), pour a tablespoon of olive oil, then the vegan aiguillettes when the oil is hot. Brown over medium heat for 5 minutes, taking care to turn the aiguillettes over, so they are golden on both sides. Set aside on a plate off the heat.
In the same cooking pot, pour a tablespoon of olive oil and brown the onions for 5 minutes over medium heat. Add the garlic using the garlic press, place the small pieces of ginger in the garlic press and add the ginger puree thus obtained. Deglaze with the white wine, add the rice, stir for a few seconds as the rice heats up, add the water, coconut milk, curry paste, turmeric, salt, and cover and cook over low heat for 10 min.
Note : This adventurer ginger technique only works with small pieces of ginger, and it must be very fresh. If your ginger is older, you need to peel it and then grind it with a mortar, grate it, or finely chop it with a knife, as you would for parsley.
After 10 min, stir and check that there is enough liquid to finish cooking the rice (if necessary, add a little water), add the mushrooms on top without stirring, cover again and cook another 10 min. Check that the rice is cooked, then add the vegan aiguillettes, pepper and stir well. Cover until serving.
PRESENTATION
In your most beautiful deep plate, pour a few spoons of this preparation, add a nice pinch of coriander, serve with a salad or the raw or cooked vegetable of your choice.
To go with this recipe, I recommend a good Côtes du Rhône or any wine you know with "balls" and fruit.
Bon appetit! 🍛