"To cook is to give flavor to love."
Anonymous.
Hello, young Padawan
In these times when the weather isn't ugly enough for a heavy dish but not sunny enough to make a salad, the perfect in-between, the one that gets everyone, young and old, is often the go-to risotto. Our Italian friends are the masters of cheerful cuisine, from family to lounge one: no-frills among Italians, everything is in the dish, flavors, and colors, to the delight of their guests.
Today you are going to taste one of the best risottos. And thanks to whom, thanks to the great master of this recipe, the one who will bring the sophisticated touch, the pinch of originality, the freshness in the ocean of smoothness of your plate, I named: the fennel. Ok, it does not sound like a dream, but when you have tasted it, you will know.
Let's go.
The benefits of risotto recipes with lots of vegetables in it
First, if you want to learn about the benefits of fennel, I've already talked about it here and there.
If you type "risotto" in the blog info bar, you'll notice that I put more vegetables than rice in my risotto recipes. Why ?
First, it adds character to the latter and more satiety. Then, it increases fiber intake and digestibility and slightly decreases the calorie intake without reducing the taste.
This is what I call a win-win combo, where you have fun enjoying a great recipe while doing good to your dear intestines. If you want to learn more about the health of your inner plumbing, you can click here, and for learning a couple of things about an anti-inflammatory diet, it's right there.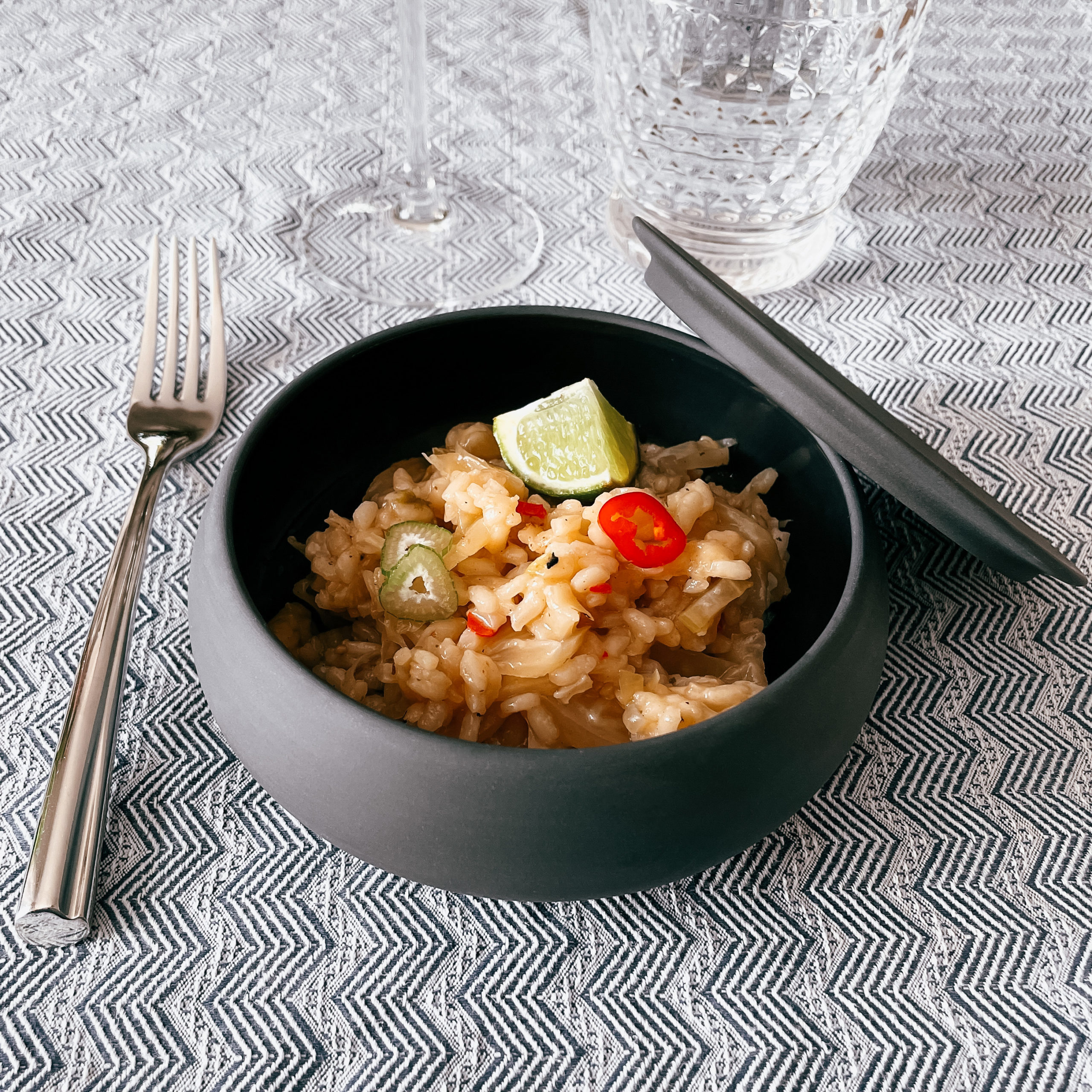 Fall Risotto, vol. 2
For 3 servings
1 cup of Arborio or Carnaroli rice
1 clove of garlic
6 shallots
1/2 small red pepper (or more, or less, or not if you have young children …)
1 large fennel (or two small)
3 tbsp of classic or vegetable parmesan shavings (a.k.a malted yeast)
1 tsp ground fennel
2 cups of hot vegetable broth
2 tbsp of olive oil
3 tbsp of white wine
8 branches of Parsley
1 lime
3 handfuls of lamb's lettuce.
Voatsiperifery pepper from Madagascar
Salt
Optional : A handful of crushed roasted hazelnuts, for the crunchy style.
RECIPE
Using a cutting board and a sharp knife, peel and finely chop the shallots. Cut the fennel in half, remove the hard core, chop the green part into round small slices (set it aside, ed), and the white part into long thin slices.
Cut the red pepper piece into round slices, remove any seeds, finely slice again the pieces obtained and possibly keep three for decoration.
Peel the clove of garlic using the technique of "I put my clove of garlic on my board, I press it flat with my knife until I hear a click, and it peels by itself," cut it in four and place the pieces in your garlic press.
Wash the lamb's lettuce and place it in a salad bowl. Add the juice of half a lime, a tablespoon of your best olive oil, salt and pepper. Stir well and set aside in the fridge.
In a hot wok or sauté pan, pour a tablespoon of olive oil, and put in shallots, red pepper, and garlic, using your garlic press. Brown everything over medium-high heat, then add the white part of the fennel after a minute. Continue cooking for about 2-3 minutes.
Add the rice, powdered fennel, pepper and cook again for two minutes, stirring frequently (to make the rice transparent, ed).
Deglaze with the white wine, stir and add 1/3 of the hot broth. Stir again, and cook for 5-7 minutes over medium-low heat. Check the cooking of the rice, add broth if necessary, and repeat the operations for a total cooking time of between 15 and 20 minutes.
The rice should be cooked, but must remain al dente. If your rice is almost cooked, the best way is to turn off the heat, it will finish its last seconds of cooking thanks to the heat of your pan.
When your risotto is hot but not boiling anymore, add the parmesan (or your malted yeast, ed), the green fennel slices (keep a few for decoration, ed) and stir well.
Note : vegetable broths are usually salty, whether it's a homemade broth or a cube (or powder) mixed with water. If however this is not the case, do not forget to taste and season after adding the Parmesan. XO.
Note 2 : Never add Parmesan to a boiling dish, at the risk of forming very sticky, unpleasant and indigestible threads and cheese amalgams for your intestine.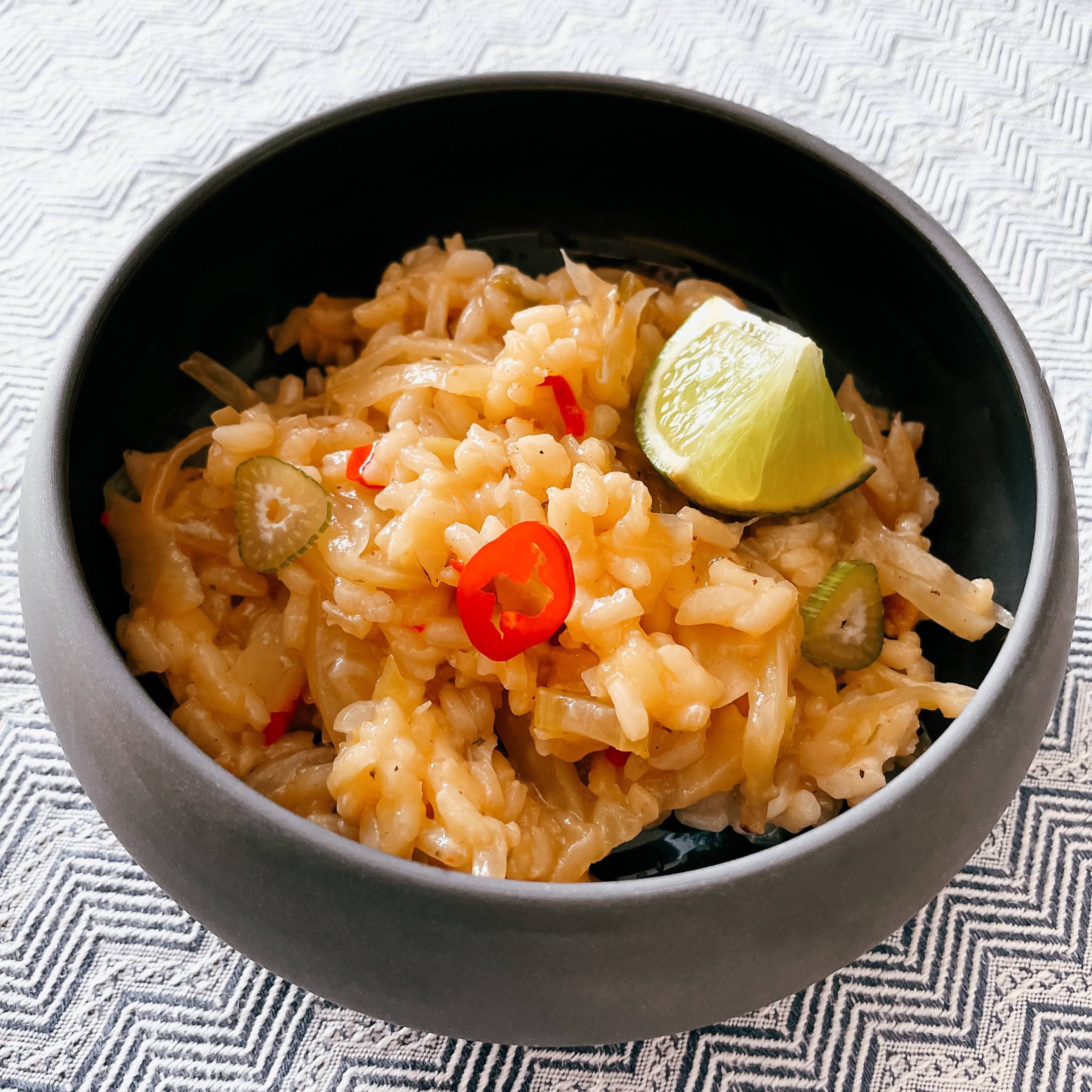 PRESENTATION
In your prettiest deep plate, or like here in pretty modern and deadly classy-fancy casseroles (I got them chez Degrenne here, FYI, ed), place a few spoonfuls of your splendid fennel risotto , what am I saying, of your work of art!
Place the lamb's lettuce in small Japanese rice bowls arranged next to the plate, for example, or directly with the risotto – you are the artist.
Generously sprinkle the risotto with parsley, garnish with fennel and/or red pepper slices, place a slice of lime, (possibly the crushed hazelnuts, ed) and you're done. Enjoy your meal.
And here it is my dear Padawan, you are ready to taste this marvel for the eyes and for the belly. With this, I could not recommend you more warmly a good Beaujolais wine that a friend made me discover, a splendor for the taste buds too, Beaujolais Lantigné, by Frédéric Berne. If you don't find it easily, you can fall for Château Thivin, Clos Bertrand, or Beaujolais, Yvon Métras.
XO 🌿