Hello, young Padawan
Forgotten vegetables are absolute treasures! Do you know that we ate it very often in the Middle Ages? The parsnip is a vegetable that has come back to the forefront for about ten years, to the great pleasure of many, including your faithful servant, who now eats more Jerusalem artichokes and parsnips than squash!
The parsnip is as easy to cook as its cousin, the carrot, and has the same sweet taste. So, are you up for a cute parsnip soup? Yes? So let's go.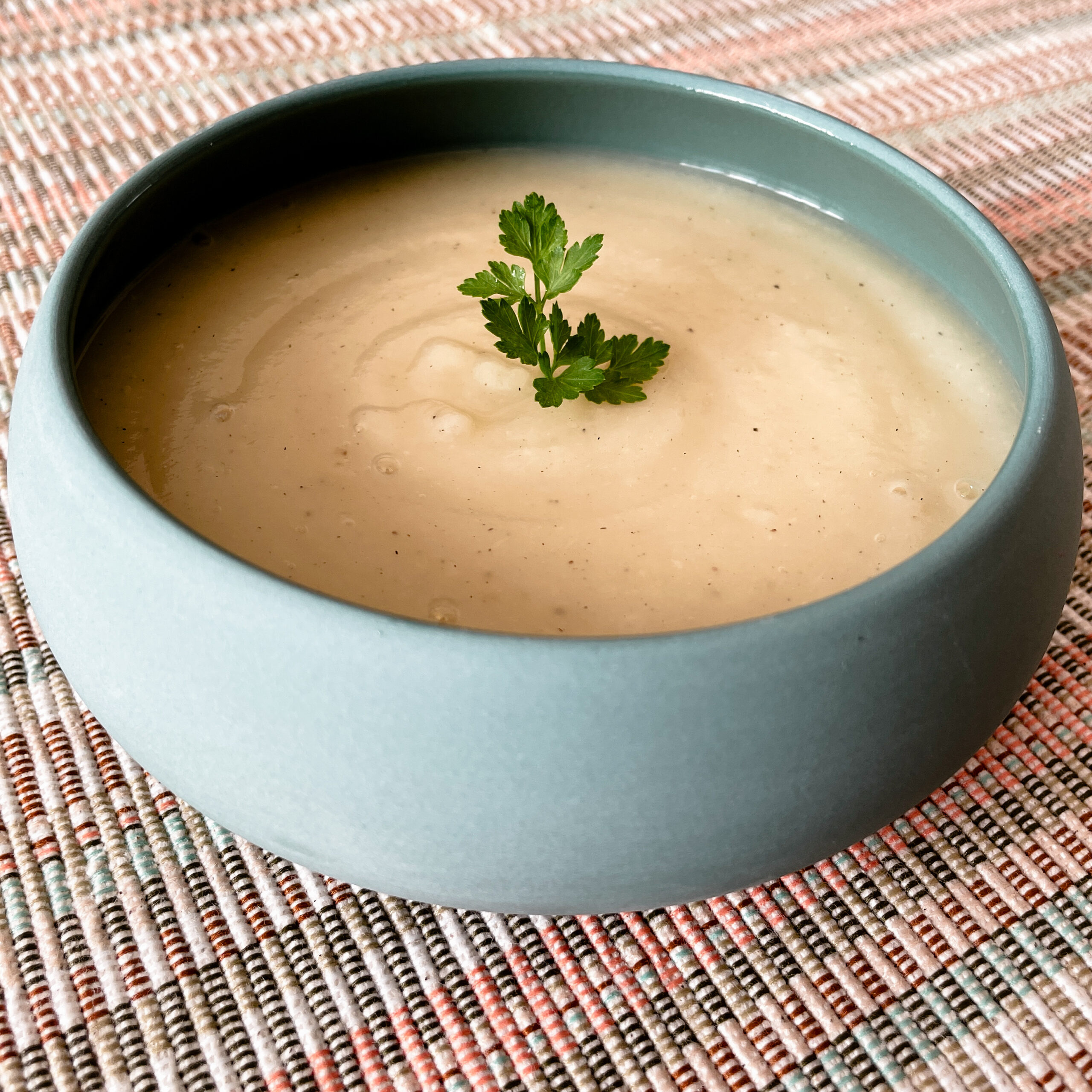 Parsnip
Seasonal from September to March and from the Apiaceae family like the carrot, the parsnip comes to us from the Mediterranean basin. A biennial plant* rich in vitamins C and E, flavonoids, and trace elements, it is a vegetable good for the heart and the body's immune defenses. It is also a source of manganese and magnesium, keeping you in a good mood.
It is also a source of B group vitamins, notably vitamin B9 (or folic acid, editor's note), the famous one you hear about if you are pregnant. Indeed, it is essential for the proper development of the fetus's nervous system.
Its abundant fiber contributes to good intestinal comfort, but that's not the end. Parsnip contains active molecules, such as apigenin, which play a role in cancer prevention. It contains, among other things, an antioxidant capable of reducing the activity of an enzyme involved in its development. Finally, other compounds contained in parsnips (polyacetylenes) have also been shown to reduce the proliferation of cancer cells.
In other words, parsnips are pretty darn good for your health.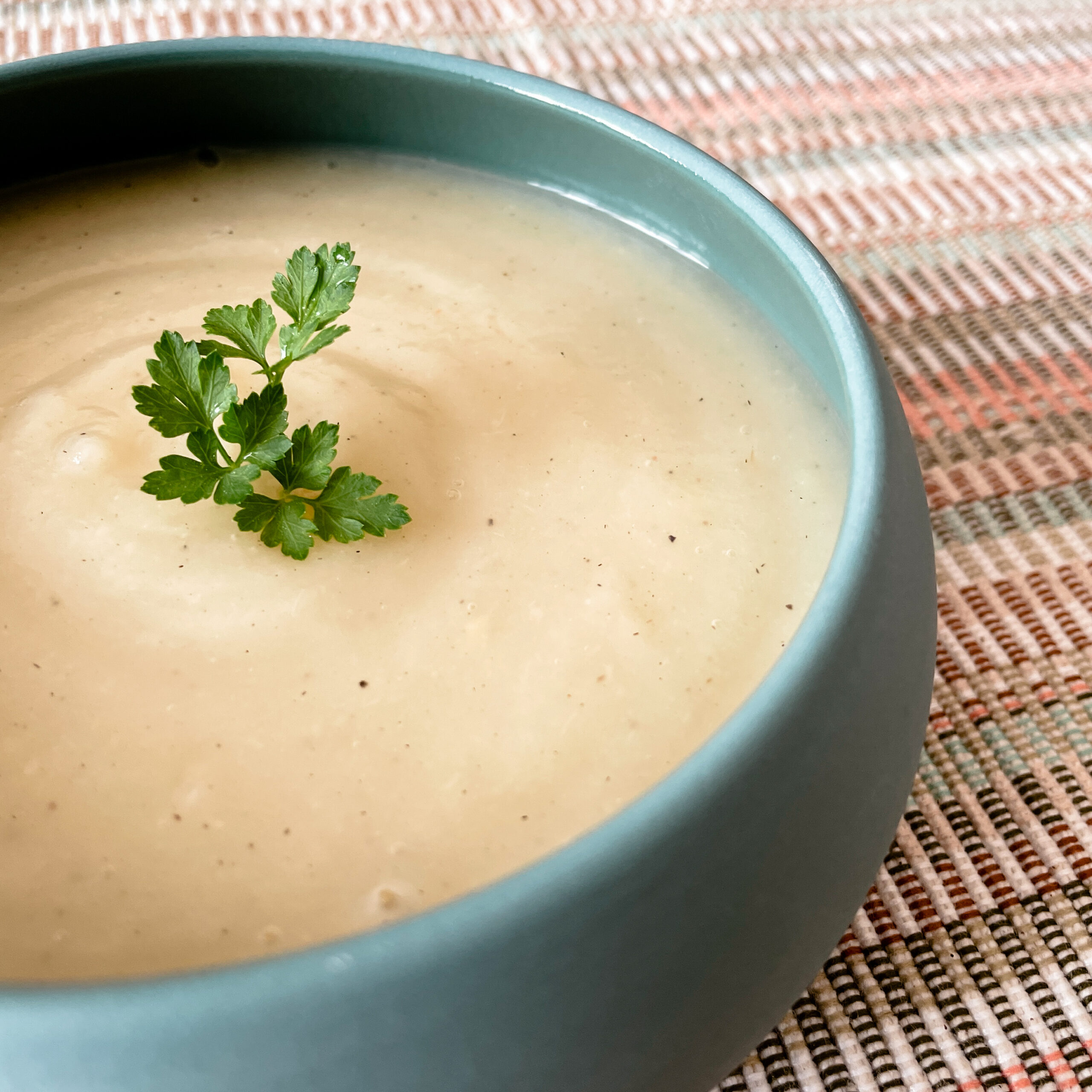 Parsnip soup.
For four servings
4 parsnips
1 small potato
1/2 tsp of grated nutmeg
salt, Madagascar pepper
Recipe
Wash the parsnips and the potato. Peel them and cut them into small cubes.
If you have a soup-maker, a thermomix, or a food processor: place all the ingredients in the cooking bowl, vegetables and seasoning, add 4 cups of filtered water, and program cooking for 15 minutes at 100°C. Mix without lumps — add a little more water if necessary.
If you don't have a food processor, don't worry, it's just as simple. Place all the ingredients in a saucepan, vegetables and seasoning, add 4 cups of filtered water, and cook for 15-20 minutes over high heat, then over medium heat when the boiling point is reached. Check cooking after 15 minutes. Using a blender, blend the soup until smooth, adding a little more water if necessary.
Presentation
In your prettiest bowls, soup plates, or pretty little lidded casserole dishes like the one in the photo (link here — I encourage you to wait like I did for the sales; they are regularly 30% off), pour a few ladles of this wonderful parsnip soup.
Add a small sprig of parsley, or your personal touch, and serve while hot. This delicate soup goes very well with good quality Beaujolais, light, but fruity. For a soup meal, you can accompany it with a slice of beautiful toasted natural sourdough country bread, so your guests can break little croutons into their bowl of soup, the old-fashioned way.
And if you liked this parsnip soup, then you can take a look at this recipe here.
Enjoy your meal, and see you next Friday!
XO🥔
*An annual plant completes its cycle (germinating, growing, producing seeds, and dying) over one year, while a biennial does it over two years.