Hello, young Padawan
No, this is not an article about a new rock band in vogue, but a colorful, fresh little recipe that will please everyone. Does it tempt you?
This is basically a recipe I make with broccoli, but because I can still find wild asparagus right now in my area, I thought maybe you too and that a little recipe would please you.
Don't panic, if the wild asparagus season has passed in your area, you will have this recipe for next year, or you can replace them with green asparagus; you can still find some on the markets, or, since it's it's almost the season, make this recipe with broccoli.
Clearly, there is always a way to adapt according to the seasons, and precisely, in 3-4 weeks, the broccoli will arrive, for my greatest pleasure, and I hope for yours too.
Let's go for this pretty simple, but delicious recipe.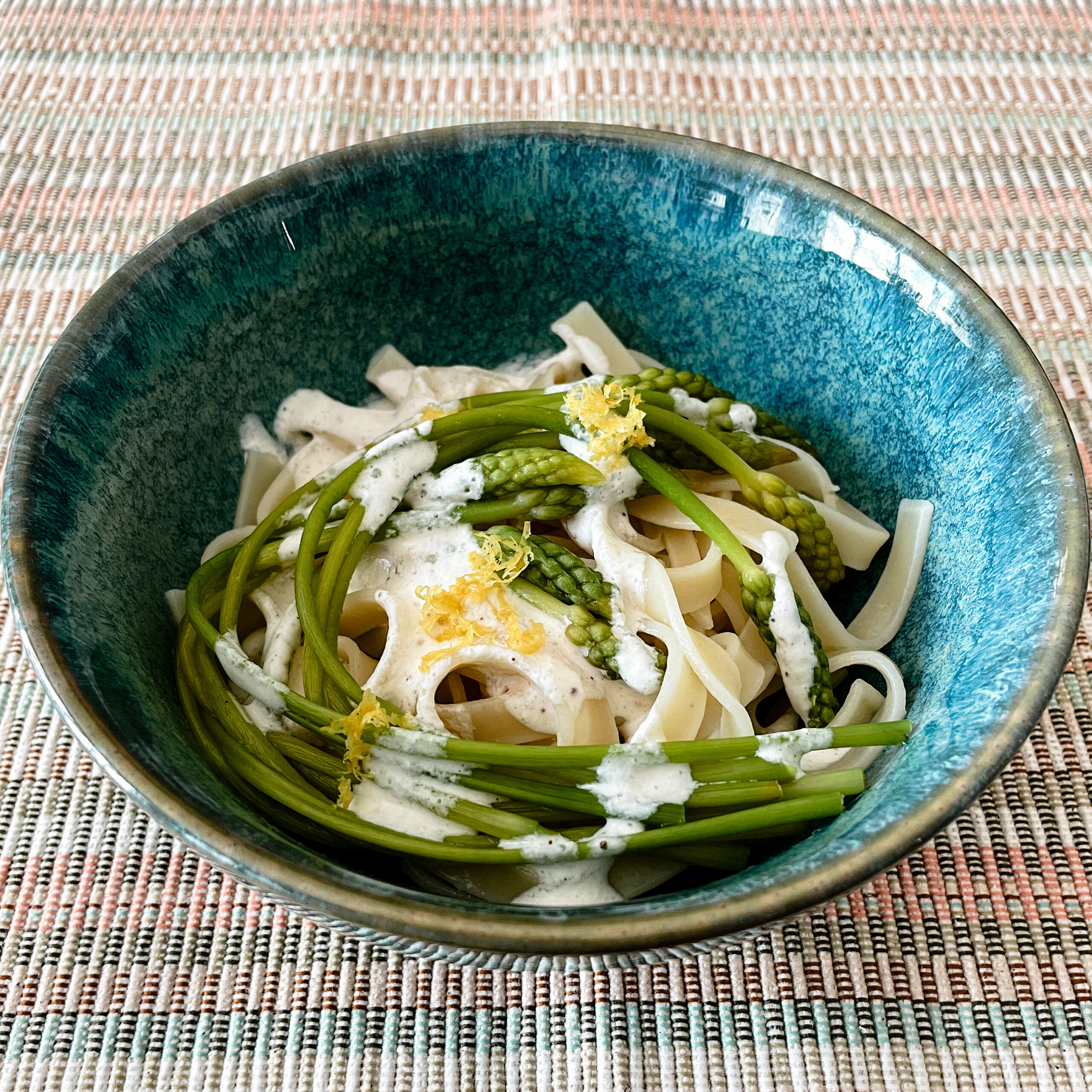 Wild Pastas, à la Chill.
For two servings
6 to 8 tagliatelle nests, according to appetite
A nice bunch of wild asparagus (or green asparagus, or a lovely broccoli flower)
1/2 organic lemon
1/2 brick of cooking soy cream (I use the Sojade brand, for all intents and purposes)
1 tsp olive oil
Salt, Madagascar pepper
RECIPE
Using Marion's vitaliseur (or a traditional steamer), cook the wild asparagus for 3-4 minutes maximum (5-6 minutes for the broccoli). Stop the cooking by running cold water over the vegetables for 2-3 seconds, then set aside.
Plunge the tagliatelle into a pan of boiling water, and cook them al dente. Drain them when cooked.
While the pasta cooks, zest the half lemon and squeeze the juice.
Put the soy cream in a small bowl, add the olive oil, stir well, salt, and pepper, then add the lemon juice in three times, stirring well with a spoon. Do not be afraid, it curdles a little; it's completely normal (because of the acidity of the lemon, it does the same thing with a traditional fresh cream, ed), but by continuing to stir, the cream comes back. Set aside, in the refrigerator.
Presentation
Place the tagliatelle at the bottom of your most beautiful pasta plates, add the wild asparagus (or the vegetables of your choice, ed), then cover with lemon sauce, and finish with some zest for decoration.
Note : no need to pre-cut the wild asparagus for your guests, they will wrap up wonderfully with the tagliatelle.
There you go, all you have to do is enjoy yourself, as for me, I'll tell you next Thursday!
XO 🌱