Hello, young Padawan
In this end of winter which looks like the end of spring, you are tempted to abandon the woolen underpants knitted with love by your auntie in favor of lighter underwear and… badaboom! This is how cough and cold happens (No, it is not by wet feet or the microbes, urban legends. Humor, ed.).
If your immune system is weak, you can bet on orange. Not the fruit, not the clockwork (Oops, I dared again!), but the color. Ok, the fruit as well but we are talking about the color, but not only because indeed, some red vegetables such as red pepper, or green ones such as spinach or spirulina are also concerned. I know I lost you, but you'll be back soon. Nature is complicated; that's what makes it so beautiful. Let's go back to the focus of the day which is: the orange color.
Already, you can admit that these veggies are anti-inflammatory and will help you to loosen up. Not with the neighbor that you look at with a spyglass from your living room little rascal, I'm talking about your joints. I refer you to my article on the anti-inflammatory diet if you want to know more (but there is nothing about the lil'neighbor).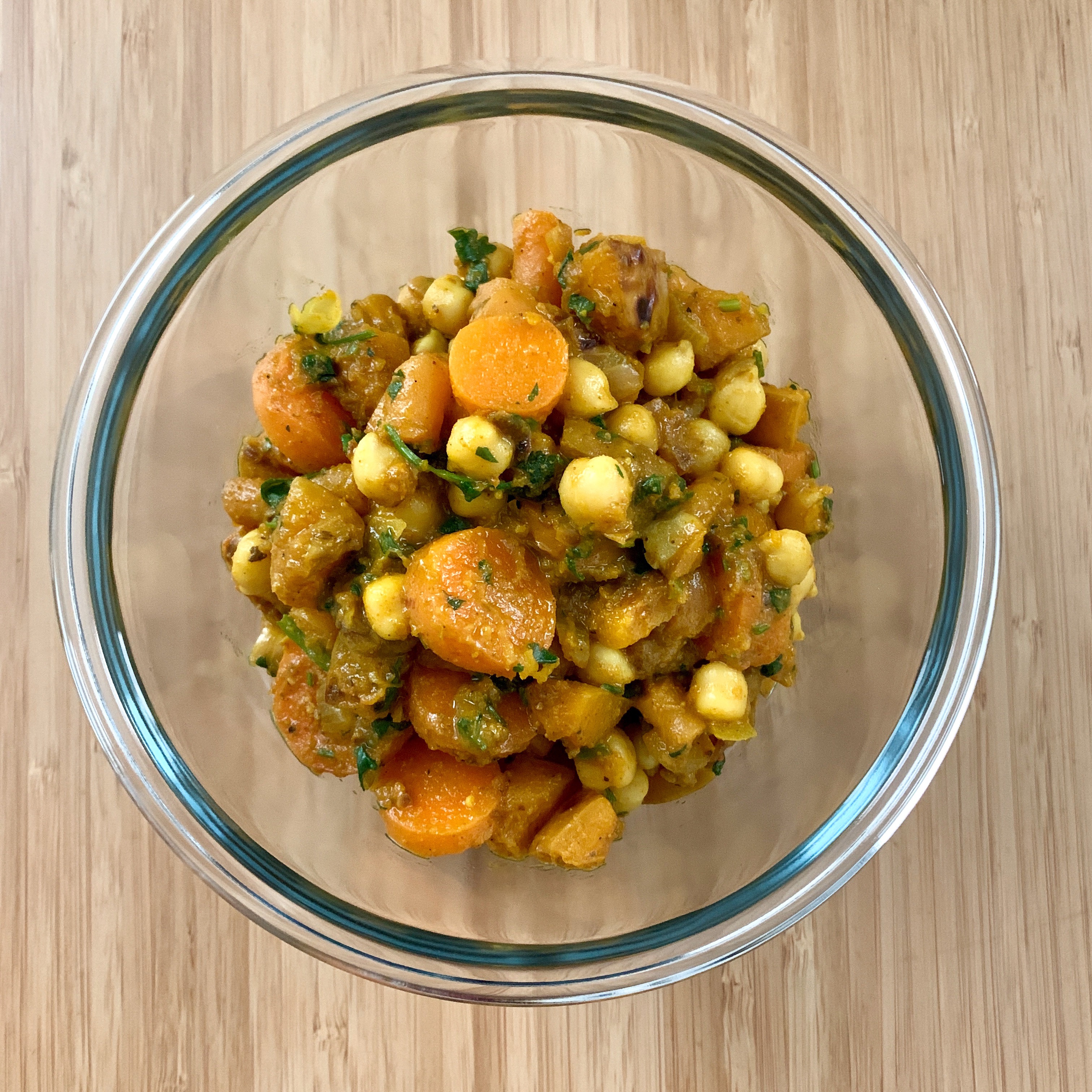 Vitamin C
Orange fruits and vegetables (but not only!) are usually full of vitamin C, one of the best allies of the immune system.
Also, be aware that if you are deficient in iron, vitamin C helps its absorption. Combining iron-rich foods with a few drops of fresh lemon, for example, will help your body to metabolize iron. No tea at least 30 minutes before or after each meal, ideally one hour (tea prevents the absorption of iron, ed). You're welcome.
Beta-carotene
Orange fruits and vegetables contain beta-carotene, which strengthens our immune system. Indeed, an increase in beta-carotene consumption affects the number of lymphocytes (which is a variety of white blood cells).
It has the power to turn into vitamin A once in the body, which is an anticarcinogenic and excellent vitamin for sight.
And last but not least, what is vitamin A? Retinol, of course! Which means that if you often make this type of recipe, or this type of recipe in winter, the only wrinkle you'll have will be the one you're sitting on. Yes, I sound like a broken record, but it is essential!
Do you want to have beautiful skin without acne, the least wrinkle possible, a fresh and rested complexion? Put away your pasta dish or pizza and eat orange fruits and vegetables. There won't be sexier than you, there is nobody else already, but do not blush behind your screen: we are orange today.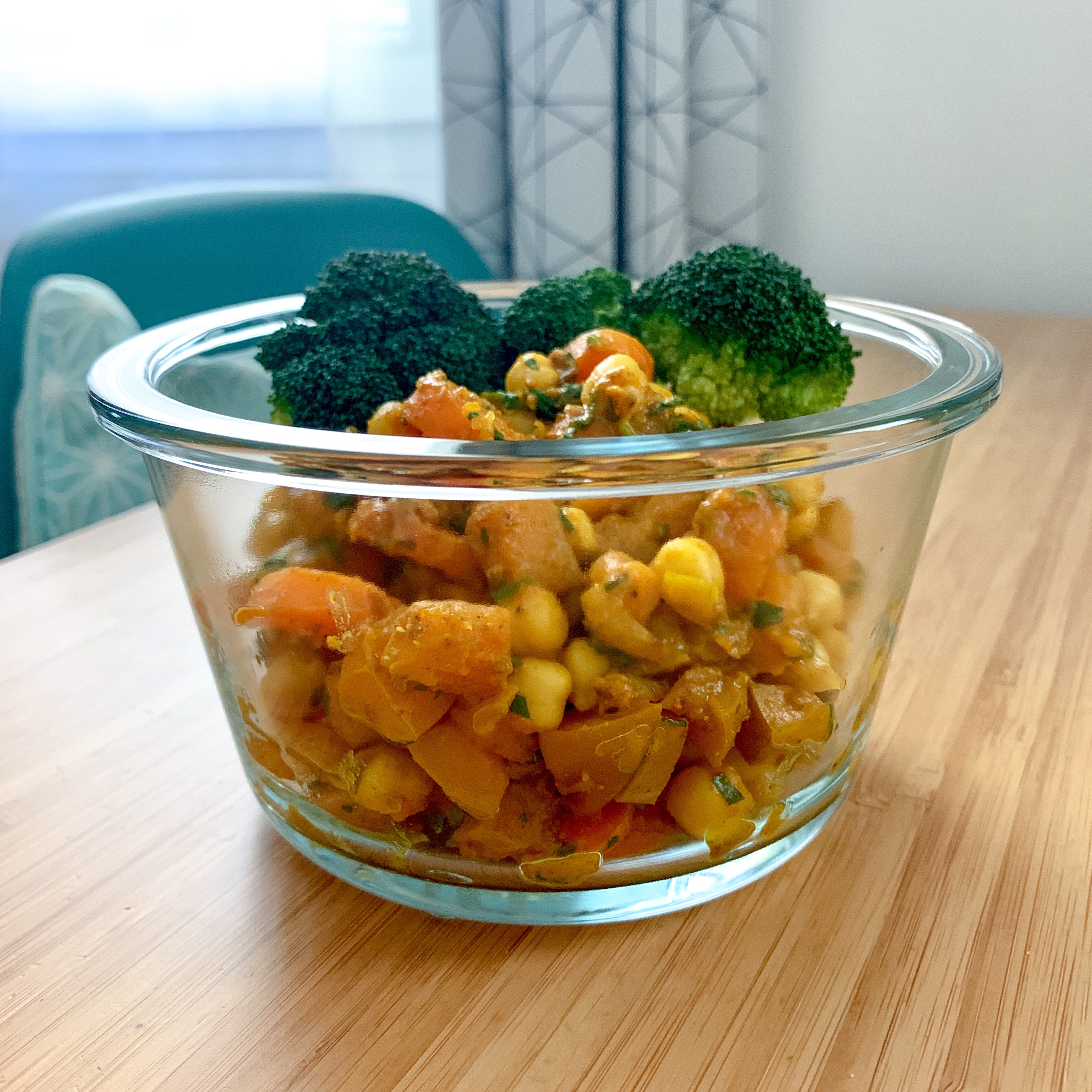 End of winter pan-fried
For 2-3 servings
1/2 cup dried chickpeas
¼ butternut, or other squash that you like
2 carrots
½ bunch of fresh coriander (10-15 stems)
1 medium sized onion (or ½ a large)
1 clove of garlic
1 tbsp olive oil
125 ml of water
spices :
1 tsp cumin powder
1 tsp ginger powder or the size of a pinky phalanx of fresh ginger
2 tsp curry powder
2 tsp turmeric powder
Salt, Madagascar pepper
To accompany your meal :
One large broccoli flower + ½ lemon OR ½ cauliflower, if you do not like broccoli. Or both if you like the colors, in this case, divide the proportions by two.
Recipe
The day before, soak the chickpeas for 6-8 hours minimum in a large volume of water.
Cook the chickpeas in the steamer, for 5-7 min depending on your device, they must remain crisp but not raw. And especially not soft: check the cooking after 5 min. Set aside.
Cut the carrots into slices and cook them according to the same process, 3-4 min depending on their thickness. They must remain crispy.
Steam the broccoli (or cauliflower) florets for 5-7 minutes, the florets should remain firm. Set aside.
Without peeling it if you choose a butternut squash, for example, cut the squash into cute little cubes, and finely chop the onion, which deserved it.
Mince the coriander with the greatest cordiality. Finely or not, you're the boss.
In a wok, sauté the onion with the olive oil for 5-7 min over medium-high heat, add the diced squash and cook again for a good 5 minutes. Add all the spices namely cumin, ginger (if it is powdered otherwise wait to add it with garlic at the end of the recipe), curry, turmeric, and salt.
When the dices of squash start to be less hard (but not soft, I remind you that you have teeth!) add water, then chickpeas, carrots, stir well and turn off the heat when the boil is resumed.
Out of the heat and when the temperature is no longer hot, add the garlic (and possibly fresh ginger) using a garlic press, as well as minced coriander and freshly ground Madagascar pepper. Stir well.
Presentation
In your most "funtastic" soup plate, have a few spoons of the pan, accompanied by the florets of your choice, broccoli or cauliflower.
Sprinkle the florets with a few drops of lemon, or like me, a generous dose because there is never enough lemon in life.
Once this meal is lovingly eaten, you will find that you will be more beautiful in front of your mirror.
Why ?
On the one hand, because you will have filled up yourself with good vitamins that will have given you the fresh complexion and rosy cheeks of a Vegas stripper, or a crooked trader at his first tax audit, on the other hand, because you realize that cooking for oneself or the others is a gesture of love. And when the recipe is healthy, it's a double dose of love for you and the others so be ready!
Vitamin kisses 🍊