"Joy is the sun of souls; it illuminates those who possess it and warms all those who receive its rays."
Carl Reysz.
Hello, young Padawan
Next Monday is the famous "back to school" here. Indeed, in some countries such as the USA, Switzerland, Germany or the United Kingdom, the school year starts in August, not in September as in France, for example.
So, while preparing my little schoolbag, lol, I thought that an article on skin repair after the holiday sun would be a good idea so that you can return to work with the most radiant skin, in joy and good humor.
Let's go!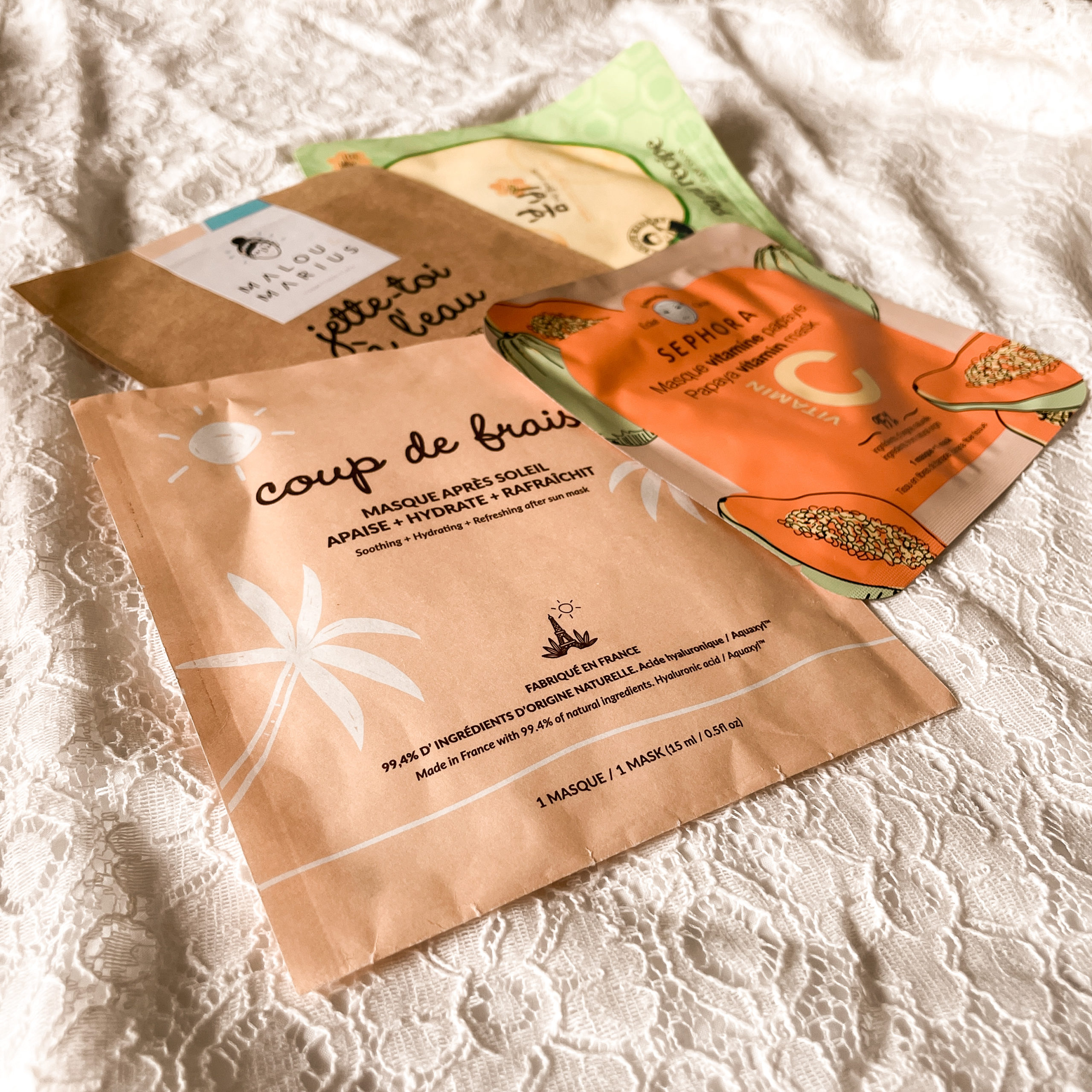 Sheet masks to hydrate in depth
Masks impregnated with serum, more commonly known as sheet masks, to put on clean skin from ten to twenty minutes, are a panacea in terms of hydration. Often filled with hyaluronic acid, which has a hydrating, soothing, and restorative action, they provide the skin with everything it needs to regain its radiance and plumpness of its 20s or almost, lol.
Among my favorites of the moment, I found this "After-Sun Mask" with hyaluronic acid from the Malou et Marius brand, which brings a nice freshness effect. It is so pleasant in this hot weather that I absolutely do not regret discovering this great little French brand you can find on the net – or in the "Printemps de la beauté" in Paris. I tried another one, the "Jette-Toi à l'Eau," full of hyaluronic acid and an anti-aging complex, a marvel.
Obviously, Sephora masks, whose compositions are improving year after year, are always a good idea. The one with papaya contains vitamin C to provide glow and will help your skin repair any sun damage at a low price.
Finally, Papa Recipe's masks, with honey and hyaluronic acid, are among the best on the market in terms of value for money. I wanted to try the "green honey mask," but I prefer my classics black honey ones, which in my opinion, are more soothing and even more hydrating.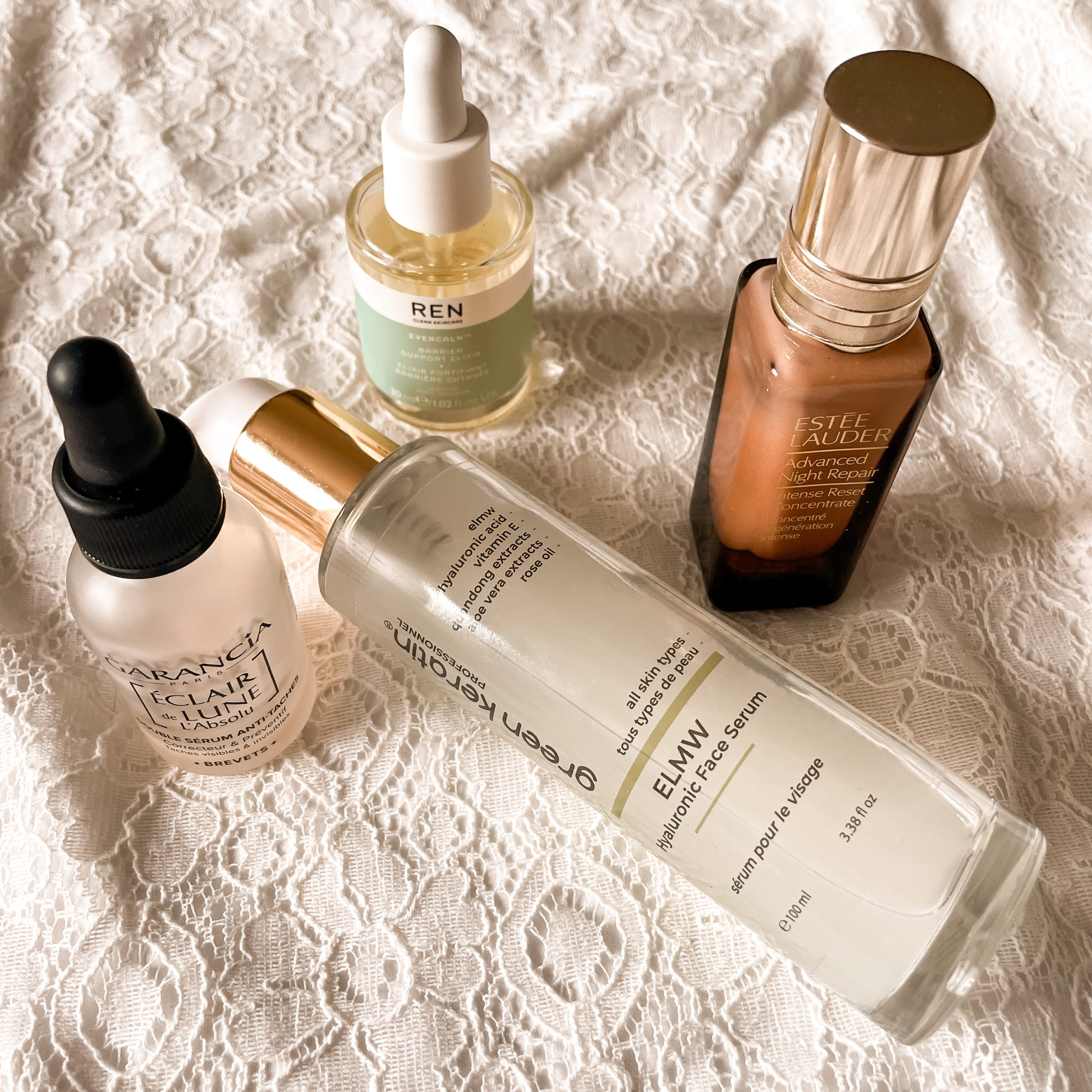 The most useful after-sun serums
Please don't mess with hydration on a daily basis, especially when it comes to serums that you use in after-sun mode. To find soothed, plump, and glowy skin, I must talk to you again about the ELMW serum. Yes, we are on redundant redundancy, lol, but here, we are in real life. I'm talking about what I truly use, so it's not surprising to find recurrences.
Indeed, the king of the beauty section of this blog is the ELMW from Green Keratin, which I discovered thanks to Sonia Sélaire a few years ago and which I use continuously. This serum, composed of hyaluronic acid of different molecular weights, is quite simply a panacea for my skin. In addition to top-notch hydration and diminishing the appearance of my pores, it soothes and brings plumpness and unequaled freshness to the complexion. I therefore also use it in the summer for these reasons.
Then, for a need for repair, or anti-aging, the Advanced Night Repair, in the "concentrate" version or not, by Estee Lauder is one of the best. This serum can even be used as a healing aid on burns scars to avoid ugly scars. It will restore your skin to unseen, unseen mode if you've been sunburned.
For an anti-dark-spot action, I tested (and almost finished) the Moon Lighting The Absolute serum by Garancia, which is a two-phase anti-dark spot serum with both a preventive and repairing effect. It reduces dark spots and old acne scars and prevents new problems from appearing. This stuff is excellent; worst the splurge, I think to rebuy it.
Finally, for those who have redness even in summer, this Ren's serum is a real help. You can see results from the first application. It is an oil to be used before the cream in tiny quantities; 2 to 3 drops are enough to reduce or even eliminate any redness on your face. It also has a fortifying action on the skin barrier so that your skin is less and less sensitive over time. For that, I'll get back to you when we're in winter.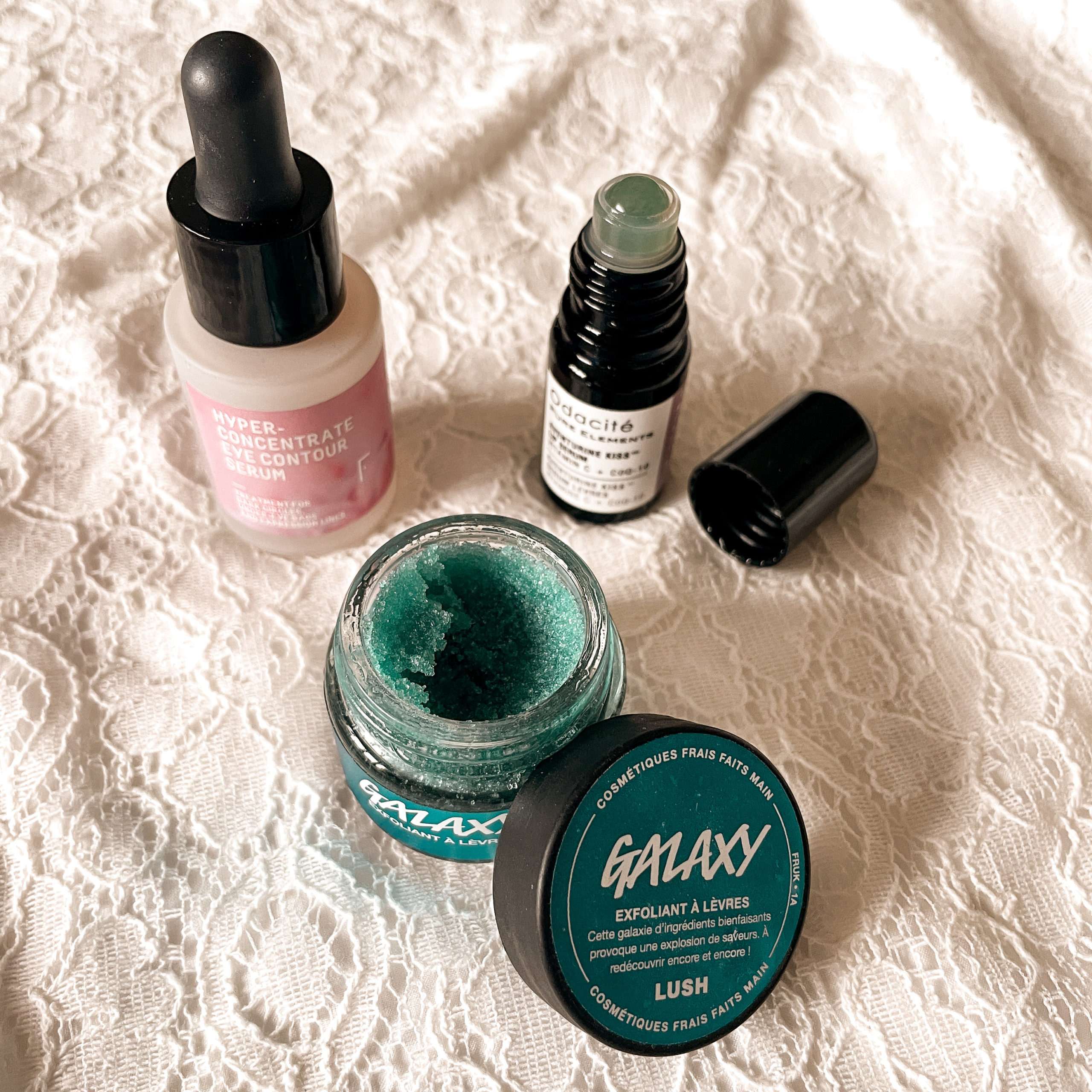 Specific eye and lip care, two areas in great need of after-sun care
The eye contour is a difficult area in summer. Whether you don't drink enough, whether you take too much sun, wind, or salt, a little (too much) alcohol, or whatever, the first zone to be in difficulty is the eye area. It, therefore, deserves great love because it is also the one who betrays us the most.
After hearing about this brand on the net, I told myself I would give it a chance, and after three weeks of use, I am delighted! Freshly cosmetics is a young brand that is starting to have little notoriety, and I'm starting to understand why: Effective cosmetics, good value for money, I've been conquered. Indeed, their eye contour serum really stands out. It reduces dark areas, literally erases fine lines of dehydration, and brings freshness to the eyes; in short, this stuff is great. I have other products in the test; I will tell you about them if I am also seduced.
As for the lips, sun, wind, and salt tend to make lips chapped and dry. Never mind, a good scrub and a super oily serum with anti-aging and restorative properties to be massaged before putting on your lip balm will restore lusciousness, sexy, and glow to your already devastating smile.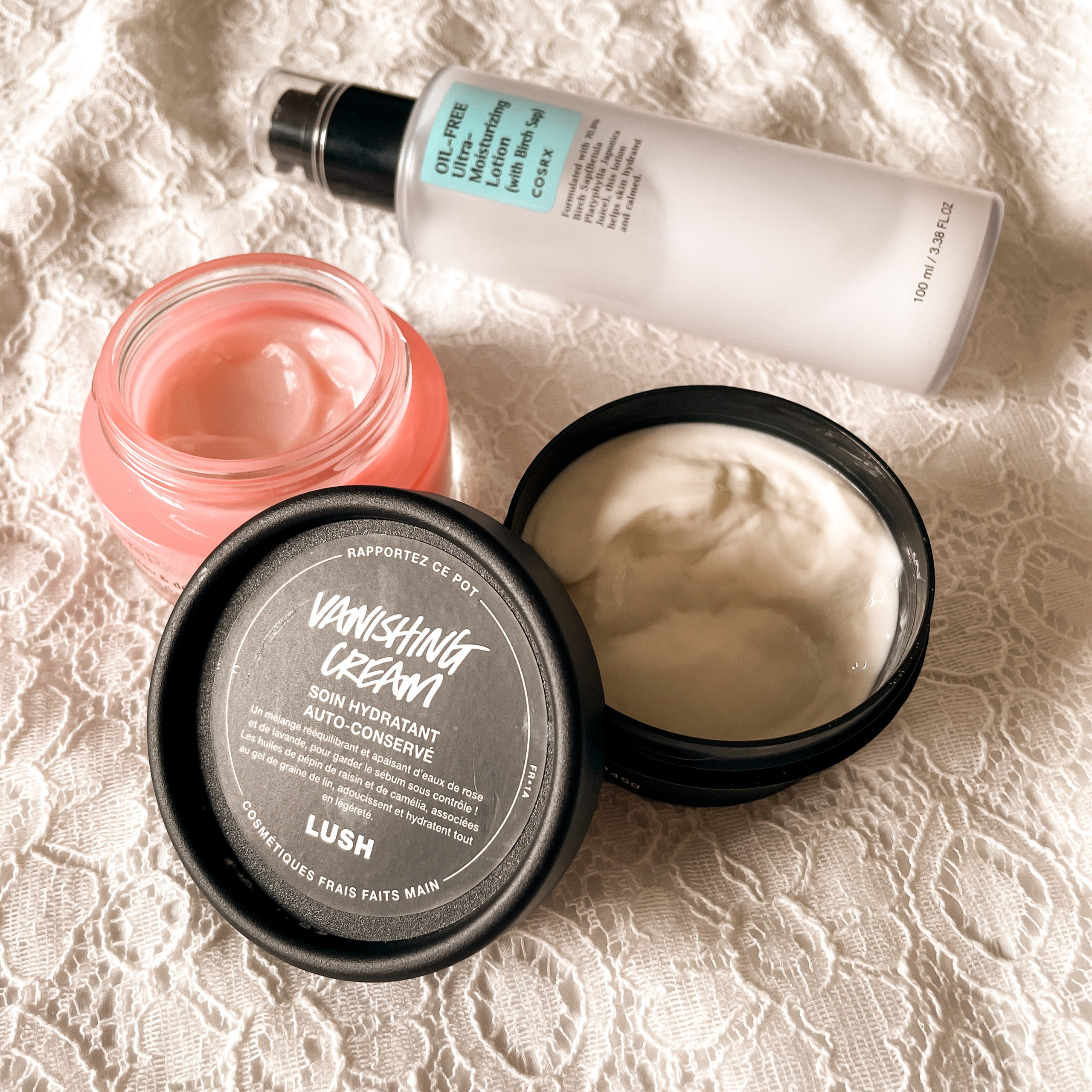 A day cream right to your skin type and its needs
All skins do not have the same needs, even depending on the seasons, but also our age or periods of life. At the moment, for example, my super cream "Cosmetic Lad" from Lush, whose I already told you about right here is too much nourishing for now, and I need to mattify my skin a little more than in previous summers. So, I switched to the Vanishing Cream with the divine scent of lavender, which seals the hydration of my serums while limiting the production of sebum.
Imagine that I'm still in love with my granny's neck and décolleté cream, lol , which I told you about here, this is my second jar, and I bought a third one so much I like the smell. The luminous effect, the small fine lines that disappear, in short, this cream has a lovely effect on me, and I am delighted! FYI, it is currently at €12.90 on sale, and if you want to support this blog, you can use my referral code: TEAMCAROLINE39012, and you will benefit from a reduction of 10 euros from 40 euros of purchases.
If your main concern is a strong need for hydration, like your skin feels tight, but you want lightness and, above all, not a "sticky" feeling, this great lotion from Cosrx will win you over. It's my moisturizer after sports or for the evening when I take a shower and go out and put on a little makeup because it's also an excellent base for makeup. Even men will love this effective moisturizer that the skin absorbs very quickly, with a non-greasy, matte effect and a light citrus scent.
Here are my little recommendations for plump, hydrated skin, a fresh and rested complexion, in short, for a back-to-school full of beauty! Holidays are also a real opportunity to take care of yourself, allow quality time, and find yourself back.
Remember that to be good with others; you must first be good with yourself—a word to the wise.
XO 🍹