"When the spring is too watered, the summer is deprived of dew.".
Serge Zeller.
(As long as it's not our skin… ed)
Hello, young Padawan
Because there's something a little painful in these scorching times when you're not on vacation and spend the day at the office: the skin shines anytime you go outside. Everyone has their neuroses. In the summer, during the hot weather, skin that shines and sweat in civilian clothes tends to annoy me a bit. Yes, some, like your faithful servant, love winter, skiing, and snow, lol.
As for clothes, easy, just organize a nudist establishment – no, you won't know where I work, little rascal, maybe that was a joke, and you'd be very disappointed – and when it comes to shiny skin, I have THE solution. Well, there are several, because as usual, we're going to list a few so that, if you're interested in the subject, you can use the trick or tricks that suit you.
Let's go of the solutions to avoid shining at all costs in the event of scorching heat, broken air conditioning, an early romantic dinner, etc.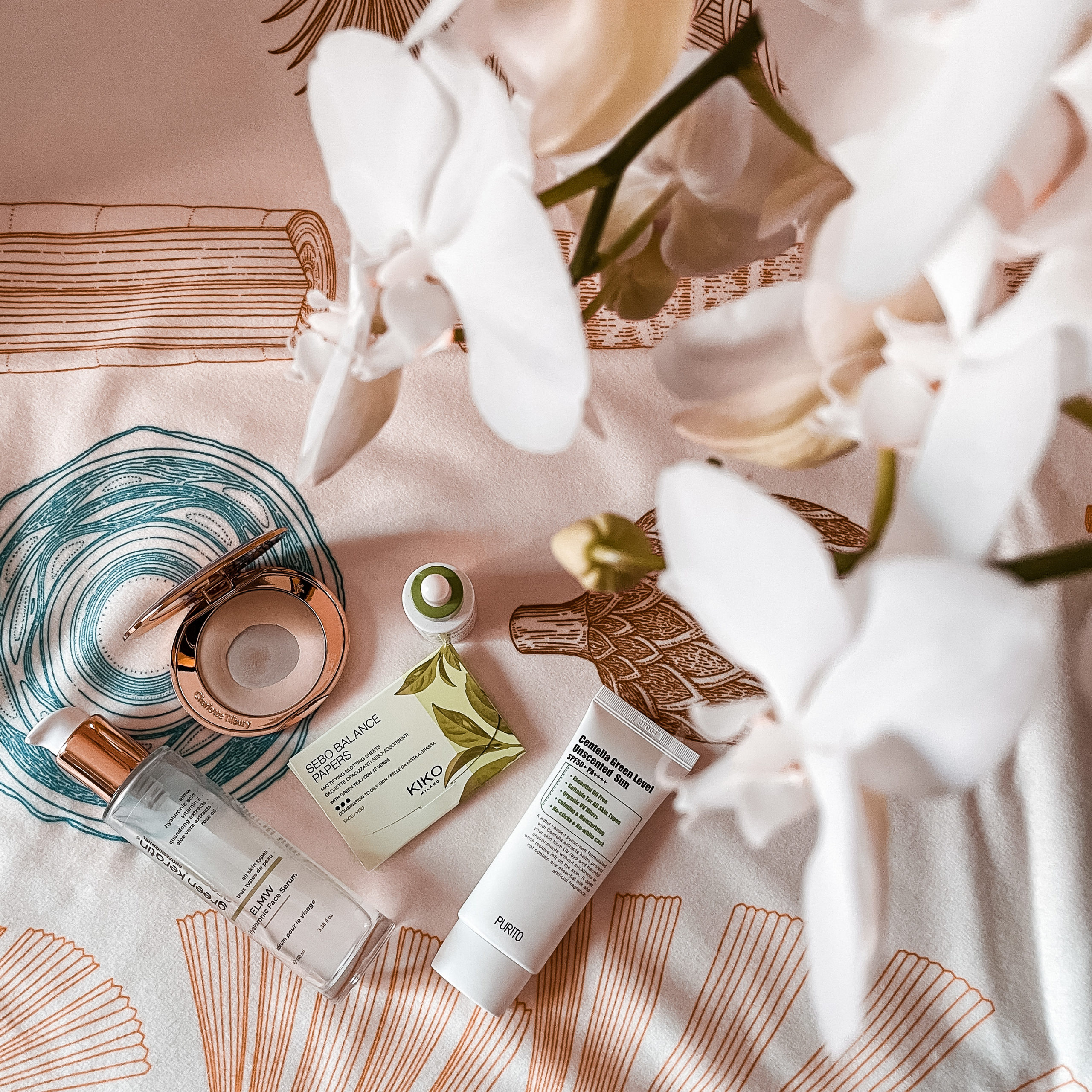 Skincare
To prepare the skin, there are two great anti-shine masks:
The mattifying sheet mask by Sephora with green tea, cheap and efficient. For those who wonder, a sheet mask is simply a fabric mask to put on the face for a few minutes and to rinse or not according to your preferences and the type of mask.
The second that I love to use this time of year because it has a cold effect is the Cryo-mask from Lancôme. This mask smells of rose, its primary purpose is to tighten the pores, which it does wonderfully. Still, it also mattifies the skin very well for several hours – a double effect greatly appreciated in summer.
Mattifying does not mean that we are exempt from hydration, quite the contrary. The skin sweats; it needs a little help not to turn like a little too dry prune, lol. For this, the ELMW from Green Keratin, my favorite serum to tighten pores based on hyaluronic acid, is great because it deeply hydrates while being super light, you don't feel it, so perfect for the (too) hot season.
The niacinamide booster serum from Paula's choice not only has the merit of reducing the appearance of pores but also to control shine. I really like this serum that I buy every year in the summer season.
As for day cream, you have to take it easy if you tend to shine. My favorite during a heat wave is the mattifying moisturizer from Sisley. It's light but still hydrates the skin really well and does its anti-shine job.
The SPF must also be as light as possible, which is not easy to find. I know two: Bioré UV gel which I talk about in this article here and that's really great, and the Centella sunscreen from Purito that I took this year, which is good, but has this small defect of sometimes making some fluff, so I use it when I don't wear makeup. Both formulas are very light, penetrate the skin perfectly, and are easily forgotten.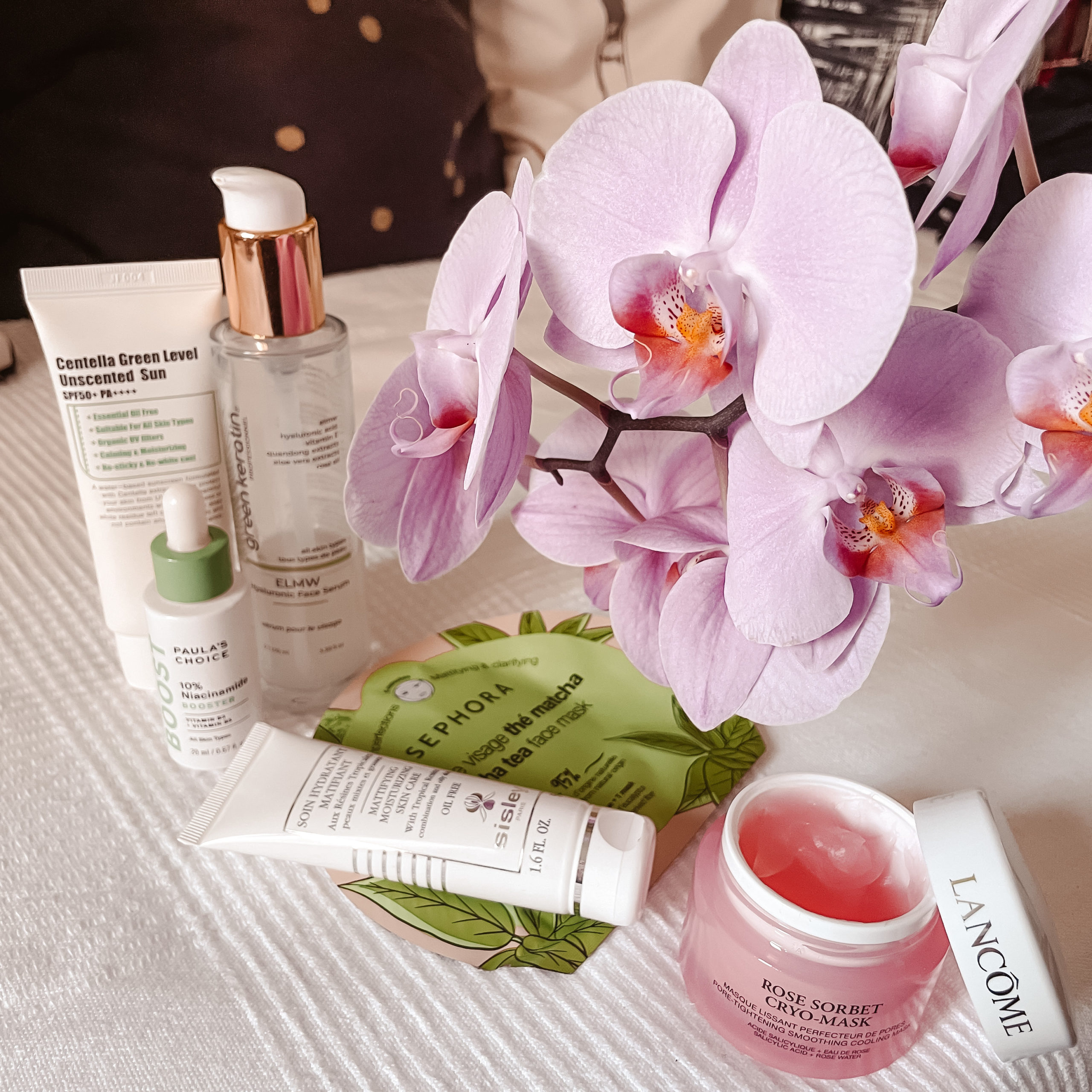 Makeup
There are different ways to avoid shine.
First of all, a good and very effective primer. My all-time favorite for this use is hands down the Primed & Poreless by Too Faced, which, in addition to eliminating shine, mattifies the skin like never before. This thing is crazy and doesn't spin any pimples. I actually tested it on acne-prone skin for several days, and she was very happy to have no inconvenience. It can be used under foundation or BB cream, but I also put it on when I don't wear makeup and just want a foolproof mattifying barrier.
Of course, there is the powder. The one I like the most, which is the most invisible and lasts the longest without retouching, is that of Charlotte Tilbury. She really stands out. This is the one I choose if I make up a bride, for example. Imperceptible, and you'll be mattified until the end of the night, or almost, don't mess around either, lol. In addition, this brand is getting into refills; there are already lipsticks and bronzing powders available, and maybe the powder will soon be available.
To increase the mattifying effect of any powder, it is best to apply it with a powder puff to the T-zone. The powder will thus be well pressed on the skin and prolonge its mattifying effect. Any will do, but choose it super moldable, soft, and with a wedge, you will save time and ease of application.
If with all this, you still have to make touch-ups during the day, here are my two favorite solutions:
Urban Decay's mattifying and anti-pore balm, which mattifies well while blurring the appearance of pores – to take out of your closet if you already have it, because it is unfortunately discontinued.
The traditional mattifying paper. I currently have the one from Kiko, which is great. Mattifying paper is really the simplest, most effective, and doesn't add substance, so it won't weigh down your complexion.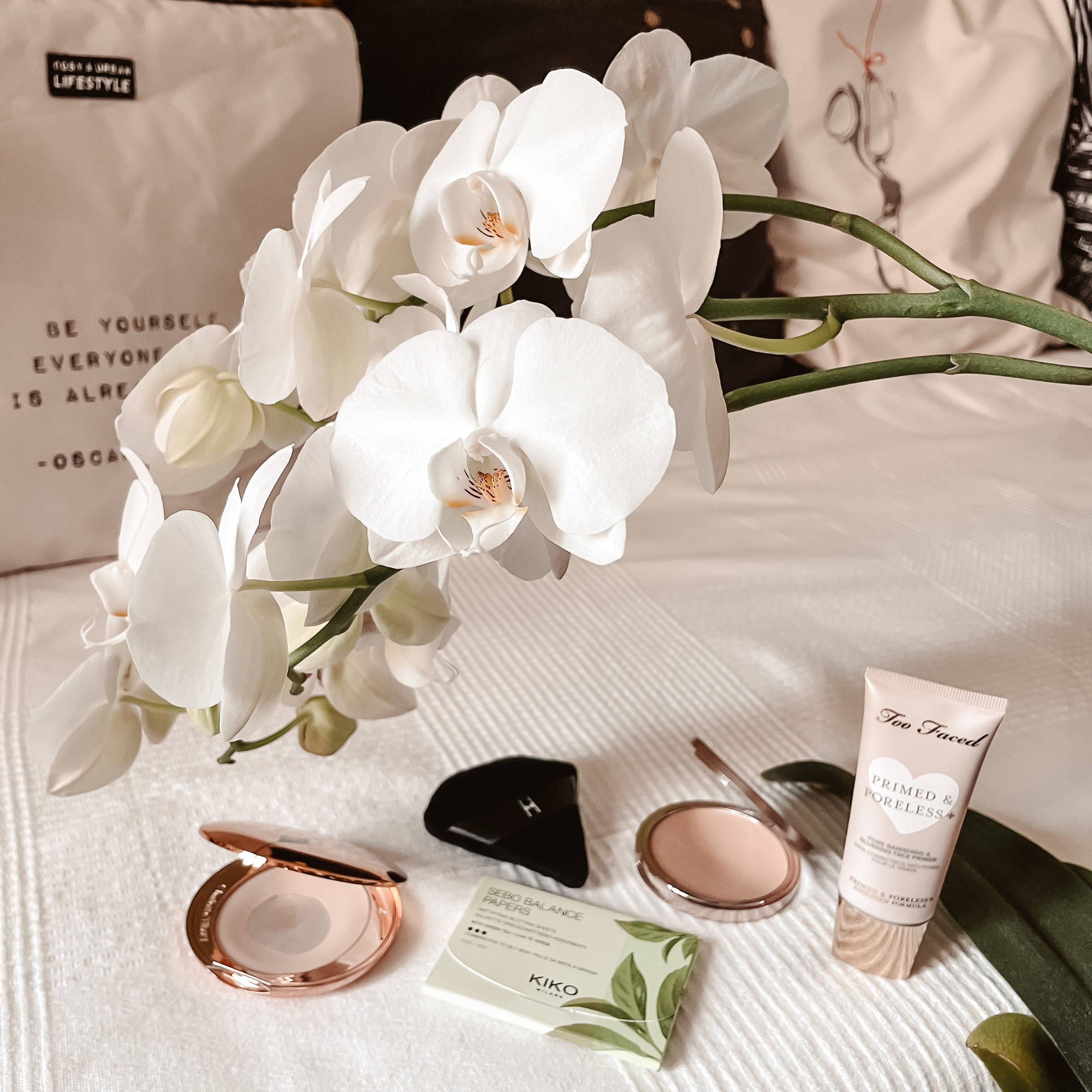 So much for the anti-shine tips in this scorching period, don't forget to hydrate yourself; your skin needs it, too, knowing that Evian works a little better than Guinness, it seems, lol.
XO ☀️