Hello, young Padawan
Spring provides us with everything we need to recover brand-new health, where strawberries, asparagus, wild garlic, and birch sap are our best allies. Having cooked together several recipes with wild garlic here and there, let's go for a very simple recipe with asparagus, this season's queens.
It is often with the simplest recipes that we take the most pleasure, that the flavors of the main ingredient are best highlighted, and it is, finally and above all, with the simplicity that we attract or bring people back to the kitchen. However, this central place of our house is also the key to our health and well-being.
Cooking is, above all, a family affair, sometimes friendship, and sometimes the two intertwine to offer what humanity has done most noble: transmission. This recipe is one of those stories of transmission from a mother to her daughter, who being one of my friends and knowing my taste for good food, offered me her mother's recipe, which I tried and loved. And here we are; I am sending you here with their permission and, for the first time on this blog, not one of my creations but this pretty recipe that is effective, simple, and tasty recipe so that in your turn, all here, may you enjoy.
Thanks to Charlotte, and her mom, Sophie, for this sharing.
I copy you below, before starting the recipe, the little topo on asparagus from the recipe here, because it is always good to remember the treasures in our wonderful seasonal vegetables…
Asparagus
Diuretic and rich in fiber, asparagus is also a nutrient bomb. Antioxidants, their large amount of folic acid make them a panacea for good mood, a brain on top, and restful sleep.
Rich in vitamins A, C, and E, asparagus strengthens the immune system and is also a good source of micronutrients such as chromium, trace elements, or even vitamin K for healthy bones.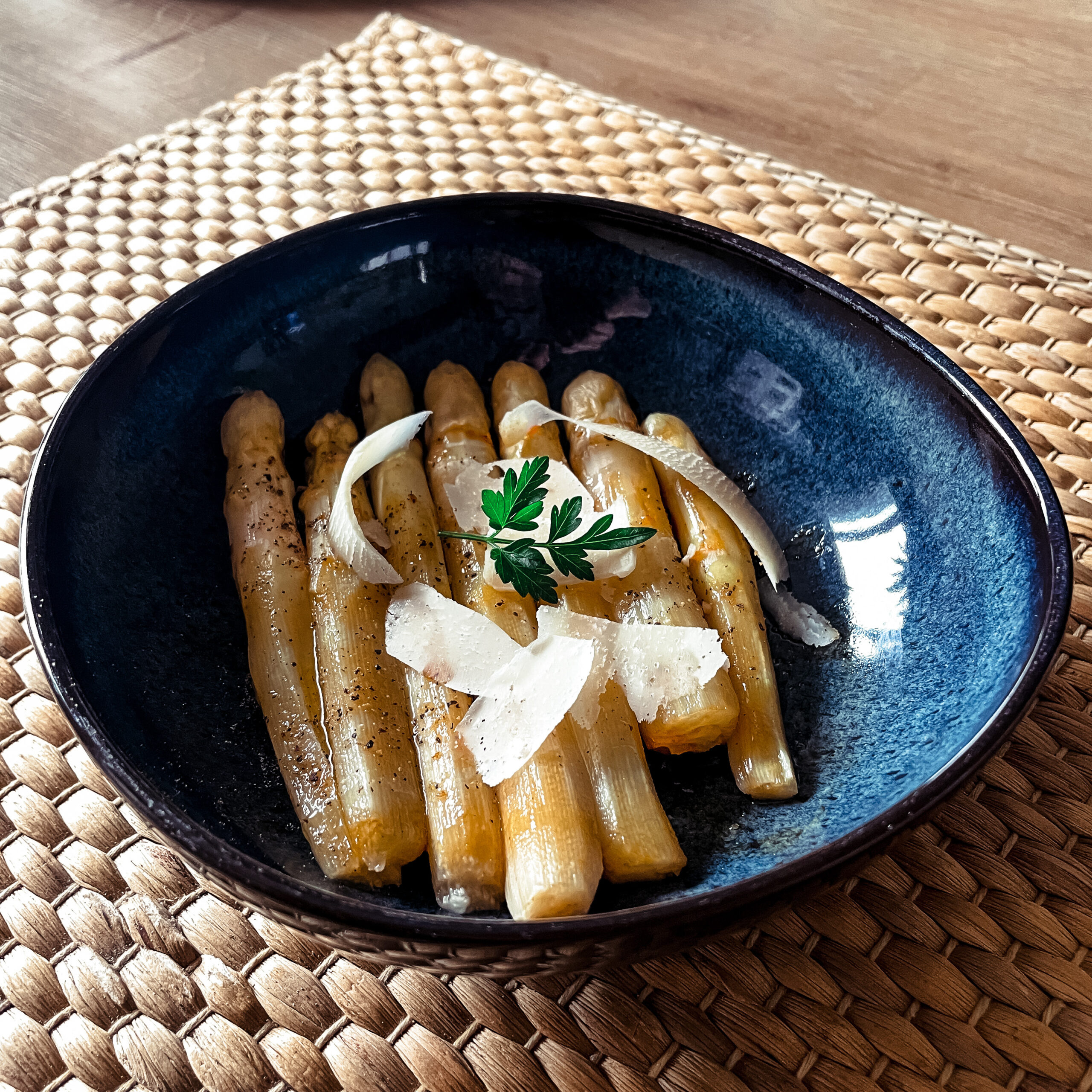 Spring asparagus, Sophie's recipe.
For two servings
A bunch of white asparagus, preferably Demeter or organic
A good quality olive oil, first cold pressing
An aged balsamic vinegar
A nice piece of parmesan
Salt, pepper
Recipe
First, carefully peel the asparagus, one by one, and cut off the ends. If ever, I discovered a super practical object to peel them in record time, of which I leave you the link here. It's a kind of double peeler, really ingenious.
Then, place them in Marion's vitaliseur basket, or any other steamer basket of your choice over medium heat. For the vitaliseur, about seven minutes is enough, depending on the diameter of your asparagus. Check regularly after six minutes of cooking to be sure.
Once cooked, place the steamer basket and the asparagus under running cold water to stop the cooking.
Presentation
In your prettiest plates, arrange the asparagus next to each other. Pour a drizzle of your finest olive oil and your most fragrant balsamic vinegar, salt, and pepper.
Using a vegetable peeler, grate a few parmesan shavings over the plate.
The combination of this vinaigrette and parmesan is just divine with the asparagus, which are thus highlighted without being smothered by too intense flavors. To accompany it all, I suggest a light Italian wine, like undolcetto d'alba, to pay tribute to the parmesan that sublimates our asparagus.
As for me, I wish you a beautiful weekend, a good tasting and see you on Friyay!
XO 🌷