"Peace comes from within, do not seek it outside".
Buddha.
Hello, young Padawan
You know, when you have to get on a plane, there's a little safety booklet in the seat magazine rack in front of you. Above, it is noted that in an emergency, you must put on your own oxygen mask before helping your seat neighbors to put on theirs, even if it is your own children. Everything is said: it is essential to be alert, strong, and available yourself before being able to be present for others. Indeed, how to be effective if you falter, if you are on the verge of exhaustion, hypoxia, depression? Taking care of yourself is a real gesture of generosity. That of knowing how to manage oneself better, of having both feet firmly anchored in the ground of reality, of needing others less, so as one day to be truly available for them. Well, speaking of self-care … the philosophical moment is over; make way for frivolity.
With spring only a month away, your skin and your spirits maybe need a little help… Okay, this is a pretext to talk about cosmetics. However, I warned you that from time to time, I devote myself to my little weak point, my great passion, my meditation, my well-being corner. Yeah, all of that. And if that's not your thing, you'll learn a trick or two that might or might not make you want to try. And if not, see you next week for some new adventures.
So now that we are between us, curious or passionate, here is my little (well, almost) equipment for dry mornings or tugging evenings. Weakened skin, itchy cheeks, a strong need for hydration, such is my skin in winter, like many people. It takes a little more care than other seasons. Since the weather also makes us want to spend more time indoors – although there's no bad occasion to take care of yourself, recharge your batteries, transform your interior into a small home spa, a few candles, a nice hot drink, a mask, soft music, a good bath and let's start a beautiful moment of relaxation.
If you want ideas for "what to put in your bath" I suggest you this article here, for some musical advice and to make this moment of relaxation a real meditation, a moment of letting go, I would recommend listening to any Nick Drake album, including "Five Leaves Left" where there is the song "Fruit Tree," there is also Alela Diane and her album "The pirate's Gospel," or a good Pink Floyd, for example, the album where there is the title "Hey You" ("The Wall" – 1979, of course, ed) …You're welcome.
And for a face mask tip, you're in the right place. We're going to spread out things that smell good, that make the skin soft, firm, and plump like never before. Let's go.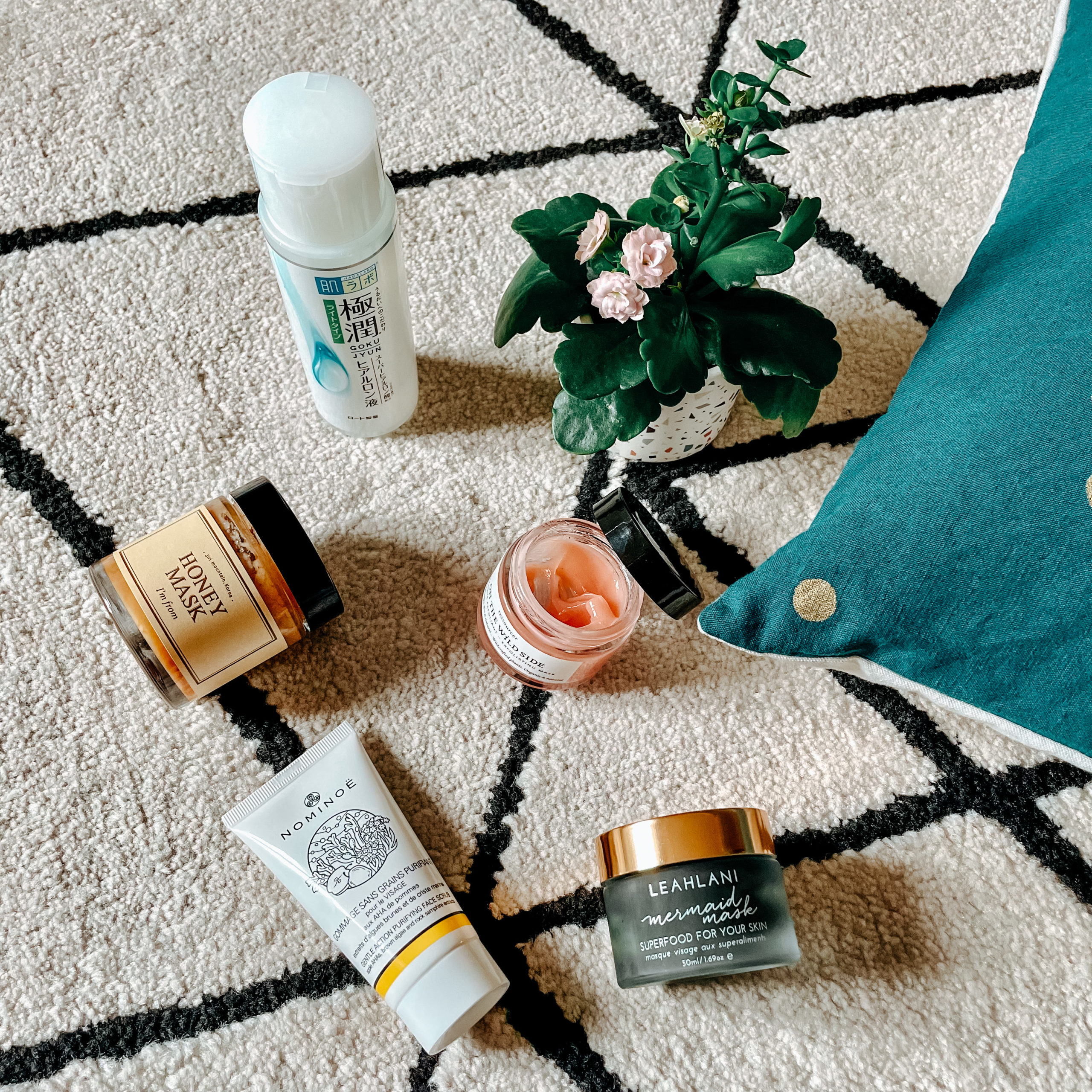 Scrubs and masks that rinse off
Regarding the scrubs, I use either a grain-free scrub, like the one from Nominoë, which contains apple AHAs, or a gentle mask with a slightly exfoliating effect. I love the one from On The Wild Side, with wild plants, which is very soft and awakens the complexion, or Oatifix from Lush, a soothing face mask with oats, fresh bananas, and ground almonds.
As for the rinse-off masks, here are my favorites:
-The Honey Mask by I'm From is, as its name suggests, a honey mask. Repairing, soothing, real happiness.
-The Rose Face Mask from Fresh, which contains small petals inside (of roses, try to follow, lol, ed). It soothes and tones the skin.
-The Hydrating Floral Mask by Tata Harper, with an absolutely divine botanical scent. It is packed with hyaluronic acid of different molecular weights for a skin full of hydration and plump.
-The Leahlani Mermaid Mask to regain healthy skin after wearing facial devices a little too long or for a slightly hardcore female cycle. It contains superfoods to normalize the skin (honey, spirulina, marine clay, and chlorella) and is to be mixed with a few drops of water or lotion before applying it. I use it for my part with a few Goku Jyun lotion drops from Hada Labo, that contains hyaluronic acid.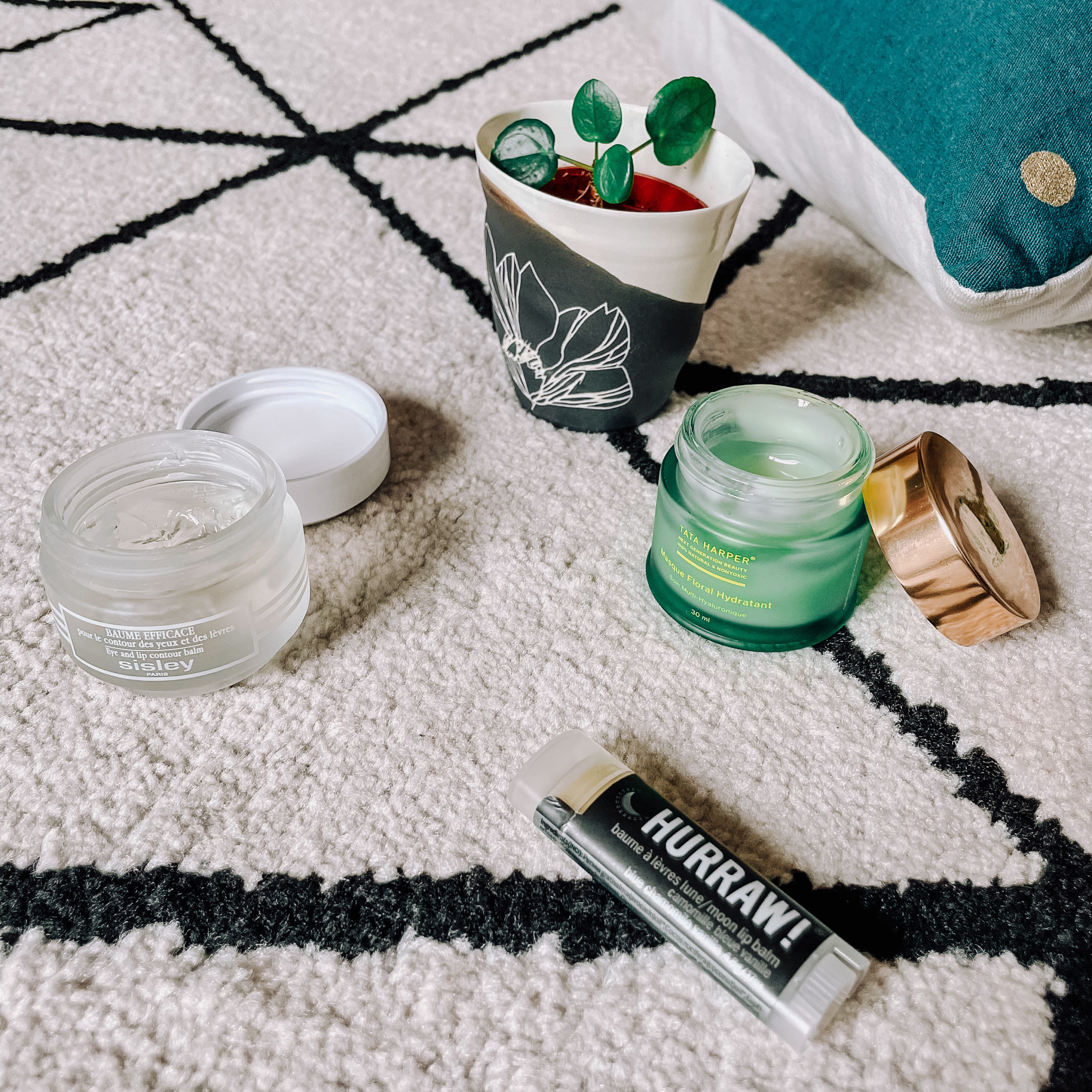 Non-rinse masks, lips and eyes
Regarding sheet masks:
-The first, total moisturizer, for beautiful plump skin without tightness, a "wow!" guaranteed from the first application and prolonged if you do it as a treatment once a day for a few weeks, this is the N.M.F Aquaring from Mediheal. It was first given to me by Yesstyle about 3 years ago, since not a week goes by without applying one on my face.
-The second is for those days when my skin is itchy, uncomfortable, or when my poor cheeks have been smothered behind a facial device for too long and are all red … The Bombee Black Honey Soothing and Repairing Mask by Papa Recipe.
As for the eyes and lips, I always take care of them when I apply a face mask, whether it is cloth or a jar.
-The lips: an ordinary lip balm does the job very well. The best is to choose a very oily, natural, and very repairing one. For my part, these times, I apply the Hurraw! balm with blue chamomile and vanilla in a thick layer. Very thick, lol. I also love the Evanhealy one and the Burt's Bees ones. You can find them at Wholefoods Market or Target.
-For the eyes, I apply my current eye contour, also in a thick layer. And so currently I'm on Sisley's Baume Efficace, which I apply generously to the eye area and eyelids for a nice hydration recharge. I also regularly use Khiel's Avocado Eye Contour when my eye area is more dry than dehydrated.
I hope I made you want to take care of yourself, whether it's with what you already have in your bathroom or not, the important thing is to allow yourself a little time. Our too-speed lives make us lose our connection with ourselves, so don't forget that a little quarter of an hour for a meditative moment, or half an hour in a bath will do you better for your mind and soul than you can imagine. Much more than you can think.
XO 🌸