"Makeup is art, beauty is spirit."
Anonymous.
Hello, young Padawan
Nature offers us a beautiful late season to make up for the rainy month of July. The leaves begin to turn red, and the golden light, so flattering for the complexion, gently illuminates us without ever burning the skin of the "pale, really pale" subjects like me. You know, those who turn crayfish color as soon as they go out into the open for five minutes between the end of May and the beginning of September. These ones.
Speaking of pretty light, if there's one season where I have fun makeup-wise, it's fall. Pretty colors that highlight all skin tones, the skin still looks good, so we can go for a natural complexion and emphasize the eyes. Or not, it's up to everyone to choose what they like, because after all, the great thing about makeup is that nothing is obligatory, not even wearing it, that you can have fun as much as you want, and when the evening comes, we start again with a blank canvas for the next day.
If only life could be that simple, but we are not on a philosophical article, but in a small selection of super cool and easy-to-use products for makeup from the most natural to the wildest. Or almost.
Let's go.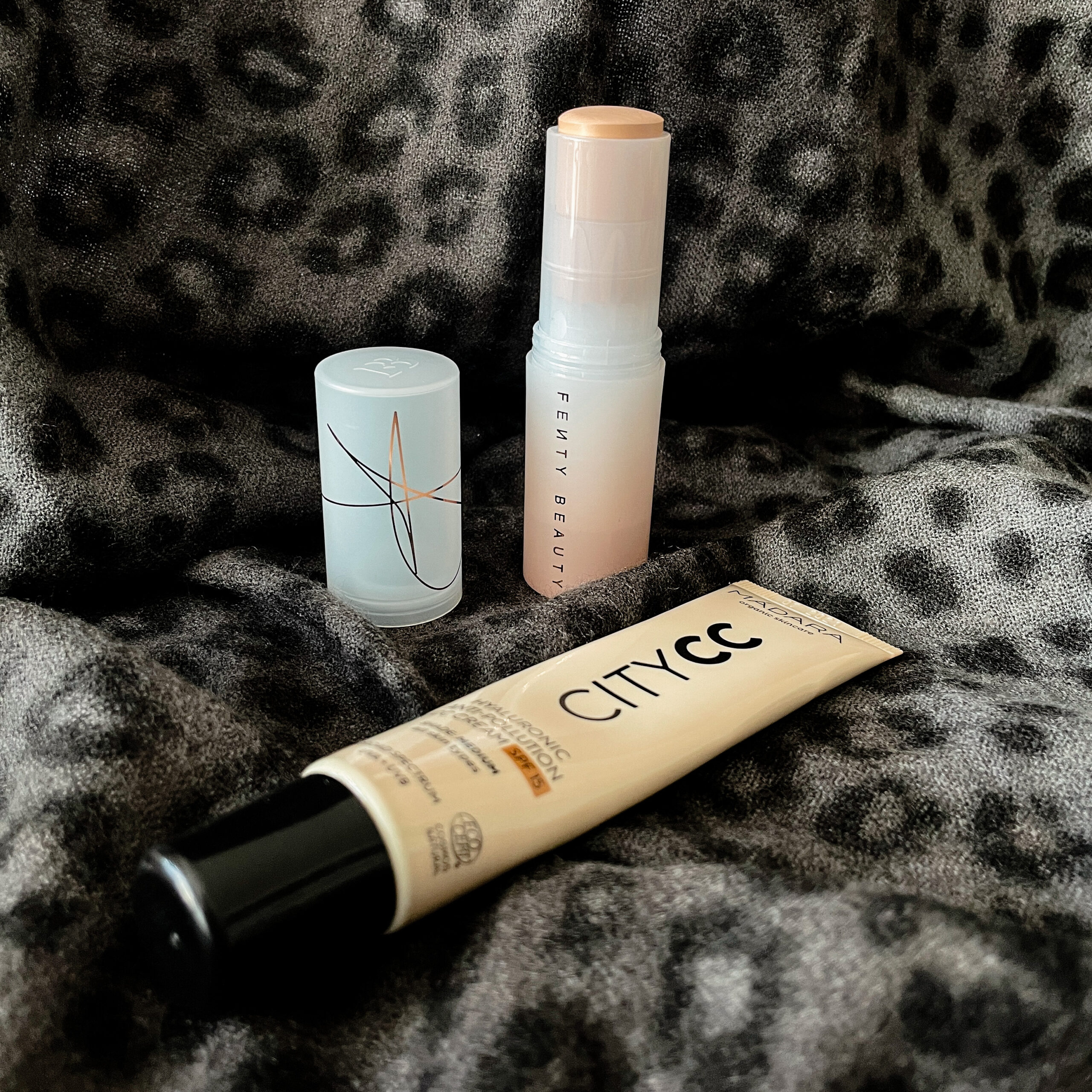 Natural complexion
At the end of summer, which leaves us with its healthy glow tan for a few more weeks, a simple veil is enough to enhance an already radiant complexion – or more, or not, I am not going to redo the disclaimer every time, but, we are in 2023, so here it is, you do what you want, and it's ok. A touch of cynicism? So little, but back to makeup. I have two great products for your complexion this fall: one you've repeatedly seen and a new favorite.
We start with the old one that I use almost all year round, and with which I cheat a little by using a shade darker than my skin tone (I use the medium shade) because its formula allows it, as it remains natural (provided you use a small quantity, I explain it in this article here). It's the City CC by Madara, a little marvel. This product is your skin but better. No matter what you put underneath, there is no lint or crease effect. It does not mark dry areas and adheres to oily areas. I've been buying it for several years. You don't need much product; it lasts a long time, and I love it. I'm talking about its application here, and its looks as well as its coverage in this article there.
Besides, a quick aside, if there are people who don't know the nuance between a foundation, a BB cream, and a CC cream: a BB cream means "Blemish balm," whose mission is, therefore, to camouflage acne-prone skin, and a CC cream, "Color correcting," to hide redness. Thus, a BB cream is the product that has the most coverage, more than a foundation (even if it depends on the product, ed), and has the least "natural" effect.
In order of coverage from most to least, you have the BB cream, then the foundation, and the least covering, therefore the most natural, is the CC cream. Afterward, the brands have done their little cooking, but often this rule is verified.
The second product is new from Fenty Beauty, the Eaze Drop stick , which is a light foundation with a blurring and smoothing effect. I get it in shade 02, which is exactly the shade of my skin this time of year (in winter, I would probably be 01). The stick is great if, like me, you put on makeup in the car (I said in the car, not while driving, lol, ed) or in transportation; there is no risk of a product that could leak and cause damage in your makeup bag. It applies like a dream, the product is light, almost like water or serum, without streaks, and does not mark or crease. In short, it has the same result as my favorite CC City, with an additional effect since the advertising is not misleading: it does have a blurring and smoothing effect on the skin.
A little goes a long way; a line on the forehead and one on each cheek is enough to spread it over the entire face and finish on the neck. I apply it, like CC City, with my old 06 Sephora brush, in 20 seconds, everything is applied and ready. It lasts from morning to evening, perfect for days when you don't have time for anything but want to look pretty in five minutes.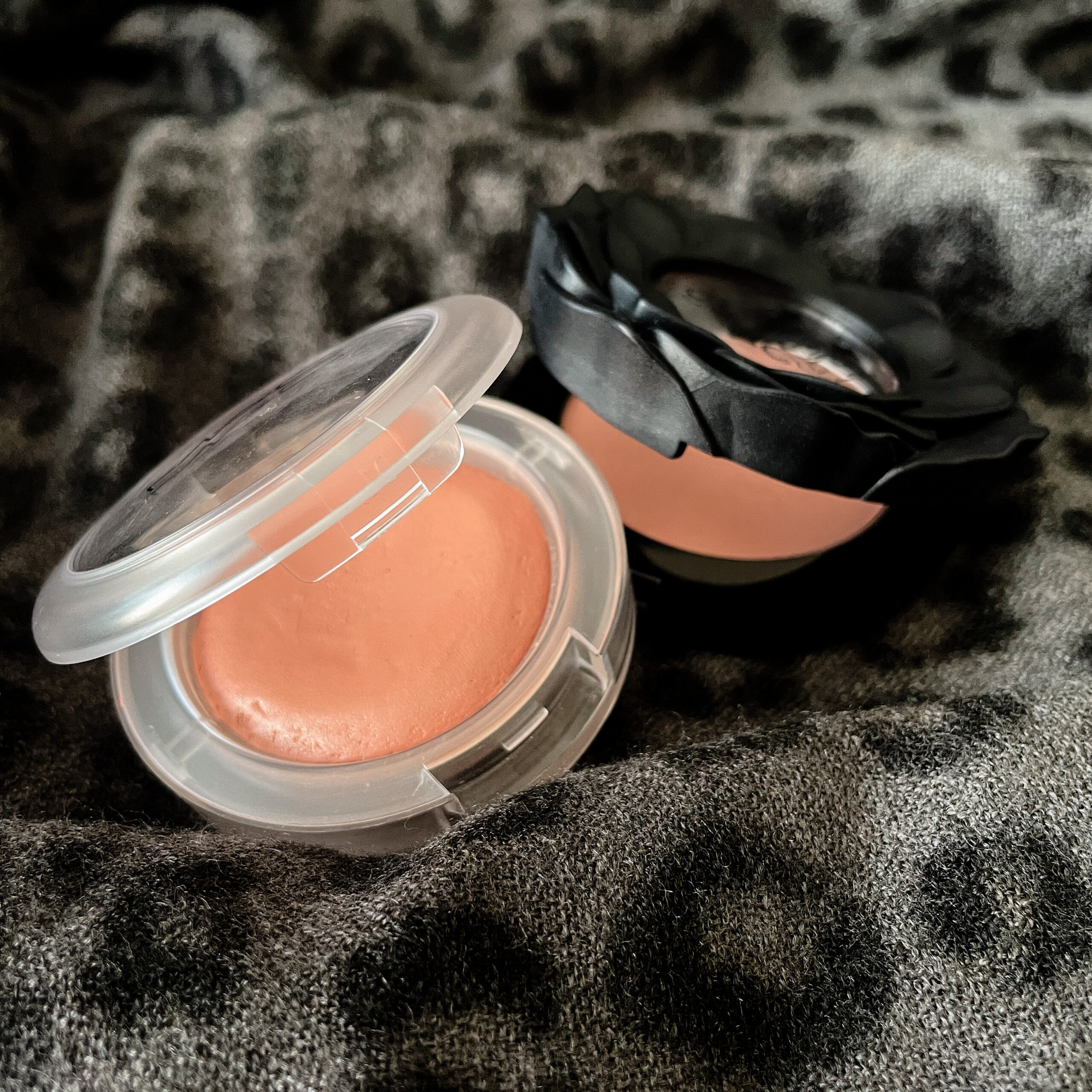 The cheeks, to imitate the sun
Two pretty blushes for fall colors, namely some beautiful pink-orange-peach-brown (lol); I ensured the color was faithful to the photo above, and it is. I have a powder option and a cream one to vary the pleasures, knowing that a powder formula is straightforward to use, from beginner to advanced, while a cream formula will require the beginner to respect a few simple rules for the most beautiful rendering, namely: apply the cream product before any powder product, and possibly use a powder after application to set the product and make the makeup last all day.
My favorite fall powder blush is this one from KVD beauty in Honeysuckle shade. It's a beautiful matte shadow that applies and blends perfectly without any weird effect on the skin. The color is so natural that when applied to bare skin, you obtain a magnificent natural and effortless healthy glow effect.
As for cream formula blushes, I have been in total love with Glow play blushes from M.A.C for several years now. The "so natural" shade is the same color as the previous shadow, with the difference that its cream formula gives it a most magnificent natural light – I said luminous, not brilliant. We are completely natural for this formula.
It applies flawlessly and without material displacement, with no creasing, is suitable for beginners, and applied to bare skin, you have the impression of having slept 8 hours more. Perfect for a no-makeup makeup too.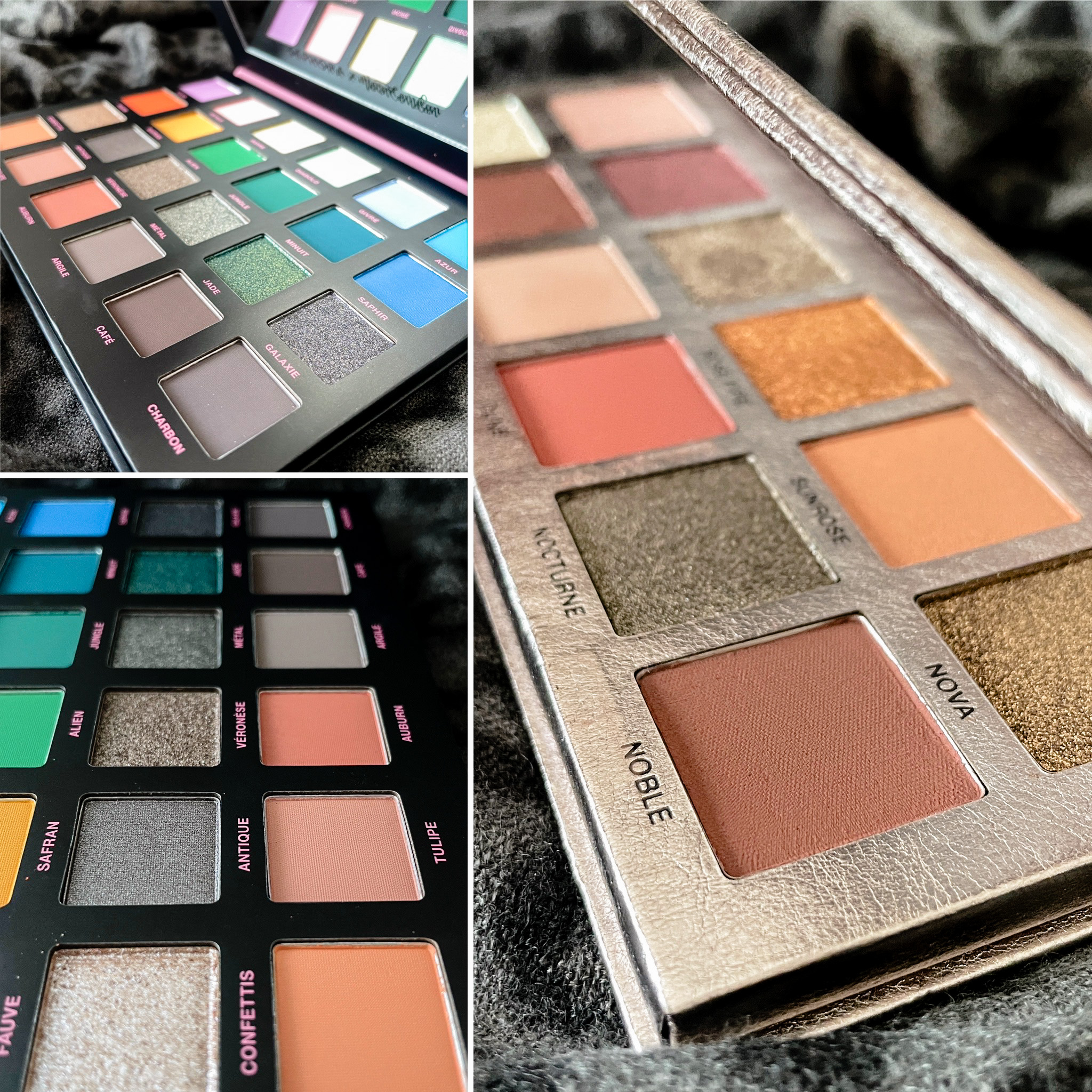 Eyes in autumn colors
Two palettes, one older and one new, at a very reasonable price.
The oldest is the one on the right in the photo, the palette Rose Metals by ABH, all its colors scream autumn and suit all skin tones, from the lightest to the darkest. The quality of Anastasia's Eyeshadows is no longer in doubt, a marvel, but a caution for beginners: take the smallest quantity of eyeshadow, blend well, and everything will go well. This brand uses a lot of pigments, and you might be surprised.
The little novelty is the Chapter 2 palette by Sephora, in collaboration with French makeup artist Marion Caméléon — the two photos on the left in the collage above.
If you look at the bottom two shadow lines, those colors scream fall, too. The two top lines are colored lighthouses, certainly, but wearable. For the pastel colors, and as for the few remaining flashy colors, you can either use them in the evening or, depending on your social activity – although you do what you want – but for me, I use them in small touches of colors on classic makeup.
A light blue or light pink in the inner corner of the eye, or a more intense color in a fine line on the underside, or as a liner (above the eye, therefore). Depending on what I have to do socially, it goes without problems since the makeup remains in natural tones and only includes a touch of color, in complete discretion.
Here, for example, this cute mustard yellow called "safran" in the inner corner on a brown eye, matte or bright, it doesn't matter, will be a pure marvel while remaining "corporate." Here's a little tip for notaries, lawyers, accountants, doctors, pharmacists, salespeople, customs officers, or various professionals among us!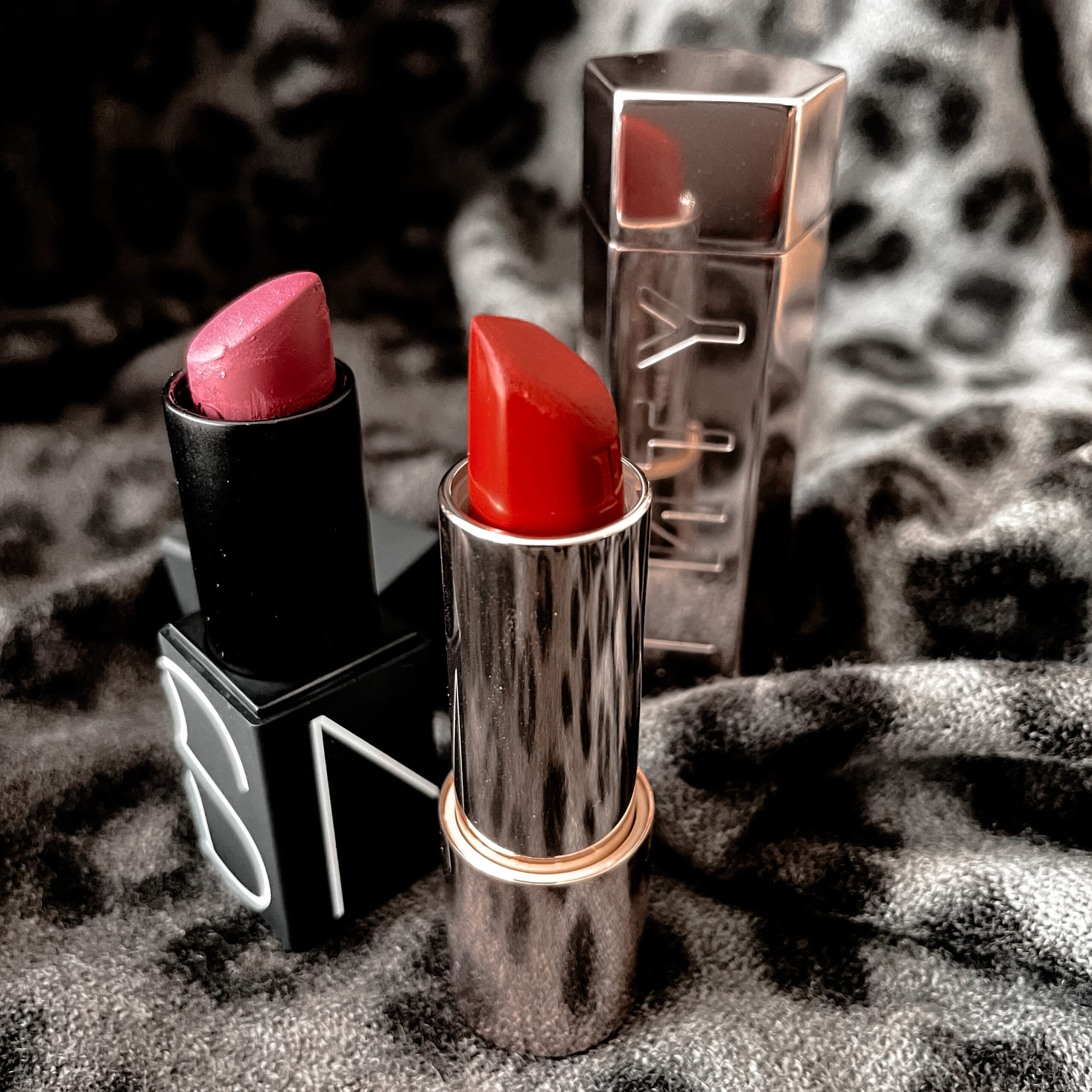 Seasonal lips
Two little wonders to finalize this autumn complexion; the first you have already seen on this blog, namely Nars matte lipstick in shade "Jolie Môme", a very pretty red plum, and currently on sale for 20 bucks on the Nars website — just in case.
And the second one, a semi-matte from Fenty, in shade 01 – The MVP, which is a pretty terracotta red, which can be worn either by dabbing on the lips for just a little color to enhance them naturally or applied classically because it has beautiful coverage and good hold, without drying out the lips.
And that's it for this little selection for autumnal makeup according to our moods and desires. As for me, I'll see you next Friday, for new adventures.
XO💄