« Next time you think of beautiful things, don't forget to count yourself in. »
Anonymous.
Hello, young Padawan
The days are getting longer since December 22, we are starting to notice it, but this does not mean that the temperatures are rising, not at all. The beautiful winter frosts, the revitalizing dry cold, winter is by far my favorite season, with just behind fall and then spring. In short, everything except summer, although peaches and tomatoes…, lol.
When the weather gets cold, the skin feels tight and irritated by the wind and the cool temperature … and of course, we don't forget the redness and peels or cracks to the skin … Except for the readers of this blog, because here we have smooth and soft skin like baby's asses because we know the secrets of hydration. If you are a bit late, I invite you to click here and there, and not to forget to drink water even in winter, it goes without saying, so let's say it anyway.
So here is my little update, well "little", everything being relative, just to give you clues, ideas, to do with what you have, or to choose according to your needs or desires. I remind you that my skin is sensitive, normal with a dry tendency in winter. I also remind you here of the article from last year which is still very actual, if you want to have some more ideas, especially on body products or those for the bath.
Let's start the winter skincare ritual for thirsty and/or dry skin.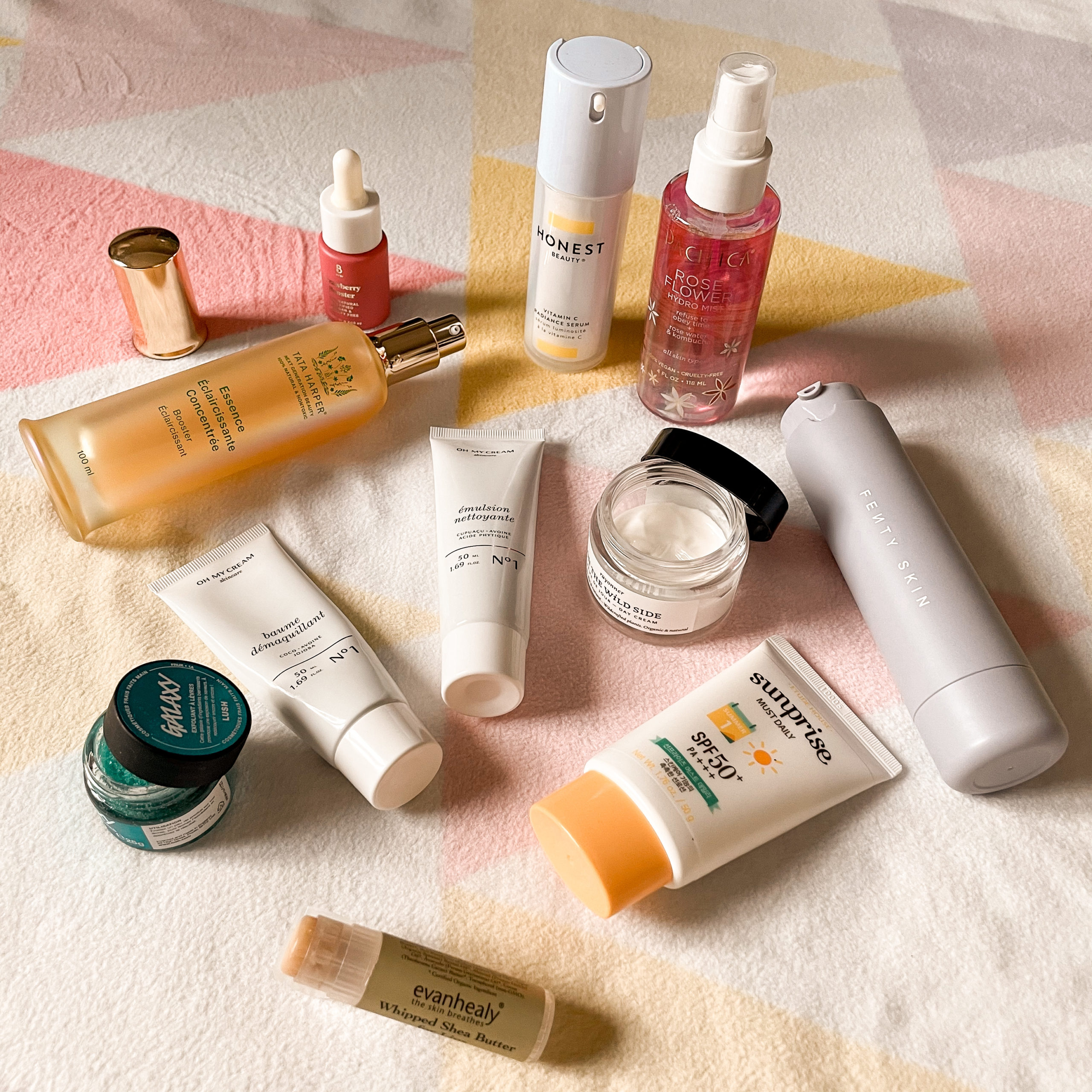 The evening skincare ritual
About cleaning: No foaming product in winter for dry and/or sensitive skin, neither on the face, nor on the body, but washing creams or oils, so as not to end up completely frozen like an Egyptian embalmed in his coffin.
-If I wear makeup and/or have sun protection on: Double cleansing with gentle products. Currently: The "Oh my cream" makeup remover and cleansing emulsion. Or the ones from Tata Harper.
If I stayed bare skin all day (bare skin or bare ass, after all, we do what we want! Lol): I just use my usual morning cleanser. Suspense!
-Mist, then essence, then mist: Hydration phase 1. I use the Pacifica hydro mist with rose extract for this winter, you can find it at Target, Whole Foods, or iherb (but they do not have the Pacifica face mists at the moment at iherb, ed), or the Andalou Naturals 1000 rose lotion, available at iherb or Whole Foods. In short, I need rose because of its soothing and softening properties, and because it smells good. For the essence, Tata Harper's concentrated brightening essence, available at Sephora in the Usa or at "Oh my cream" in Europe. A madness. It smoothes the skin texture, reduces hyper-pigmentation, has a real anti-wrinkle effect, smells lovely, in short, I love this essence which lasts a very long time.
-Hyaluronic acid then mist again: Hydration phase 2. This time I'm trying the serum from Isntree on the Yesstyle site (where I still have my CHILLBYCARO code which gives us -5%). Otherwise, I'm usually on the ELMW serum from Green Keratin.
– Concentrated Pure Elements Ac + R serum from Odacité. It is a serum-in-oil that is perfect for dry skin looking for both nutritive and anti-aging properties.
-Eyes: Oil + eye cream. I use a drop of cacay oil from Green Keratin, then my Madara Smart Rescue eye cream.
-Night cream. The total renewal of Madara, which lasts super long, I have spent the two months of use, and there is still in the bottle.
-Very rich lip balm, based on shea for example. Evanhealy whipped shea butter that I find at Whole Foods in the USA, or the Hurraw! balm which can be found in Europe at iherb for example, or … Whole Foods in the USA. Yes, Whole Foods is one of my favorite places lol.
The morning skincare ritual
-A super gentle non-foaming cleanser. Tata Harper's fresh cleanser. It is a cream that smells like fruit, it is incomparably soft for the skin, leaves it clean and without tightness, even for dry and sensitive skin. Yes, they achieved the impossible, and the bottle lasts a long time. This is by far my favorite morning (or evening) cleanser, to gently massage into dry skin, then rinse off with barely lukewarm water.
-Mist, then hyaluronic acid, then mist again. Still the same Pacifica mist and Isntree serum on Yesstyle.
-Vitamin C serum. Why? Because I love glowy, fresh skin, and to help my sensitive skin to strengthen, vitamin C is a good antioxidant. I use the one from Honest beauty, the Vitamin C Radiance serum. In the Usa at Target, in Europe here or there.
-Face oil. To nourish and form a protective barrier. At the moment I am finishing Bybi's Strawberry booster. I admit that I prefer Pai's Rosehip oil, which is more plumping, more nourishing.
-Eye cream. The same.
-Day Cream – On The Wild Side, to seal in hydration. What a joy this cream that smells so good, I remind you: a mix of sweet almond oil, and "clean baby ass cream", lol. Does not stick, does not fluff, happiness. I also love this one, from Tata Harper.
-Lip balm. The same. At will, lol.
-An SPF. If I go skiing in Chamonix or Aspen on a sunny day: the Sunprise SFP50 from Etude house.
If I stick to my normal life, I go on a moisturizer that contains an SPF30, so I have a second layer of hydration and a mini SPF (I remind you that if you want to have the sun protection index claimed in a cream moisturizer or a foundation for example, namely a formula already diluted in moisturizing agents, it should be necessary to put on a tablespoon of the product on the face, vs. a teaspoon for a classic sun filter). I'm currently testing Riri's cream (Rihanna, come on, ed), Fenty Skin's Hydra Vizor, SPF30. It smells like passion fruit and mango, penetrates easily to the skin, and the packaging is nice and refillable.
The little extras
-What about scrubs? You are free to do what you want on your face, on my side, I avoid. The Tata Harper Essence already contains AHAs which are acids with exfoliating properties. I also use the "Gommage sans grain" (a scrub with no grains) de Nominoé once or twice a month, and once or twice a week, from autumn to the end of winter, I do a fresh mask with Oatifix from Lush which is very soothing, very good for redness problems (slightly exfoliating on application with the almond and oat powder it contains, I leave it on for at least 20 minutes, ed).
For the lips, still on Galaxy by Lush, which is a sugar scrub that smells like your grandmother's blackcurrant candy.
– Masks? Obviously! My two favorites: Tata Harper, the Hydrating Floral Mask. Leave it on for as long as you want, I personally put it on for about 1 hour on Sunday morning, on a moistened skin with a mist because it contains … hyaluronic acid.
My favorite sheet masks for the cold season: Honey ones from Papa Recipe, on Yesstyle. To leave on for 20-30 minutes, then allow the rest of the serum to penetrate, lowering it into the neck and décolleté. Don't forget to also recover the excess serum in the pack.
Remember that just because you now have beautiful, well-hydrated skin doesn't mean you don't have to drink a lot of water or put on fleece panties. Now, if with all that you still have hydration problems, I eat my beanie, with the pompom !!
XO ⛄️