"Any age bears its fruits, you have to know how to pick them."
Raymond Radiguet.
Hello, young Padawan
Age is partly in the head, insofar as some young people are looking old and vice versa. However, a few subtleties will make you more or less comfortable during aging if they are not understood or mastered. The skin, for example, produces less and less sebum over the years. So when you're young, you're bothered by your oily or combination skin, and when you're older, it's tight skin non-stop; your skin dreams of fat. What a pity!
So what to do? After many readers' requests (well, ok, 7 or 8 readers, by the way, hello to you guys, ed), I'm going to tell you the story of dry and/or mature skin through the history of humanity. Nah, kidding, we're just going to do some summary about skincare for those who are fed up with their skin being uncomfortable, wrinkling due to lack of flexibility and hydration, dryness, and so on.
And you will see that skincare for mature skin is only anti-aging skincare, that anti-aging skincare is only odes to hydration and nutrition, which are themselves only the basis of dry skincare. So, despite everything, many of you will find their way there, not to mention the certainty of the future of every human being: if you are lucky enough to live long, you will inevitably grow old.
Let's celebrate together the chance to be alive and to grow old, privileged that we are. Let's go.
The basics
-Do I have to remind you that the number one cause of skin aging is the sun? UVA, precisely? I don't think so, unless you're new to this blog, in which case, a quick little recap:
For those who do not care about having wrinkles and sunspots: wear sun protection when you expose yourself, for example, when you are hiking, while skiing, at the beach, on an afternoon sightseeing … and this to avoid melanoma.
For maniacs like me: sun protection every day, on areas not covered with clothing. And for the nudist-maniacs, for sure, there is some more work.
-Food. An anti-inflammatory diet is not to be recalled here, I think, but just in case, here is my article here. The basis for aging well. Whether for your body or your skin.
-Fat, but the good ones. If you want beautiful hair and skin, it is helpful to eat a diet rich in oilseeds (walnuts, almonds, hazelnuts…) and good fats (a drizzle of rapeseed oil on your salad, for example), in addition to an anti-inflammatory diet.
-Stress, which is not good for your body in general, nor your skin in particular. So breathe, relax, do yoga, or take a look here or there.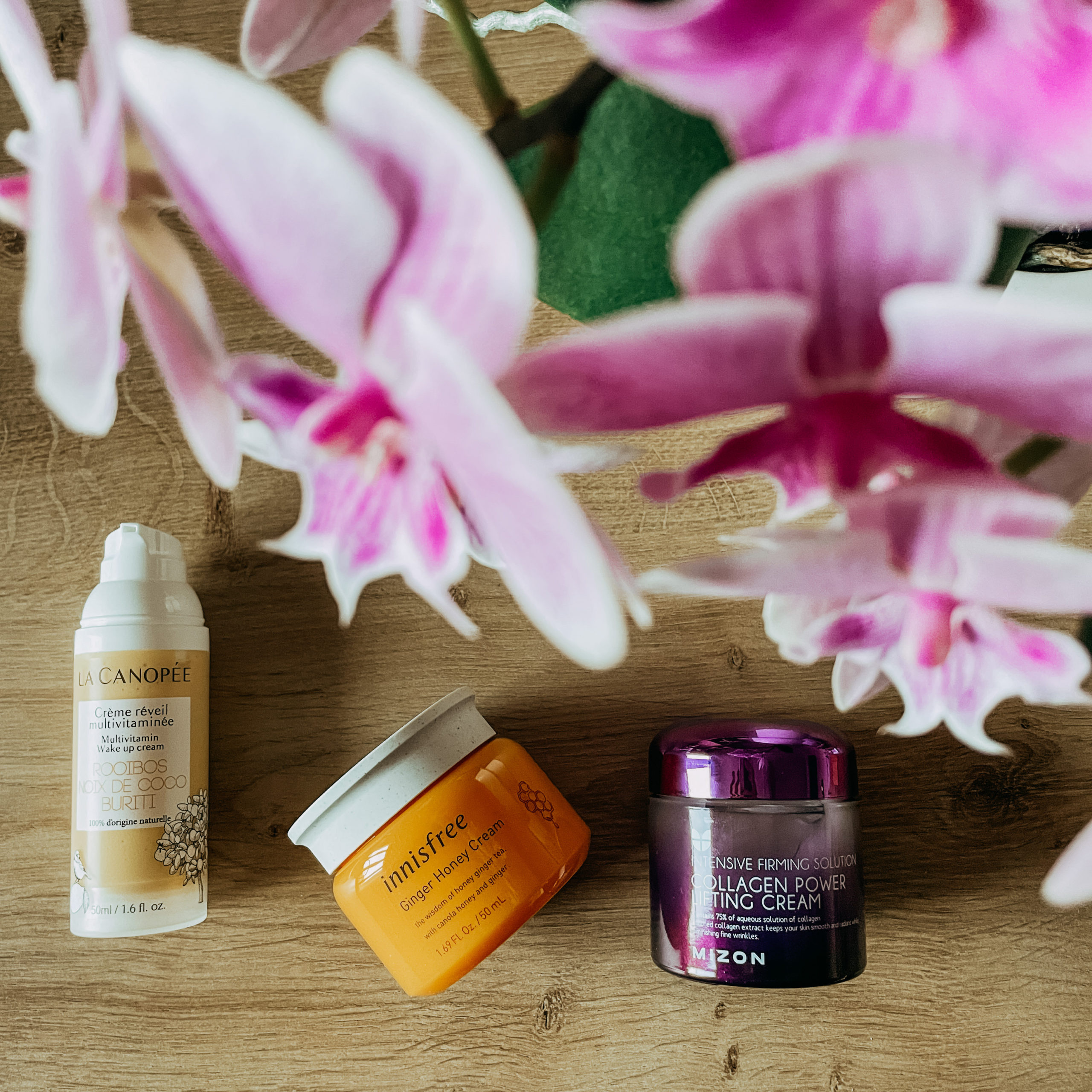 Daily care for mature skin
Note :
-To find out how and why I apply this or that product, I refer you to my morning and evening skincare rituals. As a reminder, I have dehydrated and sensitive skin with a tendency to dry in winter, and I am now 40 years old for a few days.
-Mature skin needs nutrition and hydration, so we can conclude that there is no age to have mature skin. It's up to you to observe yours and see its needs.
-Whether in the morning or the evening, I only need a few minutes to do all this, I promise…
1/ Cleansing :
-Mature or dry skin should ignore products that foam and use cleansing creams that are more respectful of fragile skin (and its microbiota).
For example, the cleansing emulsion from Oh my cream which I use in the evening, or the refreshing cleanser from Tata Harper which I use in the morning.
-For the evening double cleanse, start with a makeup remover oil that will be gentle on the skin but effective in removing makeup (and SPF!). For example, the nourishing oil cleanser from Tata Harper.
2/ Hydrate in four steps (mist-essence-serum-cream) to provide and fix a good dose of hyaluronic acid into the skin, and thus deeply hydrate and plump the skin:
-In the morning, on a clean face, moistened with a mist (at the moment I use the rose and aloe spray from Mario Badescu), I first tap a good splash of the hyaluronic Goku Jyun essence from Habalabo (my code CHILLBYCARO gives a 5% off on the Yesstyle site, ed), I moisten again with the mist to prepare my skin afterward, then I add a serum with hyaluronic acid. Right now, Youth to the People's Kale Peptides one, which is a glow and firmness serum, and again a cloud of my mist to help my hyaluronic acids hydrate my skin well.
I finish with a good moisturizing and nourishing cream, at the moment the Rooibos coco buriti from La Canopée. I just finished the Ginger Honey cream from Innisfree which was more nourishing and suited my skin better in winter, the one from "La Canopée" is more suitable in spring for my skin which demands a little less nutrition.
-The evenings without retinol (see explanation below, or not, lol), I use the same mist, the essence of Tata Harper which acts on the pigmentary spots, and the serum of Green Keratin, the ELMW, to saturate the hydration of my skin, because it is stuffed with hyaluronic acid of different molecular weights. In the evening, I add a step when my skin needs it, namely a few drops of oil before the cream, either the Noni glow from Kora Organics, or that from On the Wild Side, which is even more nourishing. I finish with the Collagen power lifting cream from Mizon, which is rich, but not too much and which helps on firmness.
3/ The eyes in three steps – This sensitive area also deserves the best:
-First step, hyaluronic acid with the SubQ eyes serum from Hylamide. Then, some fat, either a drop of Noni eye oil from Kora Organics, or a drop of Precious cacay oil from Green Keratin which is more nourishing, and I finish by sealing everything with my moisturizer from Missha, the Misa Geum sul vitaliziing, which is very nourishing.
Note: Be careful with people who are younger (before 40) or who have a history in their family: Too much nutrition around the eyes (like oil, or rich cream) when not needed can cause milium seeds. It is therefore imperative not to overdo it and to observe your skin carefully.
4/ A plumped mouth:
Should I talk about scrubs to avoid dead skin on the lips? I do not think so. But did you know that doing regular scrubs on this area helps to keep the lips fuller? There, you're interested …
-If you want to go natural and cheap, mix a nut of your lip balm with cane sugar (same amount) and gently scrub your lips with it. Otherwise, Lush lip scrubs are great too.
-You know I love lip balms. I'll let you take a look at my previous articles in the Beauty Parenthesis section, where I'm talking about Hurraw! balms in particular or Evanhealy, but I'm going to introduce you to a nice little new one, which is a lip balm with a shiny finish, a bit like a gloss, for a plumped and pouty mouth: the irresistible Pro Kiss'r lip balm from Fenty Beauty (photo at the bottom of the article, ed).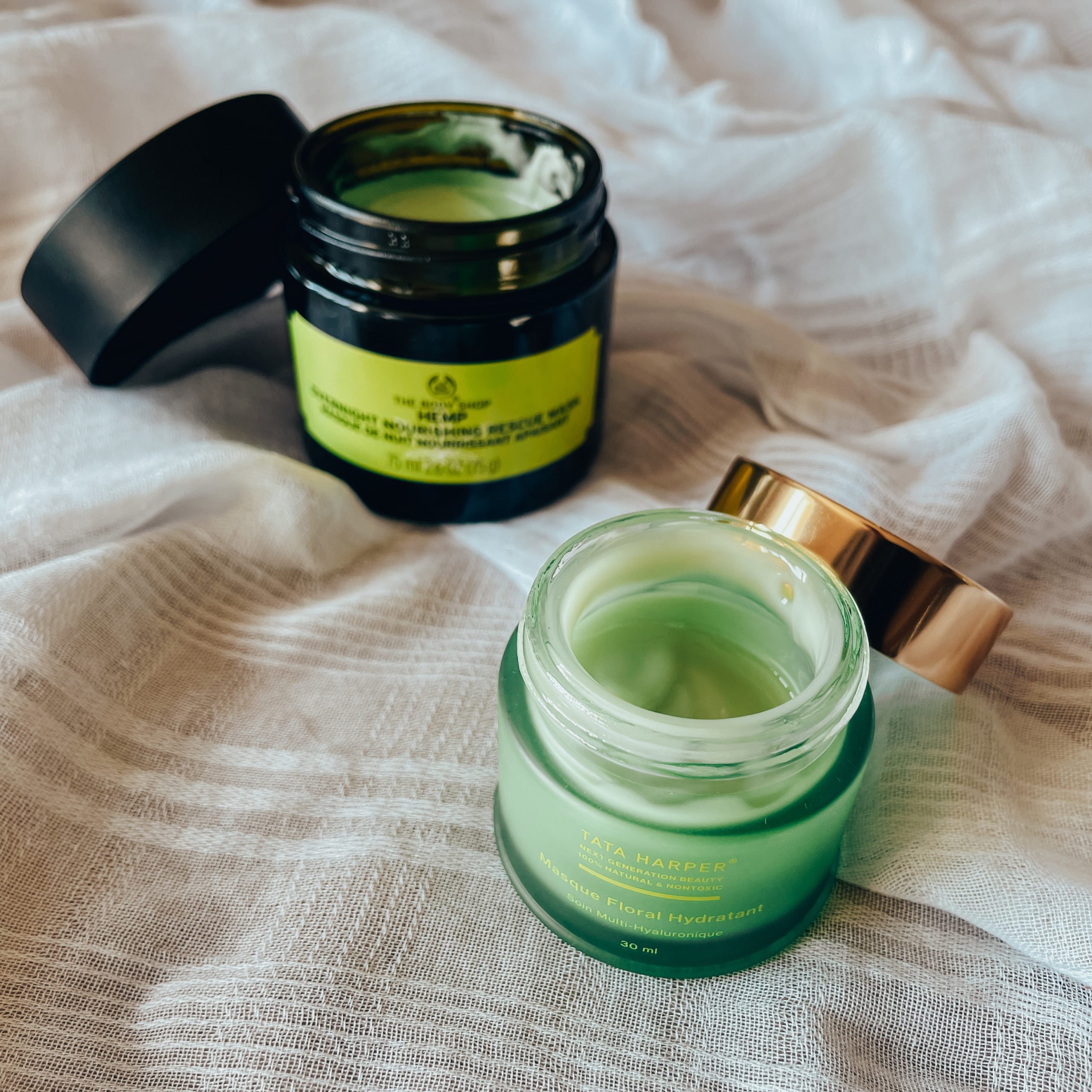 Masks
Moisture – nutrition.
-Should I tell you about my super Honey mask from I'm From again? Another Korean brand, no surprise, Koreans are the best in skincare, price-performance ratio. Super soothing, this mask is a bomb to have plumped and full of life skin in case of dryness or after a long walk in the cold wind that hurts the cheeks a bit. The sensitive skin club will recognize itself.
-Another which is really soothing and comforting, and which can also slightly scrub the skin if you decide to delicately massage it (or not, it's your choice), it is the Oatifix from Lush, which is my best ally for the fall, winter and spring. It is a fresh mask to be kept in the refrigerator, and to be placed on clean skin for at least 15-20 minutes. No more dryness, no more irritated areas, and plump and healthy skin thanks to this natural fresh mask.
-If you tell me moisture, I answer you Hydrating floral mask by Tata Harper. If you tell me nutrition, marked skin, lack of nutrition, or desquamation, I answer you Hemp overnight mask from The Body Shop. As effective as it smells like an old book forgotten in a cellar for 20 years. The smell of efficiency, in short. To put on 20 minutes for an S.O.S solution, or all night long to wake up to the top of your sexiness, lol.
The little extras
-Of course, if we are talking about a ritual for mature skin, we need to talk about retinol. I talked about it in detail here, and there is a whole process to follow in order not to be disappointed with this ingredient, or even worse, to have damaged skin. That's all, the curious Padawans will read the article.
-The AHA/BHA. These are active ingredients that eliminate dead cells without mechanical action, that is to say without manual exfoliation. With age, the skin needs more exfoliation. These active ingredients are most often in the form of a lotion to be used on clean skin before treatment, on a cotton ball, and voila.
Retinol having an exfoliating action, I no longer use AHA/BHA lotions, but if you're interested, I loved the one from REN, both gentle and effective. Be careful, these acids are photosensitizing (so, to be used in the evening and wear an SPF daily when using them). I also really liked Sunday Riley's Good Genes serum, with lactic acid, an active ingredient that also removes dead skin cells.
-Wear sun protection. Yes, I'm repeating. But you can not be maniac of SPF without talking about it every time. My favorite is Etude House's Sunprise SPF 50.
-During the day, in case of tightness, it is quite possible to bring a little comfort to the face, even over makeup. For example as a spray, with Coconut essence from Pacifica, or with a stick by tapping, like the Hippie Stick of Bobbi Brown's natural brand, Jones Road (photo below). Neither will displace makeup if you don't use too much of it.
Even if each skin is different, there are points in common, for example between mature skin and dry skin, or rosacea and sensitive skin. As usual, the examples of products are only there to inspire you to use those in your own bathroom or to give you ideas so that you can in turn build a ritual that sublimates your skin.
In any case, I hope I made you want to take care of yourself since that is the purpose of these beauty articles. Beauty is in the care of yourself. Self-care opens up to self-love, and self-love opens up to that of others. If you want to be the little ray of sunshine around you, you know what you have to do: take care of yourself.
XO 🧴