"We must always change, renew, rejuvenate ourselves; otherwise, we harden."
Johann Wolfgang von Goethe –
Hello, young Padawan
Your complexion is probably cloudy at the end of winter, like the eggs that your boyfriend cooks for you on Sunday mornings, I mean dry and gray, lol. So you eat them anyway because it's the breakfast of love, but it's far from a masterpiece. Have a luminous complexion and offer cooking lessons to your boyfriend; it is the life goal you have decided to lead, lol.
There's a secret to a fresh complexion, glow, and plump skin, and for your skincare to penetrate your skin like goodness in your soul – or rock n' roll in your heart, your choice: exfoliation.
Scrubbing your skin is a great reset. Except that instead of being an evil stateless billionaire who wants to enslave humans and convince them that they will be happy to own nothing (lol!), it is a question of operating, in a philosophical and didactic way, to a maieutic reset of your mind and a cosmetic one of your epidermis. For the mind, I refer you to this article; for the epidermis, you are in the right place.
So you scrub, with love and benevolence, while wondering about the fate of humanity, you rinse, and then you wipe the souvenir of a salty pizza that tarnished your complexion, the cigarette you stole from your BFF in the evening, the too many drinks, and even the text messages at four in the morning to your ex – no more dead skin, no more skeleton in the closet.
Let's go for the first day of the rest of your skin's life, the new beginning, the fresh complexion rid of dead skin, the clean and less visible pores, and a soft, very soft skin. As always, on this blog, we are between responsible adults who do a test in the hollow of the forearm or in the neck, behind the ear, to check that we are not intolerant to the products that we wish to use. It goes without saying, so as usual, it is better to say it anyway in this dystopian world! Let's go.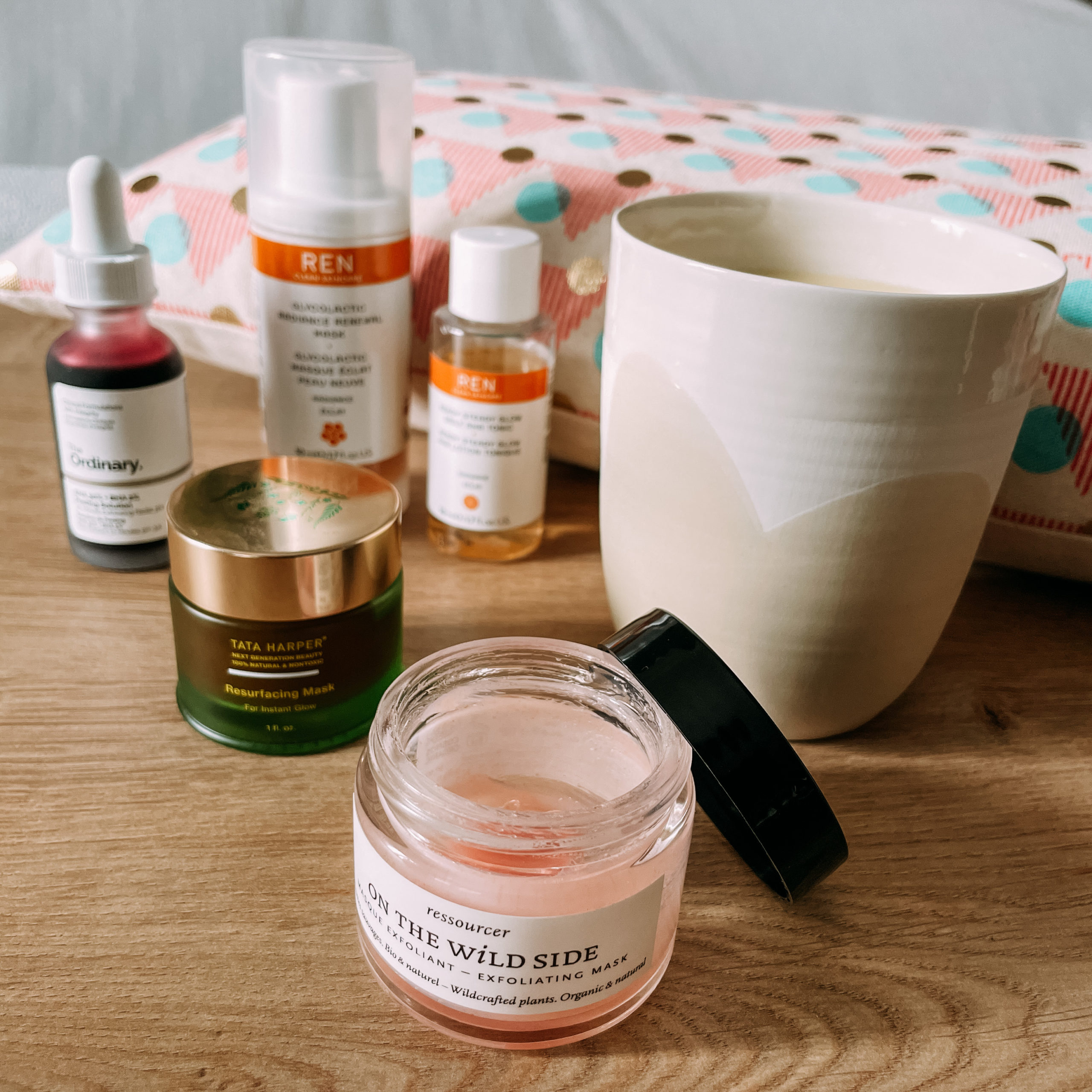 Fruit acids.
In this article, we will talk a lot about zoning. Indeed, whether it is according to the season, whether your skin is sensitive or not, or according to its needs, it will be useful to apply your products to certain areas, but not to others. To find out more, I refer you to my article on the evening and daycare ritual, where I explain to you what it is and why it is interesting to do it. Who says fruit acid, says the possibility of sensitization to the sun, therefore applying SPF during the day. For more info on the subject, you can take a look here.
In the form of AHA or BHA (or both!), Fruit acids are great ways to exfoliate your skin grain-free. For example, they are presented in the form of lotions to be used, depending on the type of skin, daily or 2 to 3 times a week. Ren's lotion is, in my opinion, the best of them all by far. It is suitable for sensitive skin but in my case, not every day, and not on the cheeks. With this, no more dead skin, make way for a fresh complexion, soft skin, and above all no more clogged or visible pores (but don't forget a nice hydration ritual to finalize everything, see my article here, ed)
They also exist in the form of masks. In order, from lightest to most exfoliating: On the wild side exfoliating mask, Tata Harper's resurfacing mask, Ren's radiance renewal mask, all three work very well for sensitive skin, but I don't use this one of Ren on my cheeks because it also contains glycolic acid, a marvel for a fresh and luminous complexion (my cheeks being very sensitive in winter, in zoning mode, I apply this soothing honey mask, ed).
The Ordinary's peeling solution. To be used only on the nose, for example, for sensitive skin, or in the T zone for normal skin – or to restore a fresh complexion to tougher skin, such as thick skin, which tends to have clogged pores easily, non-sensitive men's skin (in essence thicker), non-sensitive smoker's skin or oily skin. Be careful; even if you don't have sensitive skin, you have to get your skin used to this kind of product. After doing a test pause in the crook of the elbow or behind the ear, and after waiting 2 or 3 days to check that your skin tolerates it well and that you don't peel like old parchment, you can apply it, but do not leave it on your face for more than 3 or 4 minutes, no more than twice a month at first, and then, when your skin is used to it, never exceed 10 minutes.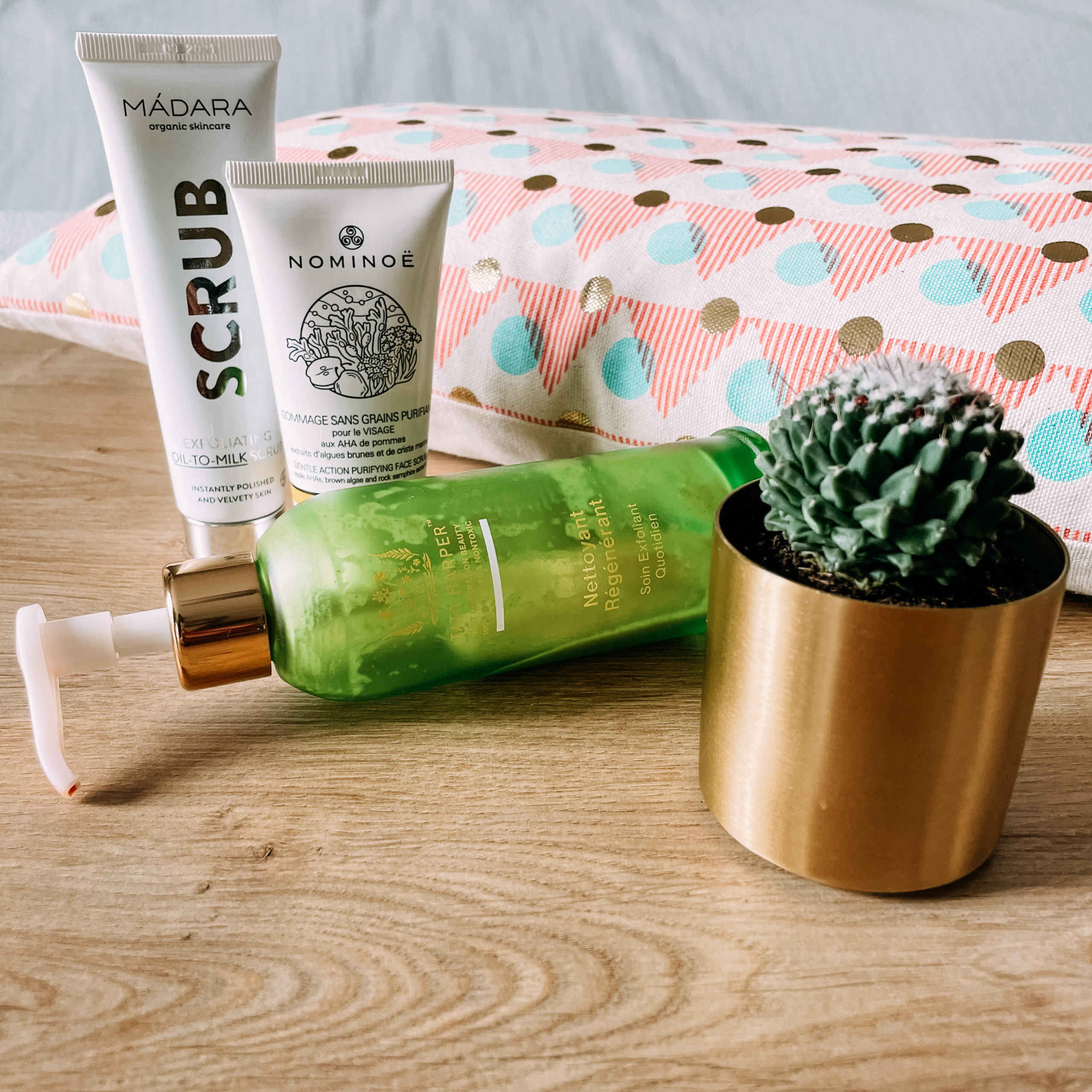 Mechanical scrubs
Mechanical scrubs are suitable for most skin types. Sensitive or reactive skin will pay attention to the cheeks, for example, zoning and ignoring this area, or use a grain-free scrub, like that of Nominoë, my favorite for the winter. Note: it still contains a little AHA, too.
In the category of so-called "grain" scrubs, there are those that can be used daily, such as Tata Harper's, which is a facial cleanser to be gently massaged into dry skin and rinsed off, or those to be used once in a while to three times a week depending on your skin's needs, like Madara's. These two products are also suitable for sensitive skin.
Be careful when you massage your scrub; your skin should not move when you perform your circular movements. If it moves, you're pressing too hard. More sweetness, then, and you'll see, it's going to be fine.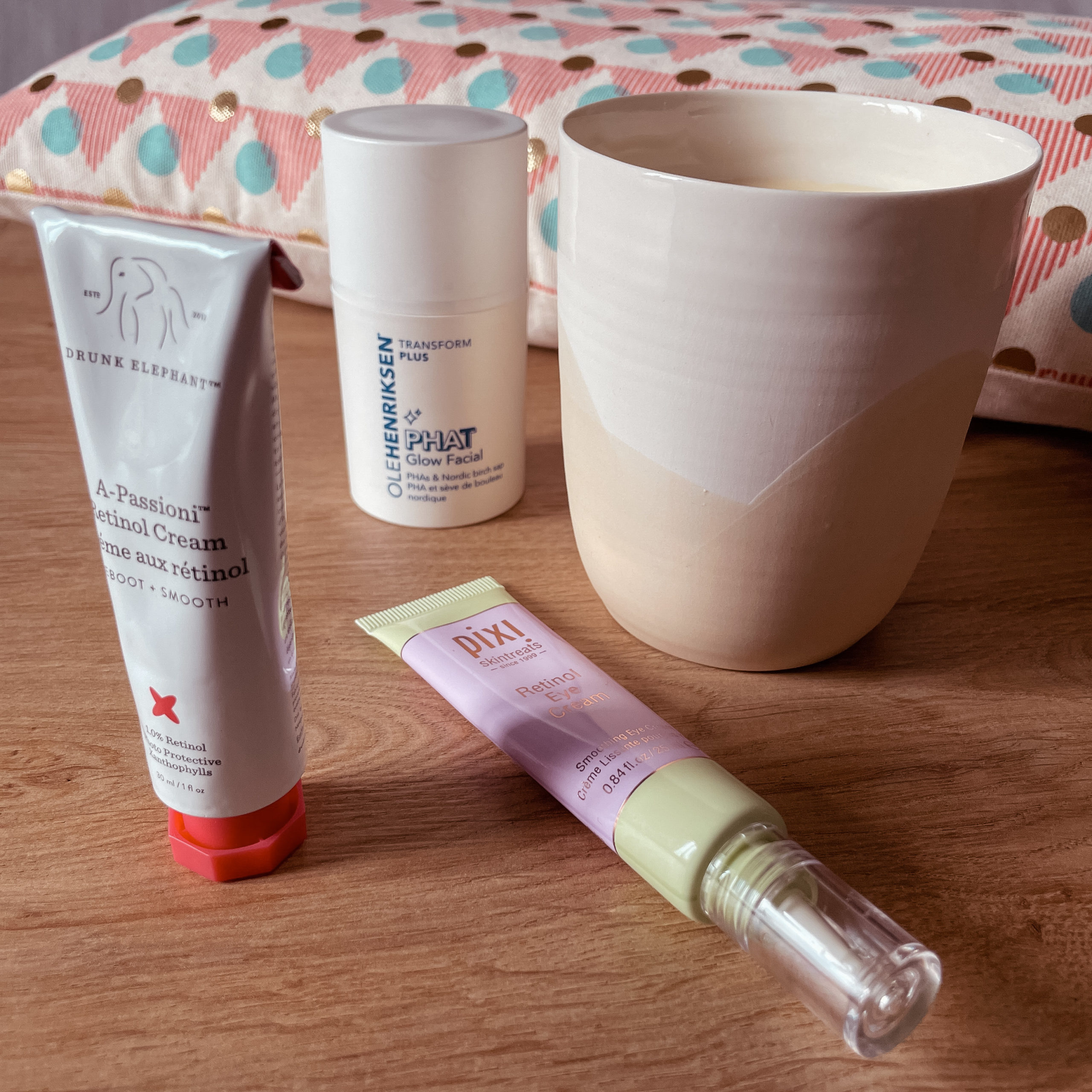 Anti-aging treatments that also remove dead skin
Retinols, derivatives of vitamin A, have the advantage of being great exfoliants, in addition to excellent anti-aging. However, be careful with sensitive skin (see my article here on applying this kind of bazookas, ed). Regarding the A-Passioni retinol of Drunk Elephant, this one is very effective but very dosed, therefore not recommended for starting on sensitive skin, but ok for others, on the condition of one evening per week in the start-up phase, never forget the SPF during the day, see here for more info before embarking on this epic retinoid adventure.
This retinol eye cream from the Pixi brand, on the other hand, is much more easily tolerated because it is low in dosage. It refreshes the look, smoothes fine lines, and eliminates dead cells. The all-in-one anti-aging eye contour for the evening; will make you regain the sexy gaze of your 20s, or almost. Look no further, you've found it, and it's not too expensive. You're welcome.
Polyhydroxy acids. It is a new generation of AHA, therefore of fruit acids, but which has the particularity of both anti-aging and removing dead skin and better tolerance, especially on sensitive skin. So if you can't stand AHAs, maybe this molecule will suit you better. I love the one from Ole Henriksen, which leaves the complexion fresh, the skin soft and plump. A wonder.
The spring cleaning of the skin is done; all you have to do is apply a good serum and a moisturizer to complete your skincare ritual. You will find some info here for the evening, there for the day, here if you have mature or dry skin, there to make yourself a nice moisturizing mask after your exfoliation, and finally, here for skincare tips for this season.
However, I must warn you of a terrible side effect of this article on scrubs: your skin will be so soft that everyone will want to give you hugs and kisses. Well, I would have warned you, dear Padawan!
XO 🪶